Golfers Mind Self Hypnosis CD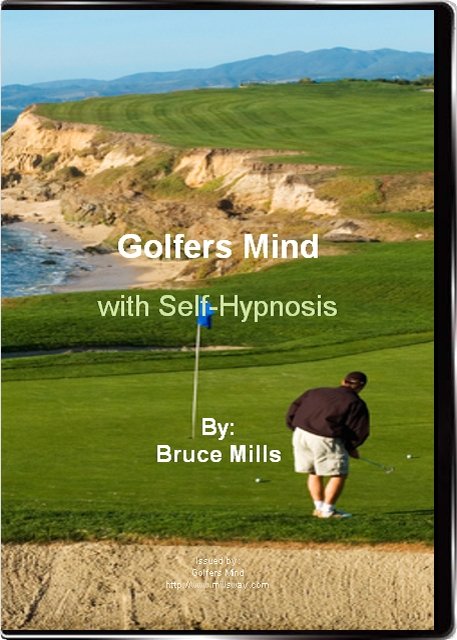 Only 1 available
Details
Shipping: US-Mainland: $3.99 (more destinations)
Sales Tax: Minnesota: 0.06875%
Condition: Brand new
*The store has not been updated recently. You may want to contact the merchant to confirm the availability of the product.
Golfers Mind Today is a Self Hypnosis CD by MillsWay.com. Suggested Retail is $39.

I created this CD to help people with their Mental Edge on the Golf course.

I have helped people with my CD's in 36 States and 11 Countries so far. I hope to help as many people all over the world to live the life they dream about.

Hypnosis has helped many people from:

Hypnosis helping with Asthma
"Over a six year period, 173 successive patients suffering from asthma were treated using self-hypnosis, 82% were either much improved or experienced total remission of symptoms." (Maher-Loughnan, G.P. 1980, "Hypnosis: Clinical application of hypnosis in medicine', British Journal of Hospital Medicine, 23: 447-55)

Source: 21st Century Medicine Book by C. Devin Hastings

Hypnosis study for Hair Loss
In the August, 2006 issue of the Journal of the American Academy of Dermatology, there is an article titled: Hypnotherapeutic management of alopecia areata. Alopecia areata is a hair loss condition which usually effects the scalp though it can sometimes affect other areas of the body. The researchers wanted to see how hypnosis would help with the emotional impact of sudden hair loss. Following are their results from working with 28 patients:

"In all, 21 patients, 9 with alopecia totalis or alopecia universalis and 12 with extensisve AA, were analyzed during a 5-year period. After treatment, all patients had a significantly lower score for anxiety and depression. Scalp hair growth of 75% to 100% was seen in 12 patients after 3 to 8 sessions of hypnotherapy. Total growth occurred in 9 of these 12 patients, including 4 patients with alopecia universalis and 2 with ophiasis. In 5 patients, a significant relapse occurred.

The conclusion of the researchers was:"Hypnotherapy may enhance the mental well-being of patients with AA and it may improve clinical outcome."

Source: 21st Century Medicine Book by C. Devin Hastings

Hypnosis helping with Sleep Disorders
Karen Olness, M.D. and Daniel P. Kohen, M.D. state in their book Hypnosis and Hypnotherapy With Children: "Hurwitz, Mahowald, Scheck, Schulter, and Bundlie (1991) described the successful ise of hypnosis in 27 adult patients with sleep terror disorders. Seventy-four percent reported much or very much improvement with the use and practice of self-hypnosis."It should be obvious that hypnosis and other mindbody methods should be strongly considered before resorting to drugs.

Source: 21st Century Medicine Book by C. Devin Hastings

Hypnosis and High Blood Pressure
According to the National Institutes of Health, high blood pressure is an issue that affects nearly 1 in 3 Americans. What that means is that nearly 1 in 3 Americans can benefit from learning about the power of the mind and how it can help them. January, 2007 issue of the International Journal of Clinical and Experimental Hypnosis (55(1):67-83), there is an article titled: Effectiveness of hypnosis in reducing mild essential hypertension: a one-year follow up. The results speak for them selves: "Results show that hypnosis is effective in reducing blood pressure in the short term and also in the middle and long terms."

Source: 21st Century Medicine Book by C. Devin Hastings

Hypnosis help with Erectile Dysfunction and Premature Ejaculation
An article in June, 1977 issue of the Virginia Medical Journal (104(6):389-92) that discusses how hypnosis definitely helped with both primary and secondary erectile dysfunction. In January, 1990 issue of the American Journal of Clinical Hypnosis, Dr. Harold Crasilneck states that he has used hypnosis with almost 3000 patients with a success rate of 88%.

Source: 21st Century Medicine Book by C. Devin Hastings

Hypnosis: A safe and potent pain reliever.
Source: Consumer Reports, January 2005

Approved as a valid treatment by the American Medical Association in 1958

Hypnotism has become increasingly accepted by the medical community. Its use for chronic pain was approved in 1996 by the National Institutes of Health.

Source: The Capital (Annapolis, MD), April 2004
The purpose of hypnosis
Is to help you understand and gain more control over your behavior.

Source: The Mayo Clinic, December 2003
Hypnosis is not a medical treatment for cancer, but there may be an important role for hypnosis in managing cancer.
Hypnosis has been effective in helping patients reduce pain, stress, and depression, and calm fears and anxiety.


Source: Anne Arundel Medical Center, Health Info Library, Alternative Therapy

Hypnosis seems helpful in treating addictions, and the depression and anxiety associated with them.

Source: Psychology Today, September 1996

Hypnosis is a safe naturally occurring state of mind. Everyone has already experienced Hypnosis, by accident or by design. It is your ability to convince yourself of any belief or ability. So basically all hypnosis is self-hypnosis.


Change Your Mind to Change Your Life

Under hypnosis, you remain in total control and aware of your surrounds. You feel comfortably relaxed, but you remain awake and alert to the world around you.

Everyone experiences hypnotic states from time to time. Chances are you have, at some point, become so absorbed in a movie, you were no longer aware of the theater around you. Or perhaps while sitting through a long class, you've let your mind wander off, lost in an enjoyable daydream. these are every day examples of the hypnotic state, which is simply deep relaxation combined with focused concentration, that science has discovered is extremely effective in altering perceptions and promoting positive change.

Under hypnosis, the mind is highly suggestible and open to the power of suggestion. It's this relaxed, suggestible state that allows the hypnotherapist to bypass the conscious filter and speak directly to the subconscious mind.

The hypnotic state is an optimum state for making changes in your life. You can set aside limiting beliefs that may have been preventing you from moving toward a more healthy and happy you.

Your subconscious mind is your "auto pilot". It regulates your breathing and heart rate and offers signals when you need to eat or sleep. It also controls learned behaviors such as walking or riding a bike. The subconscious mind naturally takes over these (and many other) actions, because you already know how to do them, so no conscious thought is required. Thus, the subconscious controls many of your behaviors throughout the day without any conscious effort from you.

Addressing the subconscious creates change. The subconscious mind operates on years of learning and experience. Though you may consciously wish for a change, your subconscious will continue operating as it has in the past. For instance if you are a smoker and want to quit so you live healthier, it just knows that you like to smoke, so it urges you to have one.

Give your subconscious new operating instructions. Hypnotherapists are trained to speak directly to the subconscious mind in a language it understands. During hypnosis, your subconscious thoughts are reprogrammed to agree with and support what you consciously want to achieve. your "auto pilot" is reset to lead you in the right direction.

No willpower is required because your subconscious mind, where all behavior begins, comes into alignment with your goals.

Have fun shopping!
... [Full Description]