Womack, Lee Ann - I Hope You Dance [ECD] (CD 2000; Country) Mint Used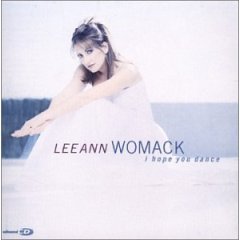 Only 1 available
Details
Shipping: US-Mainland: $2.75 (more destinations)
Condition: Used
*The store has not been updated recently. You may want to contact the merchant to confirm the availability of the product.
Lee Ann Womack "I Hope You Dance" used CD is in scratch-free mint condition. Jewel case and inserts are also in excellent condition. There are no cuts, holes, punches or drill liquidation marks on this. 100% intact with all original packaging. Regular commercially released cd; this is not a music club or promotional release.

Item Specifics - Music: CDs
Artist: Womack, Lee Ann
Release Date: May 23, 2000
Format: CD
Record Label: MCA Nashville
Genre: Country
UPC: 008817009926
Sub-Genre: Mainstream
Album Type: Full-Length CD
Condition: Used

Additional Information about I Hope You Dance [ECD]
Portions of this page Copyright 1948 - 2007 Muze Inc. All rights reserved.

Track listing
1. Healing Kind, The
2. I Hope You Dance - (with Sons Of The Desert)
3. After I Fall
4. Stronger Than I Am
5. I Know Why The River Runs
6. Why They Call It Falling
7. Ashes By Now
8. Thinkin' With My Heart Again
9. I Feel Like I'm Forgetting Something
10. Lonely Too
11. Does My Ring Burn Your Finger
12. Lord I Hope This Day Is Good

Details
Contributing artists: Aubrey Haynie, Bekka Bramlett, Buddy Miller, Jason Sellers, Julie Miller, Michael Omartian, Ricky Scaggs
Producer: Frank Liddell, Mark Wright
Distributor: Universal Distribution
Recording type: Studio
Recording mode: Stereo
SPAR Code: n/a

Album notes
Personnel includes: Lee Ann Womack (vocals); Joe Manual, Richard Bennett (acoustic & electric guitars); Dan Tyminski, Pat Flynn, Mark Casstevens (acoustic guitar); Brent Mason (electric guitar); Paul Franklin (slide & steel guitars, dobro); Larry Franklin (mandolin, fiddle); Aubrie Haynie (fiddle); Michael Omartian (accordion); Steve Nathan (Hammond B-3 organ, keyboards); Michael Rhodes, Glenn Worf, Brett Beavers (bass); Eric Darken, Sam Bacco (percussion); Ricky Scaggs, Bekka Bramlett, Buddy Miller, Julie Miller, Ronnie Bowman, Jon Randall, Jason Sellers, Bergen White, Sons Of The Desert (background vocals).

"I Hope You Dance" won the 2000 CMA Award for Single Of The Year and Song Of The Year.
"I Hope You Dance" won the 2001 Grammy Award for Best Country Song. I HOPE YOU DANCE was nominated for the 2001 Grammy Award for Best Country Album. "I Hope You Dance" was nominated for the 2001 Grammy Award in the categories of Song Of The Year and Best Female Country Vocal Performance.

This is an Enhanced CD, which contains both regular audio tracks and multimedia computer files.
While her colleagues either dip their toes in pop music or embrace it wholeheartedly, Lee Ann Womack keeps it country. Womack's third release, I HOPE YOU DANCE, finds her looking back to country's past, while keeping both feet firmly in the present.

Womack's nod to those who came before includes terrific cover versions of two modern classics: Rodney Crowell's "Ashes By Now" and Don Williams' "Lord I Hope This Day Is Good," as well as guest harmonies by New Traditionalist Ricky Skaggs (on "The Healing Kind"). More subtly, her respect is obvious in the Bakersfield twang of "I Feel Like I'm Forgetting Something," the Appalachian harmonies of "Does My Ring Burn Your Finger," and the album's rootsy instrumentation. But Womack places herself squarely in modern-day country with the lovely, poetic title track, a country take on Bob Dylan's "Forever Young," with guest vocals by Sons Of The Desert. Another standout is "Stronger Than I Am," a beautifully crafted song about a divorcee who realizes her daughter has survived the ordeal much better than she has. The tasteful production highlights Womack's delicate voice which, unlike those of her colleagues, dispenses with histrionics in favor of real emotion. In a sea of country/pop fluff, I HOPE YOU DANCE is a true gem.

Editorial reviews
...Finds the hypnotic middle between traditional and edgy contemporary country, mining just the right amount of bluegrass production value...to put the ache back into Nashville fare....this is a triumph of musical integrity in a mainstream world. - Rating: A
Entertainment Weekly (05/26/2000)

4 stars out of 5 - ...Beautifully sung....stoic of lyric and memorable of tune....giving those living in trailer parks a peek at dignity.
Q (09/01/2000)

Ranked #1 in EW's Top 3 Country Albums of 2000.
Entertainment Weekly (12/29/2000)


_____________________________________________________________________________________



$2.75 shipping for first class mail and delivery confirmation. Shipping discounts available for multiple cd purchases, see below! CD's are boxed very securely to avoid damage in mailing.

Please take a look around my store for more items that may interest you. I am happy to combine shipping on multiple CD purchases or combinations of other items. For CD-only purchases, media mail shipping rates depend on the number of CDs ordered as follows:

1-3 cds for $3.50 total ship (media mail + delivery confirm)
4-8 cds for $4.00 total ship (media mail + delivery confirm)
9-13 cds for $4.50 total ship (media mail + delivery confirm)

For combinations of other items besides CDs, please contact me for a total shipping quote. Note if you plan to pay with Paypal, once you have made your selections please send me a note and wait for me to invoice you before submitting payment. This way I can assure that you are paying the correct reduced combined shipping. Ecrater currently adds all of the pre-defined shipping costs when you make your purchase, and in some cases you will end up over-paying on shipping. If you do overpay before I can send you an invoice, I will refund the difference via Paypal when I prepare your order.
... [Full Description]