Jewel - Joy: A Holiday Collection [ECD] (CD 1999; Pop, Holiday) Mint Used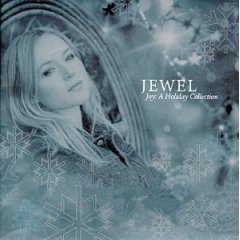 Only 1 available
Details
Shipping: US-Mainland: $2.75 (more destinations)
Condition: Used
*The store has not been updated recently. You may want to contact the merchant to confirm the availability of the product.
Jewel "Joy: A Holiday Collection" used CD is in scratch-free mint condition. Jewel case and inserts are also in excellent condition. There are no cuts, holes, punches or drill liquidation marks on this. 100% intact with all original packaging. Regular commercially released cd; this is not a music club or promotional release.

Item Specifics - Music: CDs
Artist: Jewel (Pop)
Release Date: Nov 02, 1999
Format: CD
Record Label: Atlantic (USA)
Genre: Pop
UPC: 075678325021
Sub-Genre:
--
Album Type: Full-Length CD
Condition: Used

Additional Information about Joy: A Holiday Collection [ECD]
Portions of this page Copyright 1948 - 2007 Muze Inc. All rights reserved.

Track listing
1. Joy To The World
2. O Holy Night
3. Silent Night
4. Winter Wonderland
5. O Little Town Of Bethlehem
6. Ave Maria
7. Hark! The Herald Angels Sing
8. Rudolph The Red Nosed Reindeer
9. Face Of Love
10. Go Tell It On The Mountain / Life Uncommon / From A Distance
11. I Wonder As I Wander
12. Gloria
13. Hands - (Christmas version)

Details
Contributing artists: Chieli Minucci
Producer: Arif Mardin
Distributor: WEA
Recording type: Studio
Recording mode: Stereo
SPAR Code: n/a

Album notes
This is an Enhanced audio CD, which contains regular audio tracks and multimedia computer files.
Personnel includes: Jewel, Nedra Carroll (vocals); Chieli Minucci (acoustic & electric guitars); Ira Siegel, Danny Blume, Michael O'Reilly, Peter Bliss (guitar); Larry Campbell (pedal steel guitar); Dennis Cinelli (lute); Robbie Kondar (piano, keyboards, programming); Leon Pendarvis (piano); Joe Mardin (keyboards, programming, background vocals); Steve Skinner (keyboards, programming); Jerry Barnes, Winston Roye, Wayne Pedswater (bass); Shawn Pelton, Sterling Campbell (drums); Willie Martinez (percussion).
Recorded at Right Track Recording and Sound On Sound, New York, New York.

All tracks have been digitally mastered using HDCD technology.

This is an Enhanced CD, which contains both regular audio tracks and multimedia computer files.
Though it contains only three compositions penned by the singer, Jewel's yuletide album JOY: A HOLIDAY COLLECTION still manages to sound like a wholly original set of songs. This is due in large part to the singer's ability to modulate the texture of her voice, a technique that she will occasionally call upon several times within the space of a single song.

One example is Jewel's country-flavored rendering of "Winter Wonderland," which benefits from pedal steel guitar and a shuffling, rootsy beat. Jewel blends a light scat/yodeling melange, sultry and plummy diva-like crooning, and an airy and wispy vocal timbre not far from that of Dolly Parton. The more straightforward "Joy to the Word" benefits from warm strings and a piquant, well-placed lute. As one might expect, the take on "Rudolph the Red-Nosed Reindeer" is a jocular affair, as Jewel mixes her sprightly vocal part amongst a bevy of choir voices. Jewel originals include the Latin-sung "Gloria" and a special Christmas version of the uplifting "Hands," a track that originally appeared on her SPIRIT album. As the song suggests, in Jewel's world, "only kindness matters."


_____________________________________________________________________________________



$2.75 shipping for first class mail and delivery confirmation. Shipping discounts available for multiple cd purchases, see below! CD's are boxed very securely to avoid damage in mailing.

Please take a look around my store for more items that may interest you. I am happy to combine shipping on multiple CD purchases or combinations of other items. For CD-only purchases, media mail shipping rates depend on the number of CDs ordered as follows:

1-3 cds for $3.50 total ship (media mail + delivery confirm)
4-8 cds for $4.00 total ship (media mail + delivery confirm)
9-13 cds for $4.50 total ship (media mail + delivery confirm)

For combinations of other items besides CDs, please contact me for a total shipping quote. Note if you plan to pay with Paypal, once you have made your selections please send me a note and wait for me to invoice you before submitting payment. This way I can assure that you are paying the correct reduced combined shipping. Ecrater currently adds all of the pre-defined shipping costs when you make your purchase, and in some cases you will end up over-paying on shipping. If you do overpay before I can send you an invoice, I will refund the difference via Paypal when I prepare your order.
... [Full Description]