Mustang Mixer 4-In-One Blender Mixer Juicer Grinder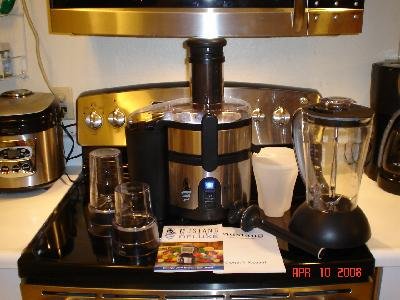 Only 1 available
Details
Shipping: USPS calculated - check
Condition: Brand new
*The store has not been updated recently. You may want to contact the merchant to confirm the availability of the product.
WITH AN OVER 1 HORSEPOWER MOTOR AND REVOLUTIONARY BLADE DESIGN...AND COMBINING THE 4 MOST POPULAR SELLING KITCHEN APPLAINCES...THE MUSTANG MIXER 3-in-1 2007 MODEL AND THE MUSTANG MIXER SUPER DELUXE 4-In-1 2008 MODEL WERE SURE TO BE HITS!

BUT WAIT...THERE'S MORE!

WE BROUGHT TOGETHER 4 OF THE HOTTEST HOSTS ON ONE SET TO PITCH THIS AMAZIING PRODUCT...

JOE FOWLER, BEAU RIALS, TERRI TONER AND LOU CAPUTO CAME TOGETHER TO DEMO ALL THE DIFFERENT WAYS YOU CAN USE THE MUSTANG...

FROM CRUSHING ROCKS...TO MAKING INCREDIBLE, HEALTHY SMOOTHIES...TO CREATING EXCITING AND HEALTHY JUICES....TO MAKING LUSCIOUS DESSERT TOPPINGS...THE MUSTANG MIXER SHOW HAD IT ALL!

GREAT SET...

GREAT SHOOT...

GREAT PRODUCT...

GREAT SHOW!

THE MUSTANG MIXER SUPER DELUXE COMBINES THE 4 MOST POPULAR APPLIANCES INTO 1 INCREDIBLY POWERFUL AND VERSATILE KITCHEN TOOL!

Innovative attachments and a single, powerful, over 1 horsepower motor makes THE MUSTANG MIXER DELUXE the ultimate multi-purpose appliance. The 4 surgical steel blades make over a thousand cuts per second and the proprietary blade design creates the perfect vortex for perfect chopping and uniform blending

The Grinder: For grinding your favorite coffee beans, flax seeds, herbs and spices plus much more
The Mixer: The Ultimate for smoothies, liquor and coffee drinks, marinades, spreads, dips & more
The Juicer: Perfect for refreshing fruits and vegetable juices
The Pony: Great for tasty spreads, toppings, dressings, dips and more
Commercial Quailty
Includes recipe & instruction book
THE MUSTANG MIXER SUPER DELUXE replaces over 13 different appliances and runs on 800watts at 120 volts.

Example Recipes Included:

Made with the Pony Attachment- Spicy Hummus, Curried Tofu Dip, Taco with Black Bean Spread, Goat Chees Potato Dressing, Miso Dressing, Sun-dried Tomato Dressing.

Made with the Juicer Attachment- Orange Tree, Summer Cantaloupe, Apple Tree, Soothing Pineapple, Pear Plus, Vegetable Simple Original, Mean Green, Pick-Me-Upper.

Made with the Mixer Attachment- The Banana Smoothie, Berry Nice, Tropical Sensation, Chocolate Delight, Watermelon Smoothie, Ultimate Protein Shake, Coconut Smoothie, Pineapple Surprise, Just Peachy, Berry Margarita, Espresso Lifter, Tropical Island Smoothie.

Made with the Grinder Attacment uses- Fresh Grind Coffee, Ground Fresh Herbs or Spices, Grind Flax Seeds ETC.

Even more Recipes included- Cumin Marjoram Marinade, Spicy Citrus Marinade, Three Olive Tapendade, Yogurt Mayo Dip.

Included in factory sealed packaged box

Motor Assembly
Juicer assembly with Juicer sifter bottle
Small Chopper assembly
Small Grinder assembly
Blender assembly with smoothy plunger
Recipe Book
Owners manual instructions
Does the work of a Vita-mix, Breville Juicer, Newer Magic Bullet, and KitchenAid grain/coffee mill all at the price of paying for less than one of these items with all the attachments delivered.

Questions by buyers?

How is this compared to the Vitamix and does it break down the cellular walls of foods? Well Vitamix claims that there product operates over 200 mph at speeds of 37,500 rpms and that is how it breaks down the foods so the body can absorb all the nutrients. In comparison to the Mustang Mixer which runs over 500 mph at speeds over 60,000 rpms I will say that it can do as the vitamix claims and much more!
Why is the price so cheap as it is 10 times cheaper than the Vitamix? Well both units are made of polycarbonate plastics with powerful motors and one is made in the USA and the other in China so if your budget can afford a Vitamix which is made in the USA then I suggest you buy that one as it is of the highest quality but if not then get the Mustang Mixer which too does all it advertises and is built very well.
How well is the juicer function on the Mustang Mixer compared to a Breville Juicer? Well I have sold about 250 Brevilles online and am a user of one until I came across the Mustang mixer infact I dont see any quality differences except the Mustang mixer is easier to clean, dissasemble, plus it has a built in relay which shuts the motor off in case it overheats plus it has black suction cups on the bottom which prevents the juicer from turning when operating. So I ended up giving my Breville away and kept a Mustang Mixer for myself as Brevilles are known to burn out motors as I know I warranteed about 15 of them.
How is the Mustang Mixer compared to the Magic Bullet? No comparison as the Mustang Mixer is faster, stronger, plus does jobs that the Magic Bullet only dreamed of but for small spaces the Magic Bullet is ideal in that case.
What is the retail value of this Mustang Mixer? Manufacture claims $200.00 but on commercial the 4-in-1 is $149.99 and the 3-in-1 is $99.99 which is available for you to see above in the video box.
How many Mustang Mixers do you have? We have limited quantitys as we are selling on 3 channels plus prices will gradually go up as stock is depleted since our costs are rising everytime we receive our orders from the manufacturer. Stock may be depleted at anytime but we list on ebay what we have on hand only. So buy now as ebay prices are promotional and will go up consistently until depleted.
Do we combine shipping? Yes as normally we can only ship two at a time as allowed by postal carriers so please contact us for estimates if interested or use ebays shipping calculator which is also correct for domestic and International transactions.
... [Full Description]