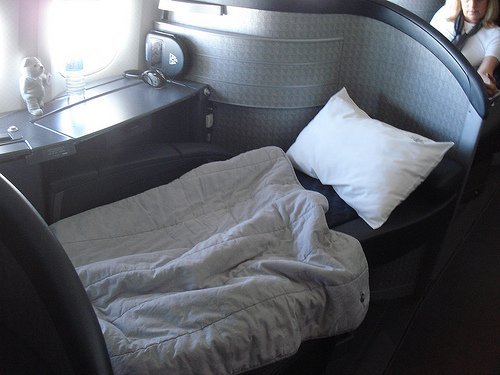 8 available
Details
Shipping: US-Mainland: free (more destinations)
Condition: Brand new
*The store has not been updated recently. You may want to contact the merchant to confirm the availability of the product.
4 American Airlines Systemwide VIP Upgrade

Expiry 2/28/2014

Each upgrade is for ONE WAY TRAVEL.

It is for a one-cabin upgrade. You can upgrade your already purchased tickets in economy class cabin to Business class cabin or in Business class cabin to First class cabin, subject to AA's terms and conditions below.

This gift is available for flying with American Airlines anywhere in the world where American Airlines operates. This gift has the most value for international travel but the upgrade will work for domestic travel too.

BEST VALUE IF USED TO UPGRADE A INTERNATIONAL FLIGHT .

WARNING: You must meet the requirements below. I will not be responsible for those who cannot be upgraded due to unavailability or non-upgradable ticket.

1) It is your responsibility to call American to book your coach itinerary and confirm that it is upgradeable using an Electronic Systemwide upgrade. Explain that a AA ELITE member will be sponsoring the upgrade as a gift to you and you would like to verify seat availability.


2) You need to email me your name, record locator, American mileage number, flight number, and date of departure.

3) This upgrade is only valid for paid fares. Tickets using mileage cannot be upgraded, nor can tickets purchased at deep-discount online travel agencies such as Priceline and Hotwire. Generally, discount fares ARE eligible for upgrade. Check with the airline and read the rules below before you buy the ticket.

All sales are final! There will be no refunds. If you have any question at all, please email me.

However, if your trip is not upgraded I will work with you on your future trips until you are either upgraded or the upgrade expires, whichever comes first.


This is an electronic certificate - there is no paper certificate. You will need to email me with your flight details as listed above. There will be no shipping involved for the upgrade gift.

Systemwide Upgrade Terms and Conditions

Upgrade entitles passenger to one-way upgrade to the next class service at no additional charge for travel on American Airlines to any AA destination.
This upgrade is subject to capacity controls and is limited to a single one-way trip with a maximum of three segments. American Eagle segments do not count toward the three segments.
Reservations are subject to seat availability at the time of upgrade.
Reservations may be made and tickets purchased from any authorized Travel Agency or American Airlines. Upgrade requests using systemwide upgrades cannot be made via AA.com at any time.
Upgrades are valid only on scheduled flights marketed as American Airlines and operated by American Airlines. Not valid on codeshare flights.
Open tickets may not be issued.
Stopovers, joint and through fares are permitted if fare is punches allows.
If, after ticketing, your ticket must be reissued, a change fee may apply based on your purchased fare.
Any tax liability is the responsibility of the user.
Upgrades are only valid on individual published-fare tickets. Upgrades are not applicable to AAdvantage travel awards; any free ticket; military or other government fares; opaque fares; infant tickets (including INF50 fares) or purchased extra seats.
Any itinerary changes to a confirmed upgrade are subject to seat availability for the new itinerary.
AAdvantage mileage will accure for the class of service on which your face is based when you are ticketed, not for the class of service flown.
Any voluntary refund of a ticket issued against the upgrade shall be in accordance with applicable fare rules for the fare purchased.
Members may designate another passenger to use their upgrades.
Passengers may be requested to show identification at any time during travel.

• Upgrades to certain international airports -- most notably London Heathrow, London Gatwick and now Paris -- require an additional fee for upgrade -- these airports charge a government luxury tax based on the class of service you are in, so you will have to pay a higher tax if you switch from a Coach to Business or from a Business to First Class seat. You will be responsible for this extra tax if it applies.
... [Full Description]