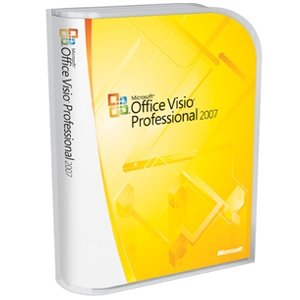 0 available
Details
Shipping: USPS calculated - check
Condition: Brand new
*The store has not been updated recently. You may want to contact the merchant to confirm the availability of the product.
Microsoft Visio Professional 2007
Microsoft Office Visio 2007 makes it easy for IT and business professionals to visualize, explore, and communicate complex information. Go from complicated text and tables that are hard to understand to Visio diagrams that communicate information at a glance. Instead of static pictures, create data-connected Visio diagrams that display data, are easy to refresh, and dramatically increase your productivity. Use the wide variety of diagrams in Office Visio 2007 to understand, act on, and share information about organizational systems, resources, and processes throughout your enterprise.

Office Visio 2007 is available in two stand-alone editions: Office Visio Professional and Office Visio Standard. Office Visio Standard 2007 has the same basic functionality as Visio Professional 2007 and includes a subset of its features and templates. Office Visio Professional 2007 offers advanced functionality, such as data connectivity and visualization features, that Office Visio Standard 2007 does not.

Visualize complex information to better understand it
Office Visio 2007 provides a wide range of templates —business process flowcharts, network diagrams, workflow diagrams, database models, and software diagrams — you can use to visualize and streamline business processes, track projects and resources, chart organizations, map networks, diagram building sites, and optimize systems.

More easily visualize processes, systems, and complex information using new or improved features in Office Visio 2007:

Get started quickly with templates. Office Visio 2007 includes specific tools to support the diverse diagramming needs of IT and business professionals. Create a broader range of diagrams with new templates, such as the ITIL (Information Technology Infrastructure Library) template and the Value Stream Mapping template in Office Visio Professional 2007. Use the predefined Microsoft SmartShapes symbols and powerful search capabilities to locate the right shape, whether it is saved on a computer or on the Web.
Quickly access templates you use often. In the new Getting Started window, find the template you need by browsing simplified template categories and using large template previews. Locate the templates you used recently by using the new Recent Templates view in the Getting Started window
Get inspired by sample diagrams. Find new sample diagrams more easily by opening the new Getting Started window and using the new Samples category in Office Visio Professional 2007. View sample diagrams that are integrated with data to get ideas for creating your own diagrams, to realize how data provides more context for many diagram types, and to determine which template you want to use.
Connect shapes without drawing connectors. New AutoConnect functionality in Office Visio 2007 connects shapes, distributes them evenly, and aligns them for you — with only one click. When you move the connected shapes, they stay connected and the connectors automatically reroute between the shapes.
Explore information to identify trends and issues and act on them
Using Office Visio Professional 2007, make your diagrams even smarter by linking them to data to provide a more complete picture of a process, project, or system. Visually explore information to identify key trends, issues, and exceptions, and then act on them. Analyze, drill down into, and create multiple views of business data to gain insight into it.

Easily connect data to diagrams and link data to shapes. Automatically connect diagrams to one or more data sources, such as Microsoft Office Excel 2007 spreadsheets or Microsoft Office Access 2007 databases, by using the new Data Link functionality in Office Visio Professional 2007. Save time associating data with shapes by using intuitive new linking methods, which populate each shapes properties (also known as shape data) with data values. For example, link all the shapes in a diagram to rows of data from connected data sources by using the new Automatic Link Wizard.
Display data attractively in diagrams. Easily display data associated with shapes in attractive ways by using the new Data Graphics feature in Office Visio Professional 2007 to choose from a number of data formatting options. With a single click, display data fields as callouts next to a shape, position fields in boxes below a shape, and place fields of data directly on top or to the side of a shape.
Easily refresh data in diagrams. The new Refresh Data feature in Office Visio Professional 2007 automatically refreshes all the data in your diagrams so that you don't have to do it manually. If data conflicts arise, easily resolve them by using the Refresh Conflicts task pane, also included with Office Visio Professional 2007.
Visualize business data. Visually explore business data that's normally shown in static text and tables by using PivotDiagrams. Create different views of the same data to more fully understand the issues.
Visually report on project information. Office Visio 2007 is an indispensable tool for visualizing complex project information. Easily generate reports directly from within Microsoft Office Project and Microsoft Office SharePoint Server that track project tasks, owners, roles, responsibilities, and depict complex project ownership structures. Automatically modify the reports as project information changes.
Communicate using diagrams that can be shared with a broad audience
Communicate information using Visio diagrams to maximize its impact in ways words and numbers alone can't. Then share your professional-looking Visio diagrams with others, even those who don't have Visio.

Communicate more effectively and in more ways to reach broader audiences by using new and improved features in Office Visio 2007:

Design professional-looking diagrams. The new Theme feature in Office Visio 2007 makes it easy to format the colors and effects (text, line, fill, shadow, and connector formatting) in an entire diagram with a single click. Office Visio 2007 even uses the same color palette as other 2007 Microsoft Office system programs so that you can easily design professional-looking Visio diagrams that match your presentations and documents. Create more dynamic workflows with new 3-D Workflow shapes, which were designed with the new Theme feature in mind.
Reach broader audiences. Save Visio diagrams in PDF or XPS file format to make them more portable and to reach broader audiences. View Visio diagram attachments from within Microsoft Office Outlook 2007
Share diagrams with others. Save your diagrams as Web pages complete with navigation controls, a shape data viewer, reports, choice of image format, and style sheet options. On intranets and extranets, anyone who's using Visio Viewer with Windows Internet Explorer can view the diagrams from within Internet Explorer.
Collaborate using Microsoft Windows SharePoint Services. Shared workspace functionality supports collaboration with Microsoft Windows SharePoint Services. Visio diagrams saved on a Windows SharePoint Services sites can be opened directly in Office Visio 2007 from the site, and even checked in and out from within Office Visio 2007. When a diagram is opened from a Windows SharePoint Services site, Office Visio 2007 opens a Shared Workspace task pane that contains all of the information in the workspace, including other files, members, tasks, and links.
... [Full Description]