Disease Dogs, Addisons Disease (50ml) NRADR001BB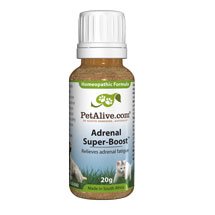 More than 10 available
Details
Shipping: US-Mainland: free (more destinations)
Condition: Brand new
*The store has not been updated recently. You may want to contact the merchant to confirm the availability of the product.
AdrenalBoost for Improved Adrenal Functioning (50ml)
Addisson's Disease Shop
FREE SHIPPING. NO TAXES. EASY RETURNS.

Adrenal Super-Boost™

Homeopathic remedy relieves adrenal fatigue & supports adrenal gland functioning
natural adrenal gland fatigue remedy for cats & dog

* FAQs
* ASK OUR EXPERTS
* EASY SHIP

Adrenal Super-Boost Benefits:

* Reduces adrenal fatigue and increases vitality
* Improves mood
* Supports adrenal health

Related Products:

* To promote energy and vitality in pets, visit Energy Tonic™

Adrenal gland support for your pet

Adrenal glands significantly affect the functioning of every tissue, organ and gland in the animal body and determine the energy of the body's reaction to external triggers. Therefore, canine and feline adrenal gland problems also affect the utilization of carbohydrates and fats, the conversion of fats and proteins into energy, the distribution of stored fat, blood sugar regulation, and proper cardiovascular and gastrointestinal functioning.

The natural way

The adrenal glands do not operate in isolation and should be seen as part of overall systemic functioning. From a holistic point of view, therefore, it makes sense that regular exercise and a balanced diet are important in maintaining systemic as well as adrenal health.

Certain herbs are also known to support the health of the adrenal glands. As animals react well to supplementation with herbal remedies, these can also play an important role in supporting a pet's adrenal function. Homeopathic remedies can be equally effective in maintaining healthy energy levels and body weight, digestive functioning, cardiovascular health and electrolyte balance.

What is Adrenal Super-Boost?

Adrenal Super-Boost is an FDA-registered natural remedy containing 100% homeopathic ingredients known for their ability to relieve adrenal fatigue, as well as support the functioning of the entire endocrine system.

Taken internally, the ingredients in Adrenal Super-Boost address acute symptoms such as weight loss, low energy levels and mood fluctuation – as well as help maintain adrenal gland balance in dogs and cats.

Presented in a convenient dissolvable granule form, the tiny granules are easy to administer (even to animals that will not swallow tablets) and are simply sprinkled on the back of the tongue and left to dissolve.

All Native Remedies homeopathic products and biochemic tissue salts are manufactured in an FDA and GMP registered pharmaceutical facility under the supervision of qualified homeopaths and responsible pharmacists. Individual ingredients are listed in the Homeopathic Pharmacopoeia of the United States (HPUS).

Ready to Purchase?
See Below

How has Adrenal Super-Boost helped others?

"Our dog is like he used to be – full of energy, I can only assume that Adrenal Super-Boost has made the difference – thank you!"

—Kendra, TX, USA

"Our vet is open-minded and recommended this product after we took Max, our lab, for a check up. We are confident that when he sees Max this Wednesday, he won't believe the improvement!!"

—Rusty and Jill M.

"Our dog Rocky loves Adrenal Super-Boost. Our vet said he needed adrenal support, so we searched online for natural remedies, as we don't believe in conventional medication. This has been a blessing, thank you so much."

—Lara

"We run an animal shelter, with many animals coming in on a daily basis. All of them are given a check up as they arrive. I have been searching for a remedy like this for ages. I am so glad I found your site. Adrenal Super-Boost is really helping them to bounce back and I use your PetCalm on all the new arrivals. Thank you."

—Cathy

"… I have seen the results, and I endorse Adrenal Super-Boost!"

—Simon J. NV, USA
Disclaimer: Testimonials may have been edited to comply with FDA regulations. While positive results are likely, the testimonials used are general results and are not intended to represent or guarantee that anyone will achieve the same or similar results – individual results may vary.

* View All Testimonials
* Add Your Testimonial

What are the Ingredients?

Adrenal Super-Boost contains the following 100% homeopathic ingredients:

* Onosmodium (6C) is frequently recommended in cases where symptoms such as exhaustion, a feeling of heaviness and even clumsiness are displayed.
* Acidum phosphoricum (6C) is also indicated for exhaustion. Homeopathic phosphoric acid is often recommended for chronic fatigue, listlessness and headaches.
* Gelsemium (6C) is useful for those who are mentally and physically weak, even to the point of not being able to move. It is also recommended when fatigue and inertia are associated with nervousness.
* Sucrose (inactive ingredient)

All PetAlive by Native Remedies homeopathic products and biochemic tissue salts are manufactured in an FDA and GMP registered pharmaceutical facility under the supervision of qualified homeopaths and responsible pharmacists. Individual ingredients are listed in the Homeopathic Pharmacopoeia of the United States (HPUS).

All products are free of gluten, artificial flavors, colorants and preservatives, and are suitable for use by lacto vegetarians. In accordance with our Do No Harm policy, no animal testing is carried out whatsoever. All products are backed by our One Year Unconditional Money Back Guarantee offering you peace of mind and proof of our utmost confidence in the quality, safety and effectiveness of our products.

Ready to Purchase?
See Below

How do I use Adrenal Super-Boost?

DIRECTIONS

Granules may be sprinkled directly into the mouth or as an alternative mixed with a small amount of wet food.

Initial dose: every 30 minutes for up to ten doses. Thereafter, three times daily.

Cats: 1 pinch
Dogs under 20 lbs: 1 pinch
Dogs 20-50 lbs: 2 pinches
Dogs over 50 lbs: ¼ cap

Adrenal Super-Boost is also safe for small pets.
Ferrets and rabbits: 1 small pinch
Hamsters, gerbils & mice: Approx. 15 granules



Use only under supervision of a holisitic veterinarian.

Note: Adrenal Super-Boost can safely be used along with prescription medications from your vet.

caution

No adverse interactions have been noted between the ingredients in Adrenal Super-Boost and prescription medications. However, as with any medicine, it is always advisable to consult your vet. Consult your vet if symptoms persist or worsen.
Adrenal Super-Boost is highly recommended along with the following natural remedies for maximum effectiveness.

* Immunity & Liver Support™ is used to support the immune system and liver function
* SlenderPet™ is used to promote healthy weight and metabolism
* Energy Tonic™ is used to support healthy energy levels in your pet

How long until I see results?

Because Adrenal Super-Boost is 100% homeopathic, it begins working quickly after just the first dose to address symptoms of adrenal gland problems such as fatigue and listlessness and support adrenal gland heath. While some animals begin to show an almost immediate improvement that increases over time, others will see results after 3-5 days.

How long will a bottle last?

One bottle of Adrenal Super-Boost (20g) will last for approximately 30 days, depending on frequency of use and the size of your pet.
... [Full Description]