Electric bike bicycle motor hub kit 36 volt 400 watt new brushless.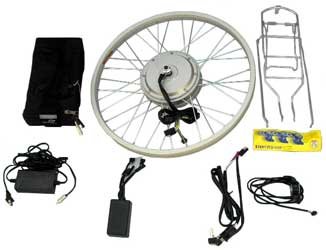 More than 10 available
Details
Shipping: US-Mainland: $45.00 (more destinations)
Condition: Brand new
*The store has not been updated recently. You may want to contact the merchant to confirm the availability of the product.
Save gas money$$. Fight back against the oil companies. Save wear on your expensive car. On average, it costs you $.56 per mile to drive your 2-3 ton car or truck. This kit pays for itself in no time. Get some healthy exercise, too. Great for riders with DUI restrictions. Helps your uphill climb and against headwind resistance. No more sweating. Get to your destination feeling fresh and energized.
These kits can be installed in 30 minutes or less, have a top speed of 20 mph, and a distance of 20 miles per charge. The kit comes with everything you need to electrically motorize your bike: hub motor mounted in a front wheel, electronic controller unit w/keyswitch, variable speed thumb throttle, rack, battery pack & smart charger.

Retails for over $500 plus tax (and you must drive your car to get it). We deliver!

Brand new kit, in the box (NIB).

Brushless hub motor, 36 volts.
Average Range (Distance) per Charge: up to 20 miles per charge depending on terrain and rider weight.
Conveniently charge battery on or off bike. You can lock your bike outside and carry battery bag indoors to charge.
Simple installation. Just move existing front tire onto the supplied rim with motor. Hook up electronics to battery on rear rack. Drive away.
Brushless motor, meaning you will never have to change the brushes inside it. Brushless motors are more power-efficient than brushed motors, and this one will increase your range by 20-25 % compared with a similar power-rated brushed hub motor.
This motor runs on 36 volts and is rated at 400 watts (continuous power output - 750 watts peak output.)

Description: Motor mounted in wheel, lighted variable-speed thumb throttle, controller unit, battery pack, smart charger, bike rack.

Hub Motor, 400 Watt, 36 Volt DC Gearless, Brushless.
Throttle Type: Variable Speed Throttle. Key Switch
Battery Pack: Sealed, 12 Volt DC, 7 Amp Hour Lead-Acid Gel-Cell Batteries (x3). Charge batteries on the bike or carry batteries indoors.
Electronic Speed Controller Unit: Pedal 1st model (must get motor spinning 3-5 mph before motor will power up - no amp. limit)
Top Speed : 20+ mph.
Charger: Automatic Smart Charger: 2 Amp @36 vdc.
Average Recharging Time: 4-6 hours.
Payload Capacity: 300+ lbs. (U.S. Pounds).
Gross Weight of Kit: 36 lbs (48 lbs w/ext batt- pack)



--------------------------------------------------------------------------------
Your bike must have a minimum of 3.75" distance between the front forks. 4" is better. Also needed is 4" clearance to a minimum of 5" up from the fork mountings where the wheel is attached.
Bike not included.

Brands: Motor made by Crystalyt. Batteries made by First Power.

Optional: complete motorized cruiser bikes with motor installed is available. E-mail me for prices.

Please tell me your front wheel size: 20, 24, or 26 inch. 700C rim is available.

What are the differences between the various Models?

This is a BrushLESS motor system (the motor has no brushes inside it), and is our "top of the line" kit. You will get 20 - 25 % more range out of your battery pack with a brushless system compared to the brushed system. The other advantage is that you will never have to change the brushes inside the motor.

Why should I buy the brushed system instead of the brushed?

The brushed system efficiency is much better; about 20-25% better. So if you're planning on using a bicycle for longer trips, such as commuting 10 miles or more to work; then the brushed system is the kit for you. The brushed system has no brushes inside the motor, so you will never have to worry about changing them.

How sturdy is my kit and how long will it last?

We have gone to great lengths to perfect our kit as much as possible. We feel very confidant that our kits are the very best on the market today. If you treat your kit with love and care, it should last you years and years! Plus, our kits are componentized, which means if that you happen to abuse, or inadvertently break one of the components in your kit, i.e.: you dump your bike and smash the thumb throttle to bits - you can order a new part from us and when it arrives, unplug the bad part and plug your new one in, and nobody will be the wiser! This applies to all components in the kit: Hub motor/wheel, Throttle, Key switch, Controller unit, Battery pack, and Smart charger.

How fast will my bike go with the kit installed?

Using the brushless system kit on a 26" wheel, your bike will reach a top speed of 20 mph. On a 24" wheel - 18 mph, and 20" wheel = 16 mph.

How far can I go?

With the brushless system kit, we like to use the formula: 20/20, which means your bike will go 20 mph for 20 miles, but that is under the following conditions: 26" wheel with thin, slick street tires, 150 lb. rider, flat riding terrain, and no stops or starts. In the real world, you will probably get 15 miles per battery pack charge with the standard battery pack, and about 10 miles more (25 miles +) with the extended range battery pack.

How much drag does the motor create when I am not using it and pedaling instead?

The motor has magnets inside it, which do create a slight amount of drag. You probably will not notice the resistance when you are pedaling on a flat surface. On a hill you will notice the slight drag, but this would be a good time to hit the throttle and let the motor assist you!

Is there any way to increase the range?

Yes. The first thing you can do is pedal with your motor, especially when accelerating from a dead stop, since this is where the most power is used. Also, using high pressure tubes (65 psi or above) and street slick tires can increase your range by 30% or more. Decreasing your "rolling resistance" will always increase your range.

How can I determine if the kit will fit on my bicycle?

If your bicycle wheels are any of the following standard wheel sizes: 20", 24", or 26", the kit should fit! A 700C wheel size is available in the brushless model only. Make sure that your bicycle has a minimum of at least 3 ?" distance between the front forks - 4" is better, 4 ?" is pushin' it, and 4 ?" is too wide. Also, you will need to have 4" clearance to a minimum of 5" up from the fork mountings, so if your front bike forks taper in as you go up, you'd better check the distance where the forks narrow 5 inches above the fork mountings to make sure that you still have 4" clearance.

Can I buy the kit without the hub motor mounted in a rim?

You can purchase our kit without rim and spokes; however, we do not recommend this. You will incur many costs trying to get your hub motor mounted in your custom rim: approximately $20 or more for a rim, $8 or more for spokes, and most bicycle shops charge $30 or more in labor to build custom wheels.

------------------- BATTERIES ---------------------

--- "Battery Rating" Overview ---

Most battery's discharge capabilities are determined using a C-20 rate. This means the specifications given for a battery's performance are determined when the battery is discharged over a 20 hour period. SLA batteries boast between 300-500 charge cycles, but this is when they are discharged at a C-20 rate. Using them in an electric bike kit discharges them 10 times (or more), faster than the C-20 rate. So this means you will not get anywhere near 300-500 charge cycles out of your batteries. With normal use, never running your batteries completely dead, and being very vigilant in charging your batteries back up IMMEDIATELY after each use, you can realistically expect between 100-200 charge cycles out of them.

The amount, or depth of discharge also has a lot to do with the life-expectancy of your batteries also. SLA batteries should never be run completely dead; since this will damage them and reduce their life expectancy. Automobiles use SLA batteries to start the car's gasoline engine. So why do car batteries last five years then, you ask? Because when the car battery is used to power the engine's starter motor, it is only used for a few seconds and is discharged only 10 % of it's total capacity (if that); then it is IMMEDIATELY recharged when the gasoline engine starts. This is why a car battery can last five or more years.

What kind of batteries does the kit use?

Sealed Lead Acid batteries (SLA), are the standard batteries that come with your kit. SLA batteries have been around for a long time. Some of their advantages are: they're reliable, easy to charge, and inexpensive. Disadvantages are: they're heavy, bulky, and they are very unforgiving when they are not charged back up immediately after use. Your kit will come with three 12 volt, 7 amp/hr batteries connected in series to equal 36 volts, or you can upgrade your kit to the extended range battery pack (3 - 12volt, 12 amp/hr batteries connected in series) for another $30.

How long does it take to charge my batteries?

Depending upon the degree of discharge, it will take up to 4 hours to charge the standard battery pack, and up to 6 hours to charge the extended range battery pack.

Can my batteries be overcharged by leaving them plugged into the charger too long?

No. The charger that comes with your kit is a smart charger. It will shut itself off when your battery pack reaches a full charge, but it is always a good idea NOT to leave your battery pack plugged in all the time. Just unplug the charger when the charger light is green.

How many charges can my battery pack take?

Your battery pack is built with sealed lead acid batteries (SLA), which can be charged and discharged up to about 200 times. But you must do some things in order to get the maximum life out of your SLA battery pack: ALWAYS, we repeat - ALWAYS charge your batteries up IMMEDIATELY after EVERY use! Sealed lead acid batteries hate to be left discharged, even for only a few hours, so plug your battery pack into the smart charger immediately after every use. Also, try not to run your batteries completely dead, for this will diminish their life cycle.

Where do I get replacement batteries?

Replacement batteries can be purchased through us, or you can buy them in your local area at many retail outlets such as: Radio Shack, Fry's Electronics, or even Toys R Us.

Can I use other batteries with my kit?

Yes, as long as the battery pack you are using puts out 36 volts. However, you will have to figure out how to strap your custom made battery pack to your bike frame. Our canvas bag might work, as long as the total dimensions of your battery pack doesn't exceed 12"L X 2 7/8" H X 6" W (Standard Battery Pack Bag) or 12"L X 4 ?" H X 6" W Extended Range Battery Pack Bag.)

------------------- CHARGERS ---------------------

How can I tell when my 36volt charger is working, and when it has fully charged my battery pack?

36 Volt Smart Charger - When the battery pack is unplugged from the charger; both lights are red. When charging, the right light is green. When you're battery pack is fully charged, both lights will go red again.

How can I tell when my 24volt charger is working, and when it has fully charged my battery pack?

24 Volt Smart Charger - When the battery pack is unplugged from the charger; the left light will be green and the right light will be red. As the battery pack is charging, the green light will blink, and when it is fully charged, it will stop blinking, and both the red and green light will stay on.

Testimonials:

Heya Guys!

In my opinion, my electric bike is the best of the best available today! I'm so excited I'm telling and showing everyone I know about this! Keep on bringin us the new stuff WE guys!

Lovin it,

Norton R. Platt - Van Nuys, California

----------- I have over 500 miles on the brushed wheel kit now, mostly on sandy or muddy state park bike trails. It is still running strong. I am legally disabled, can't pedal much, the hub motor is freedom to Me, I don't have to give up an important part of My life.

Bob Honiker

St. Augustine, Florida

------------ Hello; . . . . I am having a blast riding and it has made me mobile again. Don't know if I told you but I am disabled. very painful to walk and vision too distorted to get a drivers license. I could drive if I had to but I wouldn't feel safe driving a car knowing how poor my vision is. I do see ll enough to ride a bike though and the bike motor gives me just enough speed to get where I need to go quickly while still being slow enough to give me extra time to react to problems on the road that I might not have noticed in a car going 35-65. Because of the pain I was basically a shut in; only going out when absolutely necessary and with a cane. A good example is my pharmacy. It's only 5 blocks away but it seemed like 50 when I had to walk there and I needed the rest of the day to recover from the pain. Now I just hop on the bike and I'm there in 2 minutes! I can't begin to tell you how much it means to me to be able to got to the bank, doctors, post office in minutes where it once took 20+ minutes of painful standing at the corner to wait for a bus, then a 15 minute ride and then walking from the stop to the building I needed to get to and to do it all over again to get home. I had a real bad case of cabin fever because I wanted to get out but the pain was stopping me. . . . . I would very much like to purchase another kit in the near future for my wife so she can ride with me. That's the one drawback. I have to ride alone. No one wants to ride with me if they have to pedal while I just cruise along. Jealous I guess. Everyone in the neighborhood is envious of the bike. Hope I can keep it from getting stolen! Thanks for answering my questions and thanks for helping me become mobile again. HW -------------------------


To the workers, THANKS! I think the little motor is superb - in a class by itself! I expect more products in the future from you just as great as the 400 motor in wheel. You're (the workers) the greatest! George -----------------------------


Hi, Haven't taken my kit bike out for a spin in about 2 weeks, but it is still working good at 250 miles. Mike -----------------------------


Hi, I just purchased one of your 36 volt extended-range kits and absolutely think it's the best thing! My wife can now keep up with my son and I on our extended bike trips! Thanks, -Joe


Review: [They] put together a conversion kit that is very impressive. I purchased a 21 speed mountain bike and installed the electric motor kit on it. I have done some testing on it and was very impressed with the results. The individual items in this kit have also been manufactured to take a lot more punishment than the average person would subject the bike to. I tested the overall speed of the electric motor kit against the Pro Drive kit and they are very close but the electric motor kit is a tad faster. The test was done in electric drive mode no pedaling. If your buying the kit for maximum distance then your best to have it mounted on a 15, 18 or 21 speed bike. By that I mean, one has more control over how much energy you pull from the battery. I took my 21 speed bike with the electric motor kit on it and I have pushed it out to a distance of 21 miles on a single charge. That is with there standard battery. also have an extended battery option that can be purchased and they claim it can go 30 plus miles on a single charge. Since there standard battery held true for the distance they claim I have no reason not to believe the extended battery can accomplish what they claim. Of course distance is dependent on your weight, type of terrain and how much or how little you use the motor. On the test I was only using the motor when I really had to hills and every so often a break from pedaling. I might also add if I would have been using my 6 speed bike instead for this test I would not have gone the 21 miles on the one charge. The electric bike gives me the ability to run most short and medium range errands thus I keep my pickup parked which saves gas and mileage. I also get all the exercise I need and it comes with having fun with plenty of fresh air and changing scenery. The bike has also turned out to be a very enjoyable way of getting into the outdoors. I used the electric bike for blueberry picking, fishing trips and exploring old back roads and trails. The electric bike is also a excellent mode of transportation to go hunting with. I prefer to walk old roads & trails and the bike gives me the ability to cover a lot more ground. The electric bicycle conversion kit has good torque and acceleration once your rolling. The electric motor kit is extremely easy to install. In my opinion the kit is an excellent product and the price is very reasonable. ? G.B.

Please ORDER WHAT SIZE WHEEL YOU WANT.

Manufacturer's warranty: 90 days on motor; free repair or replace, our option, to the original purchaser on motor found by an authorized representative to be defective in material and/or workmanship.

30 days on all else except batteries.

California buyers: 8.25% sales tax. Allow up to 7 business days for checks to clear.

Lead Acid Batteries are fully tested and certified before shipping. However, they are not warranteed due to our inability to determine factory defects verses purchaser misuse. All transportation costs and shipping damaged incurred while submitting parts for repair or replacement are the responsibility of the original purchaser. Thanks.
... [Full Description]