Ipod Mini 6gb Blue - 1,500 Songs In Your Pocket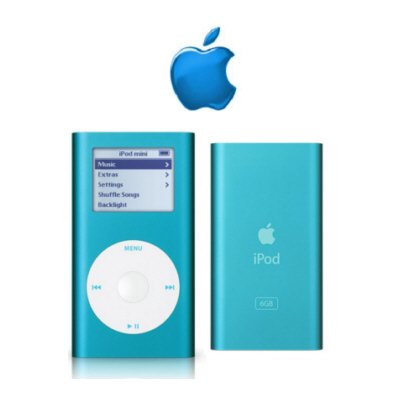 More than 10 available
Details
Shipping: US-Mainland: $15.00 (more destinations)
Condition: Brand new
*The store has not been updated recently. You may want to contact the merchant to confirm the availability of the product.
From Runway to Subway
Weighing in at just 3.6 ounces and showing off in three new shades, iPod mini fits your lifestyle and your bag, whether it be cocktail purse or messenger duffle.

The chic, matte anodized aluminum case resists stains and scratches, all the while protecting your iPod mini - from, say, the jostle of overzealous paparazzi. Recessed in the case to keep its surface pristine, the 1.67-inch (diagonal) backlit screen displays full song and album titles, artists' names and more.

And iPod mini lasts up to 18 hours on a single charge(1): enough for a transatlantic flight, the limo ride to your hotel and a few solid hours of boutique shopping. Of course, iPod mini works just as well for your everyday pursuits. With up to 25 minutes of skip protection, you can even walk the dog in style.
Music is the New Black

Set your iPod mini to stun with more vibrant color choices to fit every mood (or outfit). Whether you prefer "Pretty in Pink" or "Yer Blues," iPod mini turns heads with every tune you play. Find the hue that suits you. Love The Clash but hate to clash? Not to worry. Now even the Click Wheel control icons match your iPod mini.

Put on Some Tunes
So light and colorful, iPod mini yearns for the limelight. Indulge in a little scene-stealing yourself when you wear your music on your sleeve...or around your neck. With optional accessories, including a stylish lanyard and mix-and-match armbands, your iPod mini becomes an ensemble essential.

Wear it running a trail or walking the red carpet. iPod mini complements any look, from track suit to tiara.

Under Your Thumb
Always striving for perfection, Apple engineers moved the iPod's buttons under the wheel. The iPod mini Click Wheel - complete with color-coordinated icons - takes best advantage of miniscule space and lets you scroll single-handedly through up to 1,500 songs from your iTunes music collection.

You'll find such thoughtful construction only from Apple. Because, try as they might, the competition can't touch this
One-Stop Song Shop

Build a collection of music on your iPod mini with songs downloaded from the iTunes Music Store.

Choose from more than one million songs and more than 9,000 audiobooks, any of which you can preview and buy with just one click. The iTunes Music Store stays open 24/7 - right on your Mac or Windows PC. Within a minute of finding a song you like, you can own it.

Make unlimited playlists, burn individual songs to CD as many times as you'd like and take all your music with you wherever you and your iPod mini rove.
Sync to Fit
With iTunes 4.7.1 you can easily organize your music on your Mac or Windows PC and automatically transfer it to iPod mini. Whether you've imported your CD collection in MP3 format, bought music from the iTunes Music Store or created your own original compositions with GarageBand, you can take it all with you. Your iPod mini includes a USB 2.0 cable for high-speed transfer from your Mac or PC. In fact, you can move an entire album from your computer to your iPod mini in seconds flat. With the industry's only true Auto-Sync, your iPod mini is always up to date, mirroring the latest changes you've made in iTunes.

And if the collection on your computer is bigger than iPod mini, you can let iTunes automatically choose a selection of songs to fill it up.
1. Rechargeable batteries have a limited number of charge cycles and may eventually need to be replaced. Battery life and number of charge cycles vary by use and settings.

Easy Listening
iPod mini includes features that make it even easier to access - and have fun with - your music.

Take, for example, the Apple Click Wheel. With the Click Wheel, which debuted on iPod mini, you can select playlists, scroll through a long list of albums or artists and choose just the song you want to hear without ever lifting your thumb from the wheel.

Taking a long trip? iPod mini offers up to 18 hours of battery life.(1) And with the 25 minutes of skip protection iPod mini provides, you can jump for joy and the music will keep playing.

More for Your mini
iPod mini lets you do more than enjoy your music. Much more. For example, you can use the included USB 2.0 cable or optional FireWire cable (sold separately) to connect iPod mini to your computer and copy files.

Word documents. Keynote presentations. Excel spreadsheets. Photoshop files. You name it. After all, iPod mini has up to 6GB of hard drive space(2), and while you'll want to reserve most of it for your music and audiobooks, you may also like to use a bit of it to tote documents, too.

Where Am I at 2 p.m. Tuesday?
If you've ever forgotten a dental appointment, you'll be pleased to hear that iPod mini also lets you take your calendar with you. Many applications - iCal, Microsoft Entourage and Palm Desktop, to name a few - export calendar files in vCalendar or iCalender formats, both of which iPod mini supports.


Sorry, Wrong Number
Little black address books are so last millennium. Thanks to its support for industry-standard vCard files, iPod mini lets you store and access all your important contact information - names, addresses, phone numbers, email addresses - with the spin of its handy Click Wheel.

Play Games
You know what they say about all work and no play. Navigate to Extras and you'll find Games: Music Quiz, Solitaire, Brick and Parachute, four popular games you can play anywhere (like when you're waiting for the movie to start at the multiplex).

Store Text Notes
You've got playlists. You've got To-do Lists. And you can carry both with you on iPod mini. iPod's Notes Reader lets you take text-based information - such as news downloaded off the web, stock tips, your workout regimen, restaurant reviews, directions, even your shopping list - with you on your travels. Just transfer it via FireWire or USB 2.0 to iPod from your Mac or PC.

Rise and Shine
Did you know that iPod mini has a sleep timer that lets you fall asleep to music? And if you like to wake up to music or need the blare of an Alarm Clock to jolt you awake, iPod is just as accommodating. You'll find settings for the Alarm Clock and Sleep Timer in the Extras menu. Both features work very well, by the way, when you connect a pair of portable speakers made just for iPod mini.
... [Full Description]