Haelan951 Fermented Soy Beverage 8oz Bottle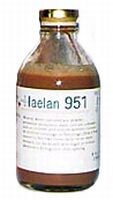 More than 10 available
Details
Shipping: US-Mainland: $1.95 (more destinations)
Condition: Brand new
*The store has not been updated recently. You may want to contact the merchant to confirm the availability of the product.
Haelan 951 - A Revolutionary New Type Of Soy Drink That Could Offer Vital Protection Against Cancer!

Traditional Chinese Medicine has long recognized the medicinal value of soy beans, and here too in the West they have been widely studied for their ability to prevent certain cancers - especially those of the breast and prostate gland.

That's why HSI is pleased to bring you news of an exciting new fermented soya formula, Haelan 951, which appears to offer a high level of protection against cancer and may also be a useful supporting treatment for people who already suffer from the disease.

While Haelan 951, which is available as a beverage, has been available in the US for some time now, it has only just been launched in the UK. What makes the formula so exciting is that as well as containing soy, it also contains other powerful natural anti-cancer compounds, which increases its cancer-fighting potential even more.

How does soy help ward off cancer?

Plant chemicals known as isoflavones are thought to play a key role in soy's amazing cancer-protecting qualities. One isoflavone in particular, genistein, has been found to be effective in slowing the progression of prostate cancer.

In a study conducted at the University of California in the US, scientists added genistein to a culture of human prostate cancer cells. It was found to spur the production of a gene called p21, which inhibits the manufacture of a protein that cancer cells need to grow, so causing the cancer cells to die off. Animal studies have confirmed that genistein can reduce the size of prostate cancer tumours.

Isoflavones could prove to be important in preventing against breast cancer too. When 144 women with early breast cancer were matched with healthy controls (same age and area of residence), blood and urine analysis revealed a substantial reduction in breast cancer risk among those who had a high intake of plant isoflavones.

In another study, pre-menopausal women who ate 60grams of soya protein every day for a month showed hormonal and menstrual cycle changes associated with a reduced risk of breast cancer.

The soy isoflavones genistein and daidzein are also antioxidants that help prevent cancer-triggering damage in the body's cells.

Fermented soy products have the highest levels of cancer-fighting nutrients
One problem, until the development of the fermentation process, was that these beneficial isoflavones are only present in fairly small amounts in unfermented soya products. For example, a recent Japanese study has found that the level of genistein in fermented soy products is far higher than in unfermented soy beans, soy milk or tofu.

The fermentation process involves turning a food into a healthier product by adding ingredients that have known health benefits. The fermentation process used to produce traditional Japanese soy foods such as miso, tempeh and natto enormously increases the availability of isoflavones. It is thought to do this by converting precursor chemicals called genistin and daidzin to their active anti-cancer isoflavone forms, genistein and daidzein.However, getting hold of fermented soy foods and making them a regular part of a Western diet can be difficult. That's what makes Haelan 951 such a breakthrough product, as it contains all the benefits of fermented soya foods in a convenient drink. It is a concentrated nutritional supplement that, as well as containing high levels of genistein and daidzein, is rich in many other beneficial nutrients - up to 20 of which may also have cancer-fighting properties, such as branched chain fatty acids, phytates, phytosterols, saponins and protease inhibitors.

RESEARCH:
Haelan 951 fermented soybean beverages have been researched in hospitals, medical schools, and universities for more than 15 years. Many of these studies were published in the "Therapeutics of Soy Phytochemicals" by U.S. Research Reports, Inc. Although much of this research has been directed at cancer other chronic diseases, Haelan Products, Inc. has not completed the required clinical trials in the United States that are necessary for any medical claims to be made for disease conditions.

On Thursday, February 26, 2004 Haelan Products, Inc. finalized its participation in a "Best Case Series" program with the National Cancer Institute. This series tracked, reviewd, and verified the medical history and records of 12 cancer patients that had previously reported using Haelan's Nutriceutical, Platinum Formula 951 fermented soy beverage as a "sole therapy" treatment for their various cancers experiencing what they considered as exceptional results. Of one dozen cases sent to the National Cancer Center, two of the cases were considered "persuasive". 6 ases were considered "supportive" cases, three cases were considered "unevaluable" and one case was rejected by the National Cancer Institute.

According to the National Cancer Institute's guidelines a "persuasive" case is one that meets all the criteria of a biopsy, scans and other diagnostic procedures to substantiate the cancer diagnosis by type, tumor size, staging, etc. and in addition, the patient did not use any other form of therapy other then the product being tested. Borth cases accepted by the NCI were remarkably difficult cancer cases that were reversed to a cancer free condition using Haelan's Nutriceutical, Platinum Formula 951 soy beverage.

A "supportive" case is one in which tumor size is not the criteria but the acceptance of these cases are based on "survival issues" indicating increased lifespan based on using the product.

The three "unevaluable" cases were cases in which the patients thought their tumor size reductions and survival times were directly attributed to the use of Haelan's Nutriceutical, Platinum Formula 951 fermented soy beverage but the NCI could not find evidence to support or reject that this was documentable.

Haelan Products, Inc. is now receiving recognition from the National Cancer Institute and Philanthropic Foundations to support clinical trials expected to prove the effectiveness of Haelan's Nutriceutical, Platinum Formula 951, fermented soy beverage as an "adjuvant nutritional" product for use with chemotherapy in the treatment of cancer patients. Prior research indicates the combined use of Haelan 951 and chemothreapy will result in protected the cancer patient from the toxic effects of the chemothreapy treatments as well as increase the chemotherapy's cancer cell kill to a minimum of 8-10 times greater than is experienced from the use of chemothreapy by itself.

Haelan Research Foundation, Inc. a tax free foundation, has committed to fund several clinical studies to facilitate research in the fermented soy based nutritional studies as an adjuvant to the current conventional based reatment regimes for all types of cancers and HIV/AIDS. Haelan Research Foundation conducts preliminary and basic scientific investigations at the molecular, cellular, and tissue-organ level. Pilot and randomized clinical trials are being conducted to assess the impact of Haelan's fermented soy based nutritional supplementation on life extension and life enhancing threapies including, but not limited to, improvements in pain management, tumor reduction, immune functioning and quality of life.

Haelan Research Foundation is interested in examining the effects of the fermented soy based therapies and their role in decreasing morbidity and mortality, minimizing sideeffets and to improve compliance and adherence to conventionally based treatments in Cancer and HIV/AIDS. The first two trials in he United States is described as follows:

The University of Texas, MD Anderson Cancer Center, Department of Palliative Care and Rehabilitation Medicine is conducting a study examining the benefits of the fermented soy supplement, Haelan 951, in improving symptoms of cachexia, anorexia, fatigue and overall quality of life and functional status of patients with advanced cancers.

Clinical Trials information available on request from Haelan Products, Inc.:

1. A clinical trial with 318 Cancer Patients taking Haelan along with Chemothreapy and/or Radiation Treatments. This study shows the Haelan 951 fermented soy beverage protects patients from the toxic effects of chemotherapy treatments.

2. An Anti-Aging Study performed with 303 Healthy People all taking Haelan's fermented soy beverage for a period of four months under controlled conditions. this study shows Haelan's fermented soy products improve immune funtion, heart function, lung function, brain function, and nutritional factors.

3. A study on Dystropic Mice (Stunted Growth) reverted to normal size using Haelan's fermented soy beverage supplementation.

4. Misellaneous Research and clinical studies as it becomes avaiable for Public Distribution.

Notice

At some time in the future Haelan Products, Inc. may receive FDA approval to sell its fermented soy beverages with medical claims for treating diseases but until such time,

HAELAN 951, FERMENTED SOY BEVERAGES ARE SOLD IN THE UNITED STATES, AND OTHER COUNTRIES, AS NUTRITIONAL PRODUCTS WITHOUT MEDICAL CLAIMS.
... [Full Description]