Bowtrol - NATURAL COLON CLEANSING (Buy 4 get 2 Bottles Free - Save $80!)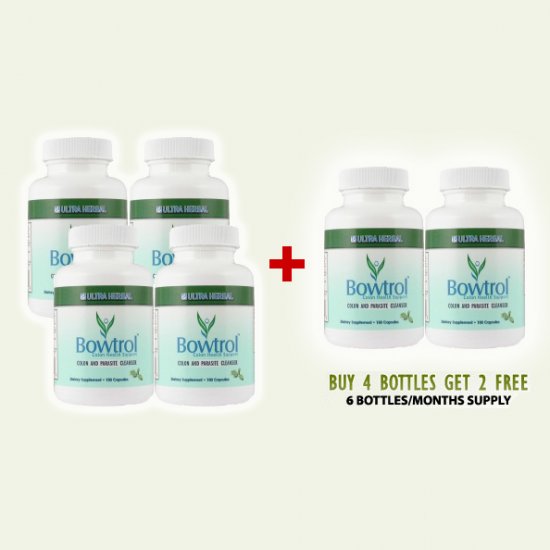 10 available
Details
Shipping: US-Mainland: $15.00 (more destinations)
Condition: Brand new
*The store has not been updated recently. You may want to contact the merchant to confirm the availability of the product.
"This product is the only product that has worked for me. Over the years I have tried many colon cleansers, colon cleansing multi-step kits and Bowtrol is the only one that has eliminated the waste that has built up over my years of abuse. I endorse this product with my own personal experience and mine was not a mild one. For those of you looking for a colon cleansing product with fast and safe results then get Bowtrol TODAY. I recommend at least a three month supply (4-6 months for severe cases). Get it today RISK FREE, with our money back guaruntee. You won't be disappointed."

Bowtrol is an all natural herbal colon cleansing treatment that has changed hundreds of thousands of people's lives through our gentle and effective whole body safe and effective internal cleansing. Bowtrol was also designed for people suffering from chronic constipation and can safely be taken as long as needed. Bowtrol maximizes one's elimination without causing loose stool or uncomfortable cramping via frequent healthy bowel movements while assisting in cleansing the vital organs and lymphatic system.

Did you Know Bowtrol May Help you:
Increase Your Energy
Cleanse Your Digestive System
Breaks up Fecal Matter
Decongests and Cleanses
the Intestinal Tract
Stop Occasional Bloating
Reduces Water Retention
Supports your Colon Health
Supports the Health of Vital Organs
Full 90 Day Guarantee
If your bowels are not moving properly, you may be suffering from occasional constipation.
Why is colon cleansing receiving so much attention?
We live in a toxic world; the soil where our food is grown and the air we breathe are both loaded with chemicals, PCBs, pesticides and petrochemicals. Pharmaceutical drugs and processed foods are commonplace. The facts about our hazardous environment can be overwhelming and scary. There is a choice to be made: we can either be intimidated in not promoting better health , or we can take action to protect ourselves.

Still not sure you need to cleanse your body? Consider the following questions to help you get clear:
Do you sleep peacefully and wake up most mornings feeling rested with clear nasal passages? Are you sore? Is your digestion smooth and well functioning, allowing you to have a satisfying bowel movement each morning?

OR
Do you wake up stiff, lethargic, disoriented? Do you need coffee, or worse, medication, to even begin thinking? Do you rush out the door, stressed about the upcoming day, without a proper bowel movement or breakfast?


Do you have plenty of energy throughout the day and evening? Are you drinking at least two quarts of pure water everyday? Do you enjoy a healthy lunch, perhaps a fresh green salad and a small serving of quality protein? Do you have fresh food to snack on like fruit, nuts and veggies?

OR
Do you feel tired, dull, sluggish, just going through the motions, needing coffee or other stimulants to stay energized? Do you eat whatever you can grab, using sugar or processed food as your fuel until you can get something truly nourishing (which often does not happen)? Are you stuck inside all day long and afterwards go home and veg-out for the rest of the evening?


Do you experience vibrant health and well-being? Do you take good care of yourself? Is your body limber, allowing you to enjoy a variety of activities such as walking, yoga or dancing? Do you exercise consistently? Are you happy with your weight? Is your memory clear and your mind sharp? Is your skin blemish free and fresh looking? Are you able to cope with life's many stresses?

OR
Do you have a health concern that you suspect might be related to your diet or lifestyle choices? Do you expect your doctor to make key decisions regarding your health? Are you putting off exercise? Do you have aches, pains and occasional head aches related to stress? Is your cholesterol problematic? Do you have occasional indigestion, constipation, gas or bloating? Are you over or underweight? Is your immune system on high alert? Is your skin dull, a far cry from the glow of your younger years? Are you irritable and tired for no apparent reason, making daily coping and relationships more difficult?

If you answered negatively to these questions, don't feel bad. Your situation is not hopeless and you are not helpless. You can be healthier. Consider some of the many benefits of cleansing:

Improved digestion, better elimination, less constipation, gas, bloating and indigestion.
Sense of satisfaction, greater vitality and a desire to choose better foods and develop better eating habits, permanently.
A deeper understanding of how to take care of yourself with these new found skills.
... [Full Description]