The Blue Bungalow On Orange Street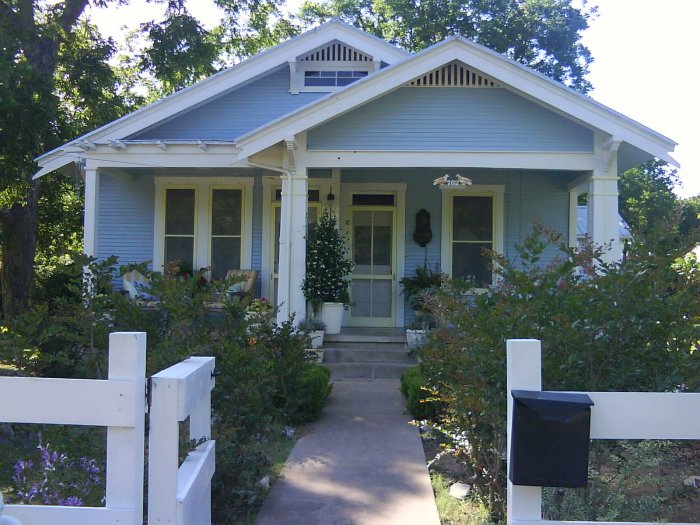 More than 10 available
Details
Shipping: US-Mainland: free (more destinations)
Condition: Brand new
*The store has not been updated recently. You may want to contact the merchant to confirm the availability of the product.
A Barnes & Noble "Author of The Month" for his book, Playdates, Dallas' "Mr. Jim" chose this Fredericksburg home over all others in the area to serve as his Hill Country sanctuary for a year-long research and writing project on behalf of The Play Institute, a Texas 501 (c) 3 nonprofit organization dedicated to providing quality outdoor play and recreational activities for economically-disadvantaged children.

See ABOUT section of this store for more information on "Mr. Jim," The Play Institute, and how you can help even if you are not in the market to purchase this very special home.

Jim and his wife, Angela are just the 3rd owners of this beautiful 3 bedroom/2bath Fredericksburg 1,500 + square foot bungalow which sits on an oversized corner lot at the intersection of Orange and Centre Street just 4 blocks from Fredericksburg's world-famous Main Street. From their home they often walk up to the Marketplatz (German equivalent of a town square) with their two children. The kids play on the playground while their parents soak in the almost surreal ambience of this "storybook" town.

The original owner, Alfred Treibs, hand-built this one-of-a-kind home at 702 NORTH ORANGE almost entirely out of long-leaf pine and as a wedding present to his bride. The original farmhouse apron sink, the handcrafted kitchen cabinets with inlaid glass, and the enamel coated tin drain-pan counter-tops were all designed, created, and installed by Mr. Treibs in the 1930's.

Great care has been taken not to disturb the original "wedding bouquet fern," planted near the front porch around 1937 and which has been coming back to life each and every spring since. Also, a wonderful 75-year-old grapevine emerges every spring bearing grapes from which Jim & Angela have created their very first bottling of wine!

That's just the beginning of what makes this home's "historical significance" stand out in a town known the world over for its German ancestry.

Still standing, are the original birdhouse planters made entirely out of arrowheads, petrified wood, flint, quartz, and other rare stones. They were built by Mr. Treibs, again, as a gift for the bride he obviously loved very much. The birdhouses are also featured in a local book highlighting the unique things to see while in Fredericksburg.

Then there is Mr. Treibs re-creation of a tree stump built entirely from petrified wood. It is a veritable tourist attraction in and of itself.

Speaking of tourists, did you know that Fredericksburg is one of the most visited small towns in America with over 500 bed and breakfasts? By most experts' accounts it's the largest single concentration of B&B's in the U.S. These millions of tourists come to Fredericksburg not only to experience its German influence, which is so prevalent throughout the town, but to also enjoy the incredible scenery that is so unlike any other part of Texas.

The town of Fredericksburg sits at almost 2,000 feet above sea level and is surrounded by views of "mountains" that rise to majestic heights on the horizon. This makes for unusually comfortable evenings even after the hottest of summer days in Texas.

And at 702 NORTH ORANGE things get even "cooler" as the entire property, house included, is still pumping pristine, crystal-clear, cold water from the Hill Country's famous "Hensel Aquifer."

We know of no other Fredericksburg home on the market that is afforded the luxury of not relying on "city" water. Not having a water bill is a really nice thing! Having it taste so good is even better!! And when the rains come, this home, unlike any other in Fredericksburg, collects the water and filters it with an ingenious "gutter system" which funnels the collected rain water down to an incredible stone cistern that bellows out over a ten-foot radius underneath the home.

Again, all of this was envisioned, designed and built by Mr. Treibs as a way of ensuring that this wonderful home always had a bountiful supply of water. This is a true rarity in todays environment where water has become such a precious commodity.

And then there are the much talked about "rocks" throughout the property. Arrowheads, fossils, geode, flint, petrified wood, smooth & shiny river rocks, honeycomb rocks, and other interesting stones were all placed tactfully by Mr. Treibs around the flower beds, the back fence, and the venerable old grape vine.

But maybe the most interesting way in which Mr. Treibes used many of these rocks and stones was in the creation of a battle ship planter adorned in beautiful polished stones taken from the Pedernales River that runs through Fredericksburg. By neighbors' accounts, Mr. Treibs built this planter, which at one time was watered by a wind-activated well, in honor of Admiral Nimitz, the famed World War II hero born here in Fredericksburg and who was his Country's last surviving Fleet Admiral.

Fredericksburg is uniquely tied to all of its history. And no other Fredericksburg home reflects its historical significance and "sense of place" quite like 702 NORTH ORANGE.

So, if you are seeking a safe and wholesome place to raise your kids or looking for one of the best places to retire or to have a second home... then Fredericksburg, Texas may just be the perfect spot for you to make some wonderful history of your own!
... [Full Description]