Toshiba 15DLV77 15-inch LCD TV w/ Built-in DVD Player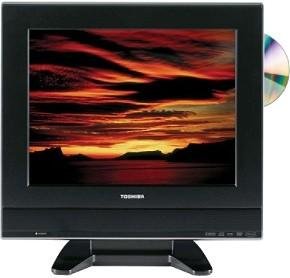 Only 1 available
Details
Shipping: US-Mainland: $29.99 (more destinations)
Condition: Brand new
*The store has not been updated recently. You may want to contact the merchant to confirm the availability of the product.
15DLV77 LCD/DVD

The Toshiba 15DLV77 LCD/ DVD combination features a 15" 4x3, Amorphous (a-Si) Silicon TFT LCD Display with 1024x768 Pixel Resolution, perfect for viewing standard television signals and DVD movies. The Built-in Slot Loading DVD player design is convenient and saves space. The 15DLV77 is DivX® Home Theater Certified and allows playback of DivX, AVI and MPEG4 (.ASF) compressed files downloaded from the internet from a personal computer and stored on a CD-R/RW. The JPEG Viewer enables a user to conveniently display digital photographs on the LCD screen.

ATSC/NTSC & QAM Digital Television Tuners
ATSC is the 8VSB (8-level Vestigial Sideband Modulation) system. This is the digital TV broadcast system chosen by the ATSC (Advanced Television Systems Committee) for broadcast TV in the USA. QAM (Quadrature Amplitude Modulation) is the digital TV system chosen by the U.S. Cable TV companies for use over digital cable. Toshiba integrated digital TVs have both ATSC and QAM digital tuning capability so that you can receive terrestrial digital broadcasts as well as digital "cable-in-the-clear" broadcasts.

Built-In Slot Loading DVD player
Built-In Slot Loading DVD player with easy to access operation buttons is a convenient all-in-one space saving design.

Digital Comb Filter
Disc Play: DVD/DVD-R/DVD-RW/CD/CD-R/CD-RW/VCD

Digital Cinema Progressive
Reduces motion artifacts and picture breakups especially on hightly detailed or fast-moving images. An automatic circuit deployed in Toshiba ColorStream Pro® models recognizes 24-frame content on DVD discs. When activated it converts the film standard of 24-frames-per-second record on the disc to the progressive scan standard of 60-frames-per-second for display on HD-compatible televisions. Provides smoother, clearer picture from discs encoded at 24 frames per second. Especially useful for highly detailed or fast-moving images.

3:2 Pulldown
This process converts the 24 frames per second found on film, to the 30 frames per second necessary for display as NTSC video. In analog formats, such as videotape, 3-2 Pull-down is achieved as part of the film to video transfer. Besides reducing the data storage requirements, this process also offers future opportunities in development of multi-scan, high resolution displays.

Dolby® Digital and DTS® Compatible Output
Connected to a compatible AC-3 receiver, Dolby® Digital creates a multi-channel audio experience and unsurpassed three-dimensional audio performance rivaling the best movie theaters. And every Toshiba DVD player features DTS® (Digital Theater Systems) compatibility. A Toshiba DVD player can be connected to a DTS® compatible receiver/decoder via its digital audio outputs for playback of high-resolution multi-channel DTS® -encoded DVDs and CDs.

StableSound®
This feature maintains television volume within a preset range regardless of the source signal. Eliminates the annoyance of normal program volume being followed immediately by extremely loud commercial messages or drastic volume fluctuations while changing channels.

Surround Sound
Allows the consumer to enjoy an enhanced home theater experience without connection of external speakers. Most Toshiba televisions incorporate some type of surround processing. Makes the viewer feel more like they are part of the on-screen action.

Sleep Timer
The Sleep Timer allows you to fall asleep watching TV and have the TV turn itself off. Allows the viewer to set the television to shut off after a preset amount of time.

Closed Captioning
Dialog is displayed on screen in a manner similar to subtitles in movies. Originally designed for use by hearing-impaired individuals, captioned displays may also be utilized to improve reading skills and assist in the learning of English as a second language.

V-Chip Parental Control System
All new Toshiba TVs (13-inch and larger) now include the new V-Chip. This feature allows adults to decide which show ratings are appropriate for their children. The television will then block out the video and audio of any program that has a rating beyond the selected level. Adults can override the system at any time using their secret code. Parents can easily limit the types of the programs their children are watching.

Tri-Lingual On-screen Display
All TV functions can be easily operated using the remote control to access Toshiba's advanced on-screen display. This full-featured system can be operated in English, French or Spanish. By using the four cursor buttons on the remote control, your favorite features or settings are only a click away. Allows viewers to read menu selections in three different languages (English, French, and Spanish) to ensure user-friendly programming.

ColorStream® Component Video Inputs
These are the best inputs to use for today's higher resolution sources such as DVD and Digital Set-Top Boxes. Because the video signal is split into its base components - Y (the black and white part of the picture) Pr (red minus Y) and Pb (blue minus Y) - the signal remains pure and unaffected by the TV's comb filter of NTSC decoder. The result is higher resolution and improved color purity. Ultimate picture quality from interlaced component video signals.


Specifications
Video 15" 4:3 TFT LCD Display
ATSC/NTSC & QAM Digital Television Tuners
Built-In Slot Loading DVD player
Pixel Resolution: 1024 x 768
Digital Comb Filter
Disc Play: DVD/DVD-R/DVD-RW/CD/CD-R/CD-RW/VCD
Digital Cinema Progressive
3:2 Pulldown
480i/480p Component Input
DivX® Home Theater Certified
DivX®/WMA & MP3 Playback
Digital Picture Zoom
Fast Scan
Slow Motion
Multi-Camera Angle Select

Audio Dolby® Digital and DTS® Compatible Output
StableSound®
Surround Sound
Bottom Mount Stereo Speakers
Bass/Treble Balance Controls

Convenience Auto Channel Memory
Sleep Timer
Closed Captioning
V-Chip Parental Control System
Tri-Lingual On-screen Display
Energy Star Compliant
Unified Remote Control

Jackpacks ColorStream® Component Video Inputs
S-Video
RCA Video Inputs - (1) rear and (1) side
L-R Audio Inputs - (1) front and (1) side
Digital Audio Output for DVD (Coax)
RF (1)
Headphone Jack (1)

Physical VESA® Mounting Holes -100 mm
Dimensions (W × H × D): 18.75 × 12.31 × 3.13 in
Dimensions with Stand (W × H × D): 18.75 × 13.94 × 9.13 in
Weight: 13.2 lbs

The Toshiba 15DLV77 comes complete with a 1 Year USA Limited Warranty.
... [Full Description]