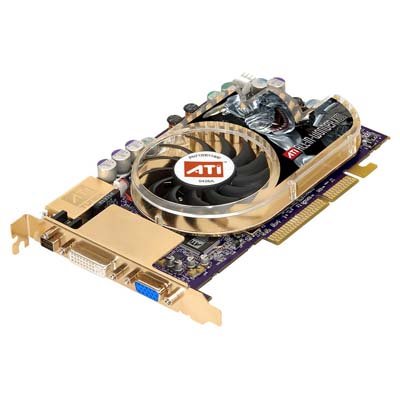 More than 10 available
Details
Shipping: US-Mainland: free (more destinations)
Sales Tax: Maryland: 5%
Condition: Brand new
*The store has not been updated recently. You may want to contact the merchant to confirm the availability of the product.
Built upon the award-winning powerful RADEON X800 Visual Processing Unit (VPU), this new multimedia add-in video card brings innovative solutions for home theater, video editing and gaming enthusiasts.

MODEL- 100-714200 VENDOR- A T I FEATURES- All-In-Wonder X800 XT- Retail Multimedia entertainment is redefined with the ALL-IN-WONDER X800 XT
- the most complete multimedia and 3D gaming experience for your PC.
Built upon the award-winning powerful RADEON X800 Visual Processing Unit (VPU), this multimedia add-in video card brings innovative solutions for home theater, video editing and gaming enthusiasts.
Turn your computer into a personal video recorder (PVR), DVD player, 3D game machine, radio jukebox and more. You can enjoy new levels of entertainment on your PC monitor, TV, or HDTV display, with the included output connections. ALL-IN-WONDER X800 XT is the first video card to feature DVI-I and VGA monitor connectivity plus a TV and FM Radio tuner in a single slot device. This video card is also the first ALL-IN-WONDER to feature new input and output block connectors that provide easy access to peripheral devices. ALL-IN-WONDER X800 XT features extraordinary video processing capabilities that reduce noise, intelligently de-interlace and accelerate video playback that produce unmatched video quality. With VIDEOSHADER HD, RADEON X800 graphics technology takes advantage of its advanced video processing engine for user programmable video effects, video quality enhancement, and encoding and decoding of many video standards, including MPEG1/2/4, Real Media, DivX and Microsoft Windows Media Video 9. RADEON X800 Graphics Technology also supports the latest high-definition and wide display formats, providing a larger, more vivid movie, gaming and internet experience.* Home Entertainment to the eXTreme This silicon digital TV tuner provides instant viewing of up to 125 channels of cable or antenna broadcasts. TV-ON-DEMAND is yours to enjoy for pausing and recording TV programs on your PC. Similarly, FM-ON- DEMAND allows for pausing and recording of FM radio to MP3. Easily watch TV on your computer while working with other Windows programs with THRUVIEW or even watch two TV Programs at the same time with MulTView (Optional TV Wonder/Pro required). View upcoming programs with the Interactive Program Guide, Gemstars GUIDE Plus+ . This intelligent free integrated program guide allows users to view and search TV listings by category, actor/performer, or date. Schedule and record programs at the click of a mouse -- all the benefits of a PVR without the monthly fees. Enjoy all this entertainment while relaxing from up to 60 feet away with the REMOTE WONDER II. This second-generation radio-frequency remote control device allows for complete computer control with the benefits of wireless connectivity New features include EAZYLOOK, a distance user interface for easy-to- read on-screen information for TV and DVDs, and EAZYLAUNCH that allows EAZYLOOK to load directly at Windows start-up and, once loaded, display a menu of launchable features. The software also includes support for digital audio, DVD burning direct from within the MULTIMEDIA CENTER Library application, and more. The choice is yours, connect you computer to your TV, CRT Monitor, or LCD Monitor while enjoying crisper, cleaner video, enhanced by VIDEOSOAP.* Advanced Video Editing Capture, create and edit your own personal movies or right on your PC and burn the results to DVD. You can even convert old VHS tapes to DVDs. The supplied input connections make it simple to import audio and video content.* Do more with the included feature-enhancing Software: - muvee autoProducer This DVD Edition of muvee autoProducer is integrated into ATIs MULTIMEDIA CENTER as automatic video-production software that enables users to quickly and easily create home music videos in a fraction of the time it would take using traditional video editing products. - Matchware Mediator 7 The software program allows for the creative combination of text, pictures, videos and sounds to build stunning presentations in a few minutes plus create web sites with streaming video and Flash executables. - Serious Magic Visual Communicator Visual Communicator features a new video production process that integrates real-time video with real-time 3D graphics. The software program includes an on-screen teleprompter, customizable graphics and titles, real-time transition and green screen effects as well as virtual sets. - Pinnacle Studio 9 (ATI Version) This newly created full-featured program offers digital video control with additional ATI-based bonuses, and delivers powerful features for consumer video editing. * ATI Support Backed by the acclaimed CATALYST software driver suite, you can play faster and longer. MULTIMEDIA CENTER -- the critically acclaimed software suite includes all the integrated programs to create a true multimedia experience whether it is for home theaters, video editing or game playing. * Non-Compromising Gaming Graphics on a Multimedia Card ALL-IN-WONDER X800 XT delivers full RADEON X800 XT Graphics Technology - 16 parallel pixel pipelines capable of an incredible eight gigapixels/ second fill rate in full precision, and breakthrough image enhancement technology. 256MB of memory and a full 16-pipeline 3D architecture. Designed with ATIs revolutionary 3Dc image enhancement technology maximizes the performance and image quality of todays and tomorrows 3D games. -- SPECIFICATIONs ------------------------------------INTERFACE/BUS- 32-bit AGP 8xMEMORY - 256MB GDDR3, 560MHz (1.12 GHz DDR) 256-bit quad-channel GDDR3 memory interface CHIPSET - ATI RADEON X800XT VPU 160 million transistors on 0.13 micron low-k fabrication process. Sixteen Extreme parallel pixel pipelines Six programmable vertex shader pipelines CONNECTORs - (1) 15-pin VGA port (1) S-Video/Composite port (1) 24-pin DVI-I port Drive two displays simultaneously with independent resolutions and refresh rates. Stereo audio, S-video, and composite video inputs and outputs. External stereo connections to sound cards line input and output Dolby digital stereo audio output (S/PDIF). YPrPb Output O/S SUPPORT - Windows XP (Home or Pro) Windows 2000 with Service Pack 1 (or later) TV TUNER - Requires TV signal from amplified antenna or cable. Version included for: - NTSC (North America, Japan, and Latin America*). - MulTView requires additional ATI PCI TV WONDER card, compatible motherboard and soundcard. * Features vary from country to country and depending on the television standard. Note that Latin American countries using the PAL M and PAL N standards including Argentina and Brazil are supported by the NTSC version. SOFTWARE - Includes muvee autoProducer " Matchware Mediator 7 " Serious Magic Visual Communicator " Pinnacle Studio 8 (ATI version)REQUIREMENTS - ALL-IN-WONDER X800 XT requires connection to your PCs internal power supply for operation. A 300-watt power supply or greater is recommended to ensure normal system operation. A 350-watt power supply may be required in some fully-loaded PC systems where a number of other internal devices are installed. Intel Pentium 4/Celeron, AMD Athlon or compatible with AGP 8X (0.8V) or 4X (1.5V) slot. 128MB of system memory (256MB or higher recommended). Installation software requires CD-ROM drive. DVD playback requires DVD drive. Interactive Program guide requires internet connection for listing updates. Remote control receiver requires available USB port. 1 GHz minimum processor speed required for MPEG-2 video capture.
... [Full Description]