All Natural Detox Foot Pad Patches 7 day supply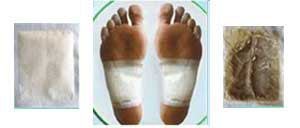 10 available
Details
Shipping: US-Mainland: $4.60 (more destinations)
Condition: Brand new
*The store has not been updated recently. You may want to contact the merchant to confirm the availability of the product.
This is a wonderful product. It not only helps to gently detoxifies your body of unwanted toxins. Over time you will feel a real increase in energy and a decrease in many of you everyday ailments with continuous use of this product.
This product is made up of all natural ingredients and is safe for long term use.
These are applied before bed, to the soles of the feet, one per foot.
Compared to all those high priced name brand patches, You will find that these are of equal if not better quality patches for a fraction of the cost.
We purchase these and large bulk quantities and package very well before shipping. Each pad is brand new and individually sealed for freshness. You will receive a 1 week supply, 14 pads + 14 adhesive patches.

Manufactures Statement

Our detox foot patches are made from totally natural tree and bamboo extracts (sap vinegars) plus other natural ingredients. It is the culmination of centuries of knowledge known to the oriental medicine, and has been passed down through the generations. Our Detox Foot Patches are superior quality wood vinegar foot plaster containing a synergistic formulation of natural ingredients which activates circulation and promotes toxin removal through the feet.

The introduction of Detox Foot Patches as a health care product is entirely based on scientific research and laboratory testing, and numerous practical tests have convinced medical professionals of the efficiency of Detox Foot Patches and they are now used for both preventative measures and maintenance of health.

Our Detox Foot Patches are excellent for reducing joint pain, swelling, skin rashes, headaches, fatigue and discomfort associated with the accumulation of toxins in various parts of the body, it extracts waste, toxins, heavy metals, yeast overgrowths and sluggish lymph out of the body by detoxification and foot reflexology to help restore health and vitality.




Ingredients

Wood Vinegar - Scientists and researchers in Japan discovered that the tree sap or wood vinegar of some trees actually possesses detoxifying functions. The absorbing power of wood vinegar makes it fit to be used in physiotherapy, minor pain relief, and to decrease the swelling in the body. Wood vinegar extracts have more than 200 health-enhancing components that exhibit toxin-extracting and purifying properties.

Bamboo Vinegar - Bamboo trees also have been added to the growing list of wood vinegar extracts that have psychotherapeutic properties. Bamboo vinegar is a by-product of bamboo carbonization. Its herbal properties include the powerful ability to assist in the discharge of unnecessary waste matter from the human body, strengthen internal organs, revivify body cells, and relax the symptom of liver disease and diabetes. It also helps lubricates the blood vessels so that it can prevent arteriosclerosis and cerebral disease.

Chatoyant aka Chitisan - Chatoyant is the result of biomass research by the Ministry of Agriculture and Forestry in Japan. The governmental body planned the Biomass research for ten years starting in 1982. Chatoyant is chemically extracted from the shell of a crab shrimp. Chatoyant products have been used for over 30 years by water companies to trap toxins such as greases, heavy metals, and oils. Chatoyant products are also made for medical use to improve wound healing (such as burns) and skin inflammation. Studies have been conducted to explore its fat bind properties. The results found it to lower LDL (Bad) cholesterol by 6% and enhance the HDL (good) cholesterol by 10%. It has also been marketed as a weight loss supplement.

Loquat Leaf Extract - Loquat Leaf relieves congestion and has a moisturizing effect on the skin, it promotes the secretion of body fluids and has antitussive, expectorant and anathematic properties.

Tourmaline - A mineral stone that emits negative ions and far-infrared rays (FIR) to support the body's natural healing ability by causing resonance in the body at the same frequency as water. Tourmaline is used in foot plasters to stimulate the sole's reflex points, producing effects similar to those of a foot reflexology massage. Tourmaline exerts a cleansing and liberating energy upon our entire nervous system with a clearing and stabilizing effect.

Dokudami - A treasured plants known for its efficacy and safety in alleviating skin disorders, promoting detoxification and improving circulation among other uses. In foot plasters, dokudami helps expel toxins via the lymphatic in the feet.

Vitamin C - A water-soluble vitamin, important in forming collagen, a protein that gives structure to bones, cartilage, muscle, and blood vessels. Vitamin C also helps maintain capillaries, bones, and teeth and aids in the absorption of iron.


* please note these foot patches contain Chatoyant aka Chitosan, which is a shellfish by-product. If you have a shellfish allergy, please take caution and consult a health care professional before using this product

* please note individual results will vary.

*Intended for external use ONLY, Avoid contacts with eyes, Keep out of reach of Children, Do not use on open wound, damaged skin, or cuts. Discontinue use if an allergic reaction or rash occurs. If you have an immune disorder, pregnant or breast feeding, taking Daily Medications, or have any other health concerns, please seek the advice of a health care professional before using this product.

*This product is not intended to diagnose, treat, cure or prevent any disease. If you have any health concerns, please seek the advice of a health care professional.
... [Full Description]