Zip'r 3 Wheel Travel Scooter - FREE Ship - Truly portable - 4 pieces - Heaviest piece only 29 lbs.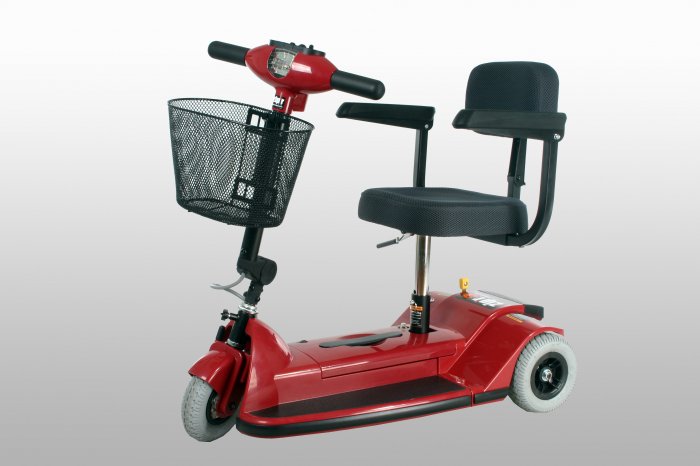 Only 1 available
Details
Shipping: US-Mainland: free (more destinations)
Sales Tax: Florida: 7%
Condition: Brand new
*The store has not been updated recently. You may want to contact the merchant to confirm the availability of the product.
Zip'r 3 – 3 Wheel Electric Mobility Travel Scooter – Truly Portable

Give a gift that keeps on giving.

Give yourself or someone you love the incredible gift of mobility with an Electric Mobility Travel Scooter. Only $649.00 including Free Shipping.

Comes in either Red - really more like a matte Burgandy, (as pictured) or Blue. If you are the winning bidder, just let us know which you would like.

Why Buy a Scooter?

With a Zip'r 3, you can look forward to those trips to the malls again. Now you can go a street fair, craft festival, home show or tourist attraction without worry.

Just bring your Zip'r 3 portable travel scooter with you in your car, SUV or van; spend less than a minute easily assembling the 4 pieces; and be on your way.

No longer will you have to worry about whether your legs, knees, ankles or arthritic toes will make you regret the trip.

Why wait until you can't walk anymore and really need a scooter? Buy it now and eliminate pain and problems now, not later.

What is special about the Zip'r 3?

• Low Total Price. Only $649 including FREE Shipping to the lower 48 states. Other scooters offered on eBay frequently add $125 to $150 for shipping.

• True Portability. 102 lbs; breaks into 4 pieces; heaviest one only 29 pounds. How much weight can you or your loved one lift in and out of your car? Much more than 30 pounds is tough for an older woman with infirmities.

• Price Includes 3-Year Limited Warranty and 800 Number for service.

What are the Features of the Zip'r 3?

* Key Controlled ignition to deter theft or unwanted joyriding.

* Burgandy Red or Blue finish – you choose.

* Twelve Volt Battery snaps in and out. No cards or connections to fool with. Battery charger included. Range - 10 fun filled Miles

* Comes with safety Headlight, Horn, and Basket (attaches to front steering column or to rear column, behind seat).

* Comfortable, wide padded seat. Can be adjusted in 3 positions up or down.
Note: We have people up to 6"3 using the Zip'r 3 and loving it. But frankly, I think if you are 5"10" or above, any light weight scooter, including the Zip'r 3 is going to make you feel cramped. Ask about our Zip'r 3-Xtra which is designed for more leg room comfort.

* Swivels for easy access. Scooter can be maneuvered to be sideways to table for dining.

* Armrests can be removed or width-adjusted, and flip up for easy entry.

* Forward, reverse and stop controlled by hand grips that also adjust speed. Top Speed - 4.25 MPH

* Maximum and Minimum Speed easily and quickly fully adjustable - slow to fast.

* Front wheel lock to further discourage theft or movement.

* Power meter on steering column shows battery status.

* No-Flat, blow out proof, smooth-ride tires leave no mark.

* Weight capacity – 250 pounds
Exceptional maneuverability with forward, reverse and 30" turning radius.

* Easy disengagement of drive gears for free wheel movement.

* Delivery normally 5 – 7 days after payment via FedEx Ground. FREE shipping is included in price.
Ships assembled, charged & ready to go. Just insert seat and be on your way.

*Truly portable. Stores easily in your trunk or back of your van or SUV. No ramps. No expensive lifts. No taking up all sorts of room in your vehicle.

We carry other scooters but truly believe this scooter represents the best combination of value, portability and durability on the market.

By the way, we have already price shopped our competition and we know that you will not find this product for a lower price anywhere else on the Internet, or in a store.

If you want to know further details, here they are:
Zip'r3 Travel Scooter Specifications:

Overall Dimensions:

L(1)×W 36.4"×19.5" inch

Tires - Front: 1, 2.0" × 7.5" inch; Rear: 2, 2.5" × 7.5" inch

Weight(2) - Total Weight 46 kg,, 102 lbs

Heaviest Piece - 13 kg, 29 lbs

Battery(3) (Standard) - Voltage: 12 V; Pieces: 2; Capacity: 12 Ah

Battery Charger - Type: Off Board; Charge Current: 2 A

Power Rating of Motor - 155 W, 0.21 hp

Ground Clearance - 53.3 mm, 2.1" inch

Turning Radius - 30" inch

Maximum Weight Capacity - 113 kg, 250 lbs

Body Colors - Burgandy Red , Blue

Seat Type - Foldable Foam w/arms(metal frame)

Per-charge Range(4) (Max) 16 km, 10 miles

Maximum Speed (on the level road) - 6.8 km/h, 4.25 m/h

(1) Includes the Anti-Tip wheel.
(2) Includes batteries and seat.
(3) Uses deep-cycle batteries.
(4) The actual driving range varies with occupant, incline and battery condition.

This great looking, smooth running, portable Zip'r 3 Wheel Electric Mobility Scooter costs only $649 which includes FREE shipping anywhere in the lower 48 states of the Continental United States.

Still not sure?

We thought we would let our customers help you judge us. Just read what they have to say.

On the Scooter and what it means to them:

"Love the Scooter. Quick shipping. Good communication. Trust this seller. A++++"
Olive C., Utah 05/09

"Very, very satisfied. Perfect for mall shopping. Love it !!!
Ron M., Arizona 02/09

"Came quickly. Mom said as much fun as riding her horse when she was a young girl!"
Audrey K., North Dakota 08/08

"My wife is very happy with it. She now has her mobility back. She is like a kid with a new toy. Can't get her off of it. Thank you very much."
James T., Delaware 6/08

"Used it at Disney. It worked GREAT!! I love it! I was able to go to parks everyday."
Paula B., Ohio 04/08

"It has been wonderful! The mobility that it has given me is unbelievable. Thank you. Thank you. Thank you."
Diane N., Florida 11/07

"Mom has been out on the scooter and the difference in her mood is a miracle. She feels hopeful again and I am so glad. Mom (she's 82) said that that she felt like a free bird that's been caged.
Sandra A., Iowa 6/06

"Thank you for the great service. Re: Shipping to Canada -There were no duties, no custom fees, no taxes. FedEx just pulled-up, dropped off scooter and said "Merci" - same as the states."
Peter L., Quebec, Canada 5/06

"Bill, Fantastic! I can't believe how quick it got here (Australia). I'll use a bit of Aussie slang here, it's a bloody bewdy. (translation = beauty). I can't thank you enough for your prompt service and hope we can deal with each other again in the future. Many thanks again. "
Ray B., Australia 3/06

On the quality of service received:

"Not enough space to praise this seller. Really fantastic. No regrets. Try them"
John B., Ontario, Canada 05/09

"The product is great! But, the most pleasing part of this transaction, Service!"
Ron S., Ohio 03/09

"Wonderful, They were so great to work with very helpful. I love the product."
Kristie C., Tennessee 08/08

"FANTASTIC seller, GREAT communication, FANTASTIC price, great item. THANK YOU!!!"
Rita S., New Mexico 03/08

"This seller has been the best that I have met on the Internet so far!!"
Ed H., Florida 11/07

"These people went way beyond what was expected! Exceptional vendor!!! Thanks"
John E., Arizona 11/07


We have 100% positive feedback.

Hopefully, you now have a better comfort level dealing with us.

Our Return Policy:

We mean it when we say that your satisfaction with the items you purchase from Boca Home Medical Supplies is extremely important to us. If you have reviewed our Feedback you have seen that we definitely are "good" Internet sellers who care.

Although we are willing to accept returns if notified promptly of problems, there are some conditions to our return policy.

Before You Buy:

If you are about to buy from us, great. We know you're justifiably excited about owning this scooter, but we must ask you to PLEASE be certain this scooter and your size, your needs, your weight, etc., will all work perfectly together before you order!!

When the scooter arrives:

1) Don't accept the unit if the shipping carton is seriously damaged.

2) If, for some reason, the scooter just is not right for you, it must be returned in "As New" condition in the original packaging. Remember that we must be able to resell the scooter as new, including clean body and tires.

3) If there is no defect in the scooter, you will, unfortunately, be responsible for the return freight costs. In addition, the manufacturer charges us (and we then have to charge you) a 25% restocking fee if a scooter is returned.

4) Your money will be refunded, less any applicable fees, once the factory or a new buyer has received the scooter and found it to be in acceptable condition.

In summary, hopefully everything will be fine, but if there is a problem, let us know as soon as possible. Remember that your transaction with us isn't complete until you are totally happy with your purchase.

By the way, we will gladly ship to Alaska, Hawaii, or anywhere you want. However you will have to pay additional freight. Just send us the Postal code you want it shipped to and we will let you know what the extra cost will be.

We welcome your questions – email us at info@bocahomemedical.com.
... [Full Description]