set of 3 humane mousetrap s trap multiple mice mouse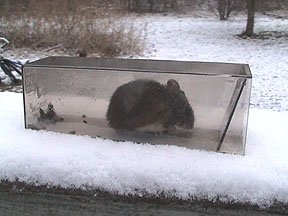 More than 10 available
Details
Shipping: USPS calculated - check
Sales Tax: Connecticut: 6.35%
Condition: Brand new
*The store has not been updated recently. You may want to contact the merchant to confirm the availability of the product.
I have sold around 10,000 items on eBay under the user ID Naïve-buyer and had very good feedback but its recent fee increases made me change the business structure. Hooray! Most products from now on I will be selling under a different name, 4naivebuyer



You will be able to combine shipping regardless where the item is purchased.




Mousetraps that work. Not VICTOR
REUSABLE (the last ones you will need), EFFICIENT, and SAFE
Traps many mice (see below)

Examples of the unsolicited feedbackare in the end of this description

The construction of the mousetraps is simple: a clear plastic box (2"x2"x 5.75") with an entrance that is a hanging "door" at an angle. A mouse has to lift it getting in, it cannot lift it back from inside.

We had a lot of mice in the house and we do not want to use poisons or ultrasounds that could be more dangerous than we know. We were not able to catch many mice by using mousetraps with a falling door. Mice were regularly able to escape. When we got three mousetraps that I sell, we just put peanut butter inside and the next morning 3 mice were caught; 3 mice were caught the following morning, and 2 the next day. The sequence continued. Many times we caught 2 mice in one mousetrap. We had caught more than 50 mice before the first night that none were caught.

This mousetrap often catches a couple of mice. ATTENTION: I WILL SEND A FREE MOUSETRAP TO THE FIRST PERSON WHO SENDS ME A HIGH QUALITY PICTURE OF MY MOUSETRAP WITH THREE MICE INSIDE and THE PERMISSION TO USE IT IN THE ADVERTISEMENT. Someone is selling on the internet a trap that holds a dozen of mice. I do not recommend it. Mice need to drink and they expire in a trap in a day or two if not released; it would be more humane to use poison than to wait until your mousetrap accumulates a dozen of mice with most of them expiring from thirst. This is my opinion.

If you have mice, you probably do not realize how many of them live in the house (and you may not know that mice droppings may contain deadly bacteria, no joke).

I sell three mouse traps as a set; they are new. I do not know whether you care but the mousetraps ARE MADE IN THE USA.They are harmless for children and pets; they are humane and efficient. They protect mice and YOUR FINGERS. You wouldn't need to touch a mouse to let it out, just lift the door and enjoy seeing how they jump away. You may produce a scream at this moment if you think you are afraid of mice.
Where and how to release?
I have been asked this many times. I release the mice just across a somewhat busy road into a stonewall. Basically, I want there to be a habitat for them, and that there is some type of barrier between the house and the release places, a road, a stream, etc. Can they come back? Probably, and this should be no surprise since they have already found the way into the house. What is more important is the dynamics – I win if I catch more than come back, because this way I prevent a colony to be formed in the house. I doubt that there are many houses insulated like a space station, therefore, I do not think it is realistic to hope that no mouse enters your house, I just do not want them to live with us. We do not have enough space to share. This is easily achievable.
You just turn the trap upside down and the door opens. I would say 60% of mice jump right away, kids love to see it; however, 40% would crawl into the mousetrap's end. I usually leave the trap for a short time and they get out but some need to be thrown out by a rapid shake of the trap. YOU NEVER NEED to TOUCH the MOUSE.

Shipping and Handling is buy first class or priority mail. I ship fast (see my eBay feedback), but I do it even faster for those who use "Buy It Now" and pay using Paypal. I usually ship the same or the next day after the payment is cleared.


Please review my feedback to see how excited people are about the quality and efficacy of the product. Here are some examples:
Caught Mice first day out of the box HAA HAA Mice are in for it now A+++ ThankS
About those mousetraps....We caught our happy couple the very same night we received them, after almost a week of trying another humane device. Just in time, too, as they were just in the process of getting a nest together. We haven't seen another since, but keep them locked and loaded for good measure.

That old saying - something about building a better mouse trap? Forget it! This is it!

And the happy couple? They are romping the state forest lands of PA, happier than in our basement, I'm sure.

Thanks.
Just wanted to thank you for a great product. The humane mouse traps work better than my 12 cats! I have a havahart, which does work, but it's hard to bait and messy. When you catch a mouse, the droppings fall through the wire floor and you have a nasty clean-up to do. Your traps are self-contained, so you can dump out the droppings when you release the mouse. These absolutely work, and are a great value!!
This trap ROCKS! It took one day to catch a mouse I have been trying to get for months!!! I have tried every trap known to man, and yours was the only one that worked!!!!!! Thank you!!!!

we thought we had no mice left but got two more after your humane traps arrived.
Received traps today. Put in garage and caught 2 mice in less than 1hour! WOW!
Just wanted to let you know that I set the traps out last night and did get three mice in one of them. I didn't have a camera ready and wanted to let them out, so I don't have a picture. ...Just wanted to let you know the trap works great!!
… I cannot believe how well the
traps work! Such a great concept. I have sent copies
of your auctions to at least 5 people…
… Thank you so much for this wonderful product! I bought 8 traps and followed the directions for baiting with peanut butter. I caught 32 mice in the first 48 hours! And once rebaited, I am still catching! I catch one as soon as I set the trap down. These work so well, I'll never buy another type of trap again! Thank you! Easy, clean and humane! The packing was good, the shipping fast, and the product was SUPER! I'll be back to do business with you again! I'm working on the three in one photo...
... [Full Description]