Palm Treo 650 650g Unlocked Cingular Camera bluetooth PDA speaker phone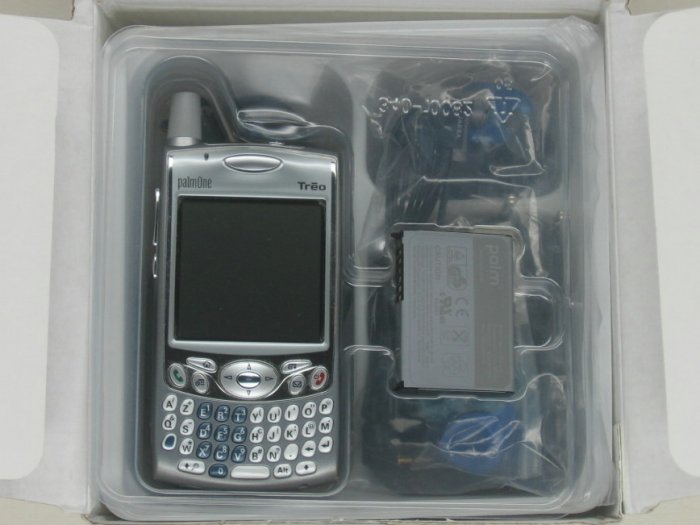 Only 1 available
Details
Shipping: US-Mainland: $7.45 (more destinations)
Sales Tax: Minnesota: 6.5%
Condition: Brand new
*The store has not been updated recently. You may want to contact the merchant to confirm the availability of the product.
Hello and thank you for you checking out our products, we may be new to eCrater but we have been doing business online for along time. Our company has been doing business in a number of categories on the internet, we have a feedback rating of 1,180 in ebay (if you need any references just let us know). We know it is hard to trust people these days and we are willing to go the extra mile to make sure you know we are here for you! So rest assured if you ask any question we will get back to you ASAP and unfortunately eCrater doesnt have a Make a offer button but if you want to make a offer let us know and we can try to accommodate you, please be aware though that we can only take so much off our price. So please read all the important parts of our ad and have a great day!


TREO 650g


(If you intend to make a offer please make it reasonable, thank you!)

THIS PHONE IS READY TO GO ON CINGULAR

This phone is one of many phones i have in my personal collection. I have used this model of phone, like I do one of each of my phones i sell so I can tell you the relevant features, and not a manufacturer list like other sellers who don't know there phones, will give you. Here are some features, from my personal experience that I like about this phone:

* This phone can sync your contacts and many other features to your computer and vice versa
* This has quad band frequencies so wherever your carrier has service this phone can work for you!
* Many connectivity and storage options such as Infrared, Sd cards, USB, SDIO capable, and Bluetooth are all available
* Full Qwerty Keyboard for typing with one hand or both hands
* Speaker phone built in and speaker on the back
* Unlike some Treo's this one has a replaceable battery should something happen to the one you have
* Real Player software installed so you can play Mp3's
* Stylus helps moving around the touch screen easy
* Many shortcuts all over the phone
* 22MB of usable memory
* Organizational features like daily, weekly, and monthly calendar organizer. Basic, trig, finance, logic,statistics, weight, temperature, length, area, and volume calculators. Contact & address book. Task keeper and Memo pad.
* Media player can also play and hold video clips
* Camera display is huge! When you take a picture it all looks very clear with this big screen that can display 65000 colors and zoom in 2X all though it seems alot more when you see the pictures.
* Video camera is very good and can take good length video clips and is quite clear even when moving.

#

This is what is included with the auction:


# 1 Unlocked Palm Treo 650g
# 1 Used Original Charger and other country adaptors ($5 Value)
# 1 Lightly used Original Battery ($3 Value)
# 1 Lightly used Stylus ($1 Value)
# 1 Used Manual ($4 Value)
# 2 Lightly used software CDs for Windows and Mac ($4 Value)
# 1 Lightly used Data Cable ($3 Value)
# 1 New Jabra Headset ($3 Value)

We give you the real manual and not just a PDF file. This is a very good deal just in accessories there is a real Ebay Value of $23

Condition:

This phone is rated 8/10 condition!

This phone has a couple tiny scratches around the screen and along the silver side edges, they are very light you can hardly see them.

The back of the phone has a couple little scratches and dings but not many about 3 visible ones by the charger port.

We have put the phone next to a standard highlighter (see above pictures) so you can see the general size of the phone.

Our prices are priced based on market value, condition and usage. This one is rated 8/10 and it is priced to sell quickly!
The price for our devoted service, this phone and all its accessories is great, dont let this deal go!

_____

Who is this phone best suited for?

We started writing this section because we have had many emails regarding questions about coverage, general questions about use, job related questions and questions regarding this phones compatibility to peoples habits. These are here for your consideration and are solely my opinion from my personal use of this model of phone:

I very much like Palm products, they are one of the highest selling brands out there. There Operating system i find is one of the easiest and simplest to get a grasp on out of the many PDA type operating systems.
The form of this device is nice and compact for a phone and PDA, it is somewhat thicker then most flip phones and razer thin phones these days but for what all this holds its a miracle this device is this small. It fits very nicely in the palm of anyones hands. The keys on the other hand are somewhat small so if you have big hands it may be best for you to type with one hand. As two fingers are a crowd. But i think when palm made this one they meant for it to be typed mostly by one hand. Also there are many free applications on the internet where you can get free graffiti applications. For those who dont know what graffiti on a palm is, its a way you can write with the stylus and then your letter turns into text form. Its very useful.
The reception is very good on this phone its comparable to Samsung phones, although not as good as nokia it still picks up great signal. This phone is Quad Band which was a great move by Palm for business travelers as it allows you to roam in any country your carrier gives you reception. Without the bluetooth on the battery lasts quite awhile, and is even better if you turn down the brightness of the screen.
There are many applications that can be used from the advanced calculations to the day planner. Other then that there is a video viewer, picture viewer and Mp3 player via the built in RealPlayer App. You can hold about 20MB of media as the phone is but if you add a memory card (not included) you can hold up to 1GB of media.
The camera on this phone is very good for being VGA. The display can display 65000 colors and the picture is huge when you view it on the display. The picture looks incredible and you can zoom up to 2X. You can also shoot video and use the camera to take self portraits and pictures with friends thanks to this little mirror on the back which serves as a view finder when you have the phone turned towards you.
I personally dont like phones that much when they mix business (date book, contacts list, memo keeper and computer syncing capabilities) and pleasure (Mp3 Player, Bluetooth, Camera and Video) but this phone does it so well its impossible not to like it. Its a great mix of the best of both worlds and with many hundreds of downloads available for it (check out download.com) the possibilities of use for it are endless!

This is a great choice for your phone!


Are you new to online shopping? Why buy from us?

If you are new to online shopping or have any doubts about buying from us, here are some things to consider:

We were powersellers on ebay, which means that we have not done bad business and that we sell many items each month while maintaining good praise from other ebay members.

We take REAL pictures of our products instead of recycling the same one misrepresenting the actual condition each one of our individual pictures is a one time picture just for that phone, so you see the actual condition.

We have 100% feedback, which means that NO ONE has had a problem that we have not helped fix

We tell people the honest truth about our products we dont tell say things knowing there untrue most of the time we even tell people the things that they may not like just so you know exactly what you are getting

We don't discriminate between people who have 100 feedback points or 1 we accept everyone

If there is a problem with your purchase we will do everything we can to help you with it. There is not a problem we can not help with if you give us a chance, leaving bad feedback or just assuming we will not help, will not aid any situation
we are here to help and we are always one call away!

We are a small business that makes our customers our #1 priority, which is why with us when you ask a question or have a concern we will answer the same day (usually within the hour!) and not leaving you waiting multiple days like other sellers who are first interested in there money and 2nd the customer.

#

Shipping:

2-3 day arrival within the continental USA is $7.45

More options are available

$2 for insurance (optional)
Anywhere else where this phone is listed for must contact me for a quote.

This lot is being sold with a rock-solid, money back guarantee for disfunctional phones. Please check my feedback and bid with confidence. The person with the winning bid will receive an e-mail with all the pertinent payment information usually within 24 hours of the close. Paypal is by far the preferred method of payment. Lots are usually shipped within 24 hours of receiving payments by Paypal.

For domestic buyers (within the USA): In addition to the winning bid, the Buyer pays the costs of postage, handling and insurance, of which the latter is optional for lots under $25.00 and is encouraged for lots over $25.00.

For your information we have never had a package get lost in the mail but please note with out insurance we are not responsible for lost packages. Although, we have a very close relationship with our post office and we will put a full effort and investigation into finding any lost package.

Thanks for looking!
... [Full Description]