Canon PowerShot A570 IS 7.1MP (w/ 2GB SD Card) - 1773B001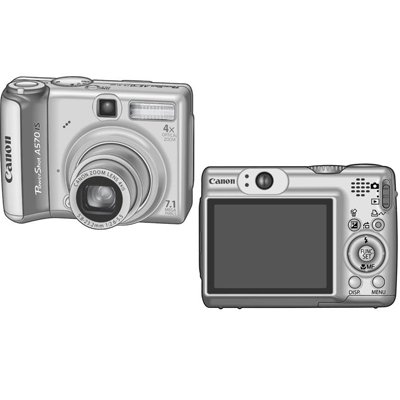 3 available
Details
Shipping: US-Mainland: free (more destinations)
Sales Tax: South Dakota: 4%
Condition: Brand new
*The store has not been updated recently. You may want to contact the merchant to confirm the availability of the product.
**with 2GB SD Card**

Canon 7.1 Megapixel Digital Camera with a 4X Optical Zoom, image stabilization, 2.5" LCD, Digic III image processor with face detection and red-eye correction., 4 movie modes, 2 AA batteries.

Mfr.
Canon Cameras

Mfr. Model
1773B001

Mfr. Warranty
1 YEAR LIMITED

FEATURES

PowerShot A570 IS Digital Camera
Compact digital still camera with built-in flash, 4x Optical/
4x Digital/16x Combined Zoom with Optical Image Stabilizer (IS)
System.
Even when the kids can't sit still and the light is less than ideal,
the amazing PowerShot A570 IS lets you capture life's special
moments - perfectly. Optical Image Stabilizer Technology keeps
images crisp even when you're zoomed way in. The ISO 1600 and High
ISO Auto settings reduce blur when the lights are down low. Plus,
the A570 IS is packed with easy-to-use creative and convenient
features you'll love.
Includes PowerShot A570 IS Body, AA-size Alkaline Battery (x2),
MultiMediaCard-16M, Wrist Strap WS-800, Digital Camera Solution
CD-ROM, USB Interface Cable IFC-400PCU, AV Cable AVC-DC300.
* Catch Them in Motion
Life doesn't give you second chances to capture special times. That's
why the elegant PowerShot A570 IS is equipped with Canon's acclaimed
Image Stabilizer Technology that automatically detects and corrects
camera shake - one of the leading causes of fuzzy or blurred shots. So
now even when you're zooming in tight you can get the steady, crisp,
brilliant images you'll be proud to shoot and share. And Canon's Image
Stabilizer Technology is so convenient to use. Just turn it on, it
functions perfectly with or without a flash.
* New Features, Better Pictures, Greater Simplicity
Just imagine what you can do with 7.1 megapixels! You'll be able to crop
and enlarge your pictures to reveal the tiny details and exquisite depth
that make every image come alive. Plus, the powerful Canon 4x Optical
Zoom Lens lets you zoom in tight and fast. So no matter where the action
is, you'll be up close - and have the breath-taking images to prove it.
Designed to go where family life takes you, the PowerShot A570 IS has a
silvery metallic body that's smoothly contoured so it's easy to hold and
easy to shoot.
* Canon Technology Maximizes Quality and Performance
With DIGIC III, you get images of superior quality, the camera functions
at top efficiency and battery life is significantly enhanced. What's
more, DIGIC III enables Canon's newly improved Face Detection Technology
and Red-eye Correction to give you better, more true-to-life people
shots. Simply press the Shutter Button halfway down, and the PowerShot
A570 IS automatically pinpoints the faces in the scene and chooses the
ideal focus point. To keep every face looking bright and natural -
without scary red eyes - the camera controls exposure settings and
flash, so every shot is just what you were shooting for.
- DIGIC III features Face Detection AF/AE, which finds multiple faces
in the frame and sets the most suitable focus point, when the shutter
button is pressed halfway. And an additional new feature, Face
Detection FE adjusts the flash, based on a person's face on the
screen. Exposure and flash are controlled to ensure proper
illumination of both the faces and the overall scene, eliminating the
common problem of darkened or overexposed faces.
- Red-Eye Correction detects and automatically corrects red-eye during
playback for both regular and flash photography. In unusual cases
where red-eye is not automatically detected, it can easily be
corrected manually during playback mode from the LCD screen.
- iSAPS Technology is an entirely original scene-recognition technology
developed for digital cameras by Canon. Using an internal database of
thousands of different photos, iSAPS works with the fast DIGIC III
Image Processor to improve focus speed and accuracy, as well as
exposure and white balance.
* See the Image in the LCD Clearly
The camera's 2.5-inch LCD screen gives you the big picture, whether
you're shooting, reviewing or showing off your images. This high-
resolution screen offers a crisp, clear picture to make shooting,
playback and using the camera's menu functions especially convenient.
Clear and bright, it also features Night Display for easy viewing in low
light.
* Canon Innovation Enhances Your Experience
The PowerShot A570 IS features new ISO 1600 and High ISO Auto settings
that reduce the effects of camera shake and sharpen subjects in low-
light situations, giving you greater flexibility for shooting.
With 19 Shooting Modes including 7 Special Scene Modes, you're ready for
whatever shot comes your way.
* Shooting Modes
Advanced presets for the best possible photos under certain conditions.
- Auto
The camera chooses all the settings so you can concentrate on your
subject.
- P Program
Access advanced exposure compensation features while shooting mostly
automatically.
- Av Aperture-priority
You define the aperture to either isolate your subject or have
clarity throughout the entire picture, and the camera will choose the
corresponding shutter speed.
- Tv Shutter-priority
You select the shutter speed to stop or blur action, and the camera
finds the appropriate aperture. With slow exposure times, Canon's
noise reduction system activates to ensure low image noise.
- Manual
The ultimate in creative control, you set ISO speed, exposure
compensation and white balance.
- Portrait
The camera sets a large aperture, focusing the subject and
artistically blurring the background to make your subject "pop."
- Landscape
For front-to-back sharpness, the camera sets a small aperture.
- Indoor
Reduce blur and improve color accuracy when shooting handheld
indoors.
- Kids & Pets
Reduced focusing time freezes fast-moving subjects, so you won't miss
those special shots.
- Stitch Assist
Build awe-inspiring panoramas by neatly aligning sequential images.
- Night Snapshot
Get natural-looking pictures with brighter backgrounds and subjects
lit by flash.
- Movie
Shoot in VGA and QVGA (30 fps/15 fps for up to 1 hour or 4GB), Fast
Frame Rate (60 fps for up to 1 minute) or QQVGA (15 fps for up to 3
minutes).
- Special Scene Modes:
- Night Scene
For impressive sunset or nightlife shots, the camera properly
exposes the background and uses slow-sync flash for the subject.
- Foliage
Capture brilliant shots of autumn foliage, greenery and blossoms.
- Snow
Shoot clear snow scenes without darkened subjects or an unnatural
bluish tint.
- Beach
Get clear shots of people at a sunny beach without darkened faces.
- Fireworks
Grab brilliant images of skyrocketing fireworks.
- Aquarium
Achieve proper flash-free exposure and natural hues at indoor
aquariums.
- Underwater
Capture underwater images with reduced backscatter effect. (Note:
Optional Waterproof Case WP-DC12 required for shooting any
underwater images.)
* A Variety of Movie-Making Options
With a highly flexible movie mode, you can create the movie that's
perfect for any application. Select from VGA (640 x 480 pixels) and QVGA
(320 x 240 pixels), with frame rates of 30 fps and 15 fps for recording
up to 1 hour or 4GB. Also Fast Frame Rate (QVGA; 320 x 240 pixels)
recording at 60 fps for up to 1 minute, and Compact Movie Mode (QQVGA;
160 x 120 pixels) recording at 15 fps for up to 3 minutes. The PowerShot
A560 also supports the USB 2.0 Hi-Speed standard, so you'll enjoy the
fastest possible data transfer speeds when using a USB 2.0 Hi-Speed
compatible computer.
* Power on the go with two AA-size batteries
You don't need to worry about running out or recharging batteries. Since
AA-size batteries can be purchased at any store, simply get new ones
locally.
* The Complete Print Solution
The PowerShot A570's IS Print/Share button makes direct printing easier
than ever. Simply connect the A570 IS to a Canon CP, SELPHY or PIXMA
Photo Printer or any PictBridge compatible photo printer, press the
lighted Print/Share button and print! Also use the Print/Share button to
transfer images directly to a computer (Windows and Macintosh).
* Direct Photo Printers
For desktop large-format printing, try one of the Direct Photo Printers
that allow you to print directly in one of two ways: plug the compatible
PowerShot camera into the Direct Photo Printer using the supplied
cable, or simply insert a memory card into the supplied adapter. You can
also connect the printer to your computer for more options. Print high
resolution borderless images in postcard size or 8.5"x 11" size within
minutes.
* Compact Photo Printers
Compact Photo Printers let you produce versatile, fun 4" x 6" postcards,
4" x 8" wide greeting cards or credit card size prints in just two easy
steps: connect and press/print. Control the printer right from your
camera's LCD screen. You get durable, dye-sublimated prints quickly with
or without borders. Assorted paper types let you create mini or credit
card size labels.
* PictBridge
The PictBridge standard enables any digital camera that supports
PictBridge to connect and print to any PictBridge compatible printer.

-- SPECIFICATIONs -----------------------------------
IMAGE CAPTURE DEVICE-
Type : 7.1 Megapixel, 1/2.5 inch type Charge
Coupled Device (CCD).
Total Pixels : Approx. 7.4 million
Effective Pixels: Approx. 7.1 million
LENS - Focal Length : 5.8 - 23.2mm f/2.6 - 5.5
(35mm film equivalent: 35 - 140 mm)
Digital Zoom : 4x
Focus Range : Normal - 1.5 ft. - Infinity
Macro - 2.0" - 1.5 ft. (Wide)
1.1 ft. - 1.5 ft. (Tele)
Autofocus : TTL Autofocus
VIEWFINDER - Optical : Real-image optical zoom viewfinder
LCD Monitor : 2.5" low-temperature polycrystalline
silicon TFT color LCD.
LCD Pixels : Approx. 115,000 pixels
LCD Coverage : 100%
APERTURE & SHUTTER-
Max. Aperture : f/2.8 (W) - f/5.5 (T)
Shutter Speed : 15 - 1/2,000 sec. (settable in Tv and M)
EXPOSURE CONTROL-
Sensitivity : Auto, High ISO Auto 80/100/200/400/800/
1600 equivalent (Standard Output
Sensitivity. Recommended Exposure
Index).
Light Metering
Method : Evaluative/Center-weighted average/Spot
(Metering frame is fixed to center).
Exposure
Control Method : Program AE, Manual
Exposure
Compensation : +/-2.0 stops in 1/3-stop increments
WHITE BALANCE- Control : Auto, Preset (Daylight, Cloudy, Tungsten,
Fluorescent, Fluorescent H, Underwater),
Custom.
FLASH - Built-in Flash : Auto, Auto w/Red-Eye Reduction, Flash On,
Flash On w/ Red-eye Reduction, Flash
Off.
Flash Range : Normal- 1.5 - 11 ft. (W)
1.5 - 7.2 ft. (T)
Macro - 1.0 - 1.5 ft. (W/T)
(When ISO is set to ISO Auto).
Recycling Time : 10 sec. or less (battery voltage=3.0V)
SHOOTING SPECs-
Shooting Modes : Auto; Creative: P, Av, Tv, M; Image:
Portrait, Landscape, Special Scene
(Night Scene, Foliage, Snow, Beach,
Fireworks, Aquarium, Underwater),
Indoor, Kids & Pets, Night Snapshot,
Stitch Assist, Movie.
Self Timer : Activates shutter after an approx. 2 sec./
10 sec. delay, Custom.
Continuous
Shooting: Approx. 1.7 fps
IMAGE STORAGE- Storage Media : SD Memory Card, SDHC Memory Card,
Multimedia Card.
File Format : Design rule for camera file system, DPOF
Version 1.1 (Digital Print Order Format)
Image
Compression: Still Image: Exif 2.2 (JPEG)
Movie: AVI (Image: Motion JPEG; Audio: WAV
monoaural).
JPEG Compression
Mode : Still Image: Exif 2.2 (JPEG)
Movie: AVI (Image: Motion JPEG;
Audio: WAVE (Monaural))
# of Recording
Pixels : Still Image: 3,072 x 1,728 (Widescreen)
3,072 x 2,304 (Large)
2,592 x 1,944 (Medium 1)
2,048 x 1,536 (Medium 2)
1,600 x 1,200 (Medium 3)
640 x 480 (Small)
Movie: 640 x 480/320 x 240 (30 fps/
15 fps) available up to 4GB or
60 minutes, 320 x 240 (1 min. at
60 fps), 160 x 120 (3 min. at
15 fps).
PLAYBACK MODE- Still Image : Single, Magnification (approx. 2x-10x),
Jump, Auto Rotate, Rotate, Resume,
Histogram, Index (9 thumbnails), Sound
Memos, Auto Play, Red-Eye Correction.
Movie : Normal Playback, Special Playback
ERASE MODES - Still Image : Single image, all images.
Movie : Part of movie, all of movie
CONNECTORs - Computer : USB 2.0 (mini-B jack)
Video Out : NTSC/PAL
Audio Out : Monaural
Other : Memory card slot. Direct connection to
Canon CP, SELPHY, PIXMA Photo Printers
and PictBridge compatible printers via
cameras USB cable.
ACCESSORIES - 0687B001 PSC-65 Soft Compact Case
1169B001 CBK4-300 Battery & Charger Kit
6872A007 A Series Accessory Kit
7640A001 ACK800 AC Adapter
9078A001 PSC-60 Deluxe Soft Compact Case
9370A001 IFC-400PCU USB Interface Cable
9371A001 AVC-DC300 AV Cable
9940A001 HF-DC1 High-Power Flash
POWER SOURCE - AA-size Alkaline Battery (x2)
Rechargeable AA-size Ni-MH Battery (x2)
AC Adapter Kit ACK800
DIMENSIONS - 3.52"w x 2.53"h x 1.69"d WT.- approx. 6.17 oz.
... [Full Description]