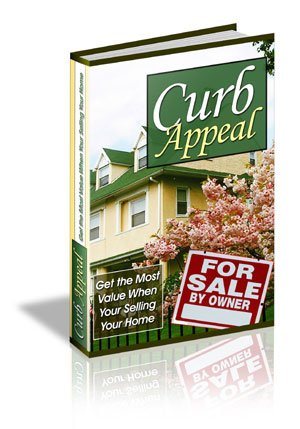 More than 10 available
Details
Shipping: US-Mainland: free (more destinations)
Condition: Brand new
*The store has not been updated recently. You may want to contact the merchant to confirm the availability of the product.
Selling your Home?

A Makeover to "MOVE" Your
House on the Market!
CREATING CURB APPEAL AND ENERGY EFFICIENCY...


Dear Friend,

Are you planning on adding a "for sale" sign to the front lawn soon? This guide may just be what you need to have fun sprucing up your home, and success selling it fast and for top dollar! Anything you do cosmetically to enhance curb appeal will increase the resale value of your house. A little extra work may mean a difference in how smoothly the sale goes, how much can be asked for your home and how long it will stay on the market. Many home buyers stretch economically to get into a home, and what you do to make the property more attractive with less work and cost for them, may work favorably to convince them that yours is a more lucrative prospect than the house across the street. If a house obviously needs repair or maintenance, a buyer may decide to look for something that is in better condition. The good news is that many improvements that have an impact on selling a home aren't very expensive at all.

You Can Do It!

To make a good impression from the moment potential buyers pull up to the house is vital! First glimpses of the home will include the exterior, the garden and lawn, roofing or shingles, window frames, trim and the front door and first impressions count, and they last! Peeling trim or odd exterior colors could lose you their attention before they come inside. A lush lawn leaves the impression that someone cares about this home. Well-kept homes sell faster than those that aren't. "Curb appeal" is a crucial first impression that can make buyers either wary or eager to step Inside....

The second impression comes when a potential buyer steps inside your home. This area should be in showroom condition, since it sets the tone for what they are about to experience about this home. Make sure the area has lots of light. Keep all of the lights on, and open up any blinds to maximize the light. The brighter the entry, the more welcoming and appealing the home tends to feel. Large mirrors can be used to good effect here, to create a sense of space and to enhance light and cheerfulness.

YES. YOU CAN DO IT!!!

Home buyers recognize the value
of a house that doesn't need major repairs.


Are you having continuous trouble doubting your ability to present your house to its best? Are you having sleepless nights?

NO MORE!!!

FIND ANSWERS AND SOLUTIONS TODAY!

The best advice is to not EVER give up!

Stop giving in to Anxiety. Nothing is hopeless.

The situation CAN BE REVERSED!!!

You can fix your house up and present it well!

Learn How Here!

Be mentally tough, take control of the situation and get rid of stuff that you haven't used for a few years, as well as things that you think you might still need in future. Take a long hard look and make a realistic, rational, unemotional and unsentimental decision about those objects that threaten to turn you into a packrat. Throw out, give away or have a garage sale.


YOU CAN MAKE A DIFFERENCE AND EFFECTIVELY DECIDE WHICH WAY YOU WANT TO TAKE IT!



Few home improvements will give you a better return on your investment, and will help you more to sell your house quickly, than good landscaping! A smart landscaping design can simplify yard maintenance, reduce home energy bills and camouflage unsightly areas that may be too costly to enhance in other ways. The impact value of a lush green lawn will greatly improve the appearance of a home and does not cost much. A well manicured lawn shows pride in ownership.Mow the lawn about three inches high at least twice a week when a home is on the market; two inches if the home is in a warmer climate. Keep it green and keep it cut. The more it is mowed, the denser it will become. Get on a fertilization program, starting at the beginning of the season.

Upgrade your outside lighting and turn it on during showings so buyers know just how beautiful your home really is in the best light. Buy high quality commercial grade landscaping lights at the hardware store. They cost double, but look ten times better than the cheaper sets. The placement and distribution of lights used is vital to achieve a professional look.

UNEARTH THE TRUTH ABOUT
how to fix up your house
in a stunning way!


There are lots of handy tips hiding in these pages.
Water features can give a house the kind of curb appeal that goes beyond good looks, creates a special tranquil atmosphere and may attract wildlife and birds. It creates an oasis of peace that beacons visitors to step inside. In the front of the house, keep the fountain smaller. Buy it ready made or design and create your own unique version.

TIPS ABOUND!

Learn how things like how...


(i) Decks, patios, gazebo
(ii) Painting and siding
(iii) Roofing condition, cleaning and replacement
(iv)Driveway
(v) Furnishings and decor
(vi) Overall cleanliness and de-cluttering

can decisively affect YOUR HOUSE'S APPRAISAL (or not!).

How to deal with stress, low motivation and low self-esteem because your lack of experience and knowledge make this task of selling your house seem too daunting!!!

The underlying causes, best courses of action, some sound down-to-earth assistance and communication skills can all help you overcome your anxiety about this challenge and help you achieve that elusive DREAM OF SELLING YOUR HOUSE FOR TOP DOLLAR!

Learn how to make your new house energy efficient and save MORE dollars!
There are ways out of the struggles!
Get successful again!


This guide has strategies and
solutions that work!



Buyers tend to be impressed by updated kitchens and bathrooms. Kitchen or bathroom remodeling is money well spent if you don't go too extreme with the design or the materials you use. Sellers should decide where these rooms need the most improvement, and how much they want to spend. Upgrading the lighting fixtures may enhance the new look greatly. Accent lighting above the sink or under-cabinet or over-cabinet lighting can create an amazing dramatic effect by softer accent lighting and are easy to install. Kitchen cabinets that are structurally fine but their exteriors are outdated, might be worth re-facing. Replacing old countertops will surely add new life to the room.

Clear away the clutter on the countertops to make the space look as large as possible. Lots of small appliances and ornamental objects will not create that effect! Remove notes, photos, and magnets from the refrigerator as well. Clean out the kitchen cabinets and pantry.

BUT ALSO... YOU CAN PERMANENTLY LOWER
YOUR ENERGY BILLS EVERY MONTH WITH A
LITTLE EFFORT AND SOME MINOR CHANGES
TO AND AROUND YOUR HOUSE !!!

Think of your house as a shell that protects you from weather extremes, and in which you create a certain comfortable atmosphere for your family to live temperature and moisture controlled.

Whatever the season, making your home more airtight is the most important thing you can do to save energy and money and live comfortably. Counting together all the holes in a typical house, it would be the same as leaving a window open all winter long.

Anything that is not absolute necessary should be removed. Replace about half of the items tidily on the shelves. This cause shelves to appear more roomy. Don't keep pet food in the pantry - don't advertise that there are pets in the house.
Windows are major culprits for heat loss and one sure sign of a problem is frost on
the inside of a storm window. This means warm, moist air is leaking out and
meeting cold air coming in. Cold windows also affect the circulation of air inside the home. Seal with rope caulking where the window meets the window frame. Don't forget the top and bottom edges of the frame. Outside, caulk where frames meet the siding. Caulk where storm windows meet the window frame except the small drain holes at the bottom. Use removable caulking so you can take it off in summer. Weatherstripping and vinyl V-strip let you open and close the window year round without replacing the sealing material.

If you find yourself in real need for some deeper insights into what it actually takes to successfully and effectively GET TO DEAL WITH THESE ISSUES TODAY, HERE AND NOW, ONCE AND FOR ALL, then this is the guide for you!

Educate and empower yourself, your kids, your family and friends. Raise awareness about cost and energy savings and value the contribution you are making, no matter how small you might deem it to be. Consider making it your top priority to make your own family, your community, friends, neighbors aware to do their part in saving money, energy and the environment. These cost and energy saving tips, recommendations and techniques also result in added home comfort, improving the air we breathe indoors as well as reducing damage caused by water, wind, snow and other extreme natural forces! Protect, secure, minimize damage, lower utility bills and save energy. It is a worthwhile effort!

Try to approach your house in the first place holistically - inside and outside - area for area, room for room, all levels from top to bottom.
Identify weak links that rob you of dollars through energy loss. Be thorough, use outside experts and diagnostics if you want to be sure.

Fix the problems at the source, do not treat the symptoms only. Root causes rectified will save you headaches and lots of money later on.

Consult with home improvement contractors or energy efficiency specialists to assist you. There are also numerous DIY manuals, brochures and books by various suppliers and experts available to take you step-by-step through what you need to do to get your house in order.

Although your house is a complex system, there are many factors that can help your energy efficiency efforts. To avoid additional costs, look at the big picture as well as the detail to get things back in order and on track and avoid wasting money and energy in the process. Problems and issues may also compound (especially in older homes), so you will be wise to act quickly and decisively regarding problems you might run into. Renovations might look nice, but they could be the source of problematic drafts or moisture energy stealers! Inspect all recent work and ensure that it is not contributing to higher energy consumption or waste:

* Air conditioners and air flow throughout the house
* Filters, furnaces, humidifiers and ventilation fans
* Washers, dryers, appliances, power tools and electronics

HOW TO recognize and get rid of things that can make your HOUSE NOT SELL and your ENERGY BILLS worse.

AVOID MISTAKES never to repeat!


A common mistake is to put the home on the market before it's ready. Presentation is everything, so get the work (e.g. carpets or painting) done before marketing the property. Don't be impatient or procrastinating. Be careful not to over improving the home for the neighborhood. This happens with additions and upgrades that make the home stick out from among its competitors instead of being a nice addition to the community.

It is a mistake to price the home based on what the seller wants to net. This always ends in failure. Sellers can control the "asking" price, but they don't control the "sales" price. The market does. It doesn't matter what the seller wants, the price is determined by the black-and-white, matter-of-fact reality of the market.

Make sure you're hiring a professional agent with a proven track record. Never get emotionally involved in the sale of the home. Once you decide to sell your house, it's no longer a home, but a commodity.It needs to be prepared, marketed and priced as a commodity. It doesn't matter what you "want," only what the market can bear on pricing. People are going to come in to kick the tires, so to speak, and you can't get emotional about how they may or may not appreciate the nuances of your home of seven years.

Never cover up problems, or not disclose them. This risks lawsuits. Most states have a property disclosure/disclaimer form - use it wisely. Make sure you're well informed, the research is done early and everything is lined up before trying to sell. This may involve financing, reading the fine print on your current mortgage to ensure no pre-payment penalties, listening to the particulars of your local market, etc. There are plenty of resources and professionals, who are there to help you step over the pitfalls and avoid mistakes.

TODAY, WE CAN CONFIDENTLY, CHALLENGE AND CHANGE ALL OF THAT FOR GOOD!
YOUR ANXIETY ABOUT YOUR HOUSE NOT SELLING AND HIGH ENERGY BILLS DO NOT HAVE TO RULE OR RUIN YOUR LIFE OR YOUR PARTNER'S!
FIND AND IMPLEMENT YOUR OWN PERSONAL STRATEGIES AND CREATIVE SOLUTIONS FOR A MAKEOVER THAT WILL MAKE YOUR HOUSE IRRESISTABLE TO BUYERS

DO NOT STRESS ANY MORE !

Here is just some of what you will be sharing in, through this newly released e-book:

*Enhancing your greatest asset
*Exterior
*General property, Cleanup, tidiness and pets
*Lawn, landscaping, flowers and Irrigation systems, Outdoor lighting, Water features
*Structures, Decks, patios, gazebos, Pools and hot tubs, Garage and storage shed, Playground equipment
*General exterior, Painting and siding, Roofing condition, cleaning and replacement AND MUCH MORE!!!

TAKE BACK CONTROL AND HAPPINESS! MAKE YOUR ANXIETY AND FRUSTRATION A THING OF THE PAST! SELL YOUR HOME FOR TOP PRICES AND SAVE $$$$$$ ON UTILITY BILLS

That's right, order now and you are well on your way to successfully dealing with all those challenges of selling your home.



HOWEVER DO NOT POSTPONE OR DELAY YOUR ORDER ANY LONGER! TAKE FULL ADVANTAGE OF THIS OFFER, NOW!


Copyright LakeviewSelections.com

-----------------------------------------------------------

This e-book is in PDF format. Ebooks are electronic books meant to be read on your computer, however, you may print them out to read at your convenience.

This is a digital delivery item, meaning upon receipt of your PayPal payment, you will receive an email from Lakeview Selections sent to your registered PayPal email address. This email will include the link to download the item.

Please check your spam folder and contact me if you do not receive the email within a few hours and I will resend it as soon as I receive your message.

Please contact me if you have any difficulties so I can resolve the situation. I want all customers to be satisfied with their item and communication can solve any problem. I usually respond within 24 hours. Thank you!
... [Full Description]