Last Minute Travel Secrets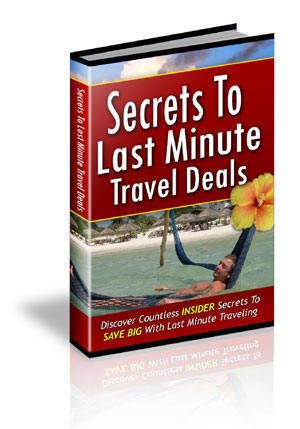 More than 10 available
Details
Shipping: US-Mainland: free (more destinations)
Condition: Brand new
*The store has not been updated recently. You may want to contact the merchant to confirm the availability of the product.
Last Minute Travel Secrets




Discover the Insider Tips, Techniques & Practical "HOW TO's"

To Make The Most Of LAST MINUTE TRAVELING.

Discover How to Quickly & Easily ACCESS TRIPS and TIPS YOU NEED TO GET WHERE YOU NEED TO GO IN NO TIME!

Dear Friend,

This guide is meant for everyone who has ever needed to get on a plane last minute, book a vacation quickly or just break-away for that much needed vacation or trip of a lifetime, ONLY to find out that it is going to cost you way MORE than you had anticipated. There are lots of obstacles and challenges to overcome when making last minute, short-term, short-notice, 11th-hour type travel arrangement, BUT higher cost does not necessarily have to be one of them or a given by any means.

We all want the best for our travel dollar. These days, it is all about getting there quickly and cheaply. We all want to make the most of what the travel industry has to give and offer up in terms of savings and value. This leads and inspires us (even obsess over!), increasingly try to secure the BEST pricing, discounts and lowest rates possible, even for short-term travel and last minute arrangement.

Lots have changed in the modern world we live in. Travel is no exception, whether by car, plane, train, boat or rail and other means of transportation. The fast-paced nature of society sometimes pressures us to spend a little more time and less money getting where we need and want to go. Worldwide, people are moving, on the move, passing through and going places. We are nomadic at heart and the economy and activity demands that we do, often and repeatedly.

Booking online has also become a reality. We are wanting more and more to get where we need to go, as quickly as possible, as affordably as possible and as cheaply as possible! This, combined with the wonderful enabling technological advances that we have had in recent years, all contribute to almost on-demand and real-time travel solutions at our fingertips.

MASTERAND COMBINE RESEARCH, COMPARISON, BOOKING, CONVENIENCE AND TECHNOLOGY-ENABLED PROCESS DYNAMICS TO

Booking last minute afford you flexibility, but also savings sometimes, if you do it right. You do not have to necessarily pay more if you are booking short-term travel. We all just accept that it will be more expensive, as supply and demand dictates. You need to know where the real savings opportunities are, whether charter flights, preferred rates or more applies and then use, leverage and optimize these individually and collectively to your advantage.

It is an art and science to discover and capitalize on any and all last minute travel bargains PRIOR to booking. Asking the right questions, using the right booking service and provider, even doing things yourself can save a lot of money. You will be left with more on-hand spending money and make your travel dollar go that much further, if you can make these last minute travel deals work for you, not against you!

Many a time there are disasters, unfortunate events and unfortunate incidents that happen in our lives and those of others. We cancel, reschedule and shuffle our plans last minute, creating a type of fluidity in the market, openings for some/others to take advantage of. This affords consumers choice and opportunity to save money, even for traveling.

Cancellations and even weather, can have you dig in on some savings for vacation or quick last-minute business or destination travel that you did not think possible.

You also need to know the difference between advanced booking prices, hold and reserve flight specification to ensure your pricing and availability. You have to be able to make the most of any rock-bottom pricing, bulk discounts, charter, re-routed flights and preferred rates, to put together great last minute packages, specials and bundled deals for making last minute travel a breeze.

Here is just some of what you will be sharing in, through this newly released e-book:
- TAKING A CLOSER LOOK AT LAST MINUTE TRAVEL KNOWING WHAT YOU ARE DEALING WITH FOR GREAT DEALS
- Last Minute Travel Deal Basics - How to make the most of the deals that are available out there
- What are last minute travel deals? What do they mean and can they do for you?
- Last minute travel deals strategies and options
- Who, where, when and through whom you book really matters and can make a difference
- Where to look to find last minute travel deals
- TAKING A PRACTICAL PRO-ACTIVE PERSPECTIVE: WHAT YOU CAN DO TO MAKE LAST MINUTE TRAVEL WORK ITS MAGIC FOR YOUR BUDGET AND POCKETBOOK!
- Brokering the best last minute travel deal - YOU'RE YOUR NEEDS! A method that works.
- Making your last minute travel dollar count
- Negotiation on price and final outcome, results and rewards of last minute travel deals
- Last minute travel deals - Do and DO NOT
and much, much MORE!

This "How To" Guide Will Help You Get To The Bottom Of The Matter In One Cover-To-Cover, Easy-To-Use Reference Guide.


Get All The Facts And Information You Need To Make THE
MOST OF LAST MINUTE TRAVEL

THIS IS WELL WORTH THE EFFORT AND INVESTMENT



Here's some MORE of what you will learn by reading this amazing e-book:
o Shed some welcome and needed Light On The Topic, In Simple, Easy-To-Follow, Practical Recommendations And Shared Wisdom, To Make Sense Of transportation, options, discounts, travel packages and special limited time offers, promotions, seat sales and MORE!
o All You Need To Know To Make Some Important Decisions Regarding Your comforts, value and costs when travelling last minute.
o Probe And Understand MORE Details Regarding the benefits of last minute travel and how to capitalize on what they have to offer.

Information regarding cashing in on last minute travel deals, is now at your fingertips and at your disposal. Most of it available online and upon request, in pamphlet form, helpful websites, electronic formats and even published works by famous influencers, market leaders and travel insiders! Consumers can make informed choices like never before regarding their flights, accommodations, leisure and business travel plans and trips.

When you not ready to surrender that extra cash, higher price for a flight, opt for seeking out value, ask about lower fares, rates and specials. If you do not ask, no one will necessarily volunteer that information (especially NOT if they are making a commission on the travel that they are selling!).

If you do not settle or compromise when it comes to comfort, convenience and cost (they do not have to be excluded by the way in last minute or discounted travel plans - you might be surprised at some of the deals that you will find as you get more and more in touch with where the actual savings and bargains are).

Now, most of us would beg to know this information, share ideas on how to save money while traveling, especially as it pertains to last-minute travel details. Stay tuned for more subtle tips, tricks and insider recommendations on how to make your travel dollar stretch and reach that much further.

Learn Everything You Need to Know About LAST MINUTE TRAVEL and how it can save money, effort and time.

A lot has been published online and in print on travel, the industry, challenges and opportunities to save money. Oftentimes there are portions of the market that remain very much tucked away, under-estimated, unused, yet open to all. It is up to you to surface and unearth some of these hidden travel treasures and pricing gems to get where you need or want to go.

There are many online providers and sites that afford you a better handle on what is available in the marketplace, with lots of quality comparisons and side-by-side pricing and analysis for your perusal and use. Find in this easy-reference guide general rules of thumb, recommendations, examples and even links and resources to consider in your quest for the lowest-fare, good quality, fair priced last minute travel deals that you want, need, desire and deserve!



- Learn how to spot and identify opportunities for travel savings

- The role of online technologies, websites, travel auctioneers, wholesalers and booking agents, carriers and travel providers

- How to define last minute travel needs and what it is that you need and want upfront to get the choices you can optimize and not take the first price quoted necessarily!

- How travel research and asking the right types of questions can help you make the most of travel last minute type activity and bookings

- Different types of ways to save money when traveling or booking a trip (even for last minute travel needs)



This travel market, technology enabled, web-based bookings and more can be brought to life, if you study, research and get to know the different providers, special deals and rules of thumb for making and getting the most of and for last minute travel deals.

The market does have lots to offer, but it is up to each of us to find out how to make the dynamics and intricacies of it work to our own advantage, making our trip not only more enjoyable, but possible, memorable and AFFORDABLE! That is what it is all about. Increasingly a wide/diverse set of travelers exploit and optimize all that the market has to offer.

YOU TOO CAN BE ONE OF THE LUCKY ONES IN THE KNOW REGARDING LAST MINUTE TRAVEL,

TAKING FULL ADVANTAGE, TO YOUR OWN BENEFIT!



Examples abound of how some innovative booking, discount, comparison and pricing-enabled, choice-friendly options can invigorate any prospective trip. Here are just some suggestions on how to cash in and benefit from the options, real-time, on-demand in the marketplace. HERE NOW, GONE THE NEXT!

- Whether for business, wedding, leisure or vacation, getaways or last minute trips, there are always cheap options, empty seats, cancellations, connecting or charter flights, that demand some flexibility, responsive agility

- There are many sites and providers with exposure online on the worldwide web, promising the world when it comes to last minute travel deals.

- We can realistically do a lot of our travel bookings ourselves these days, without a huge amount of risk.

- You do not necessarily have to deal with travel brokers, intermediaries or booking, reservation agencies any more. YOU CAN GO IT ALONE - cautiously and as an informed consumer-decision-maker. You can effectively track down, identify, find and complete your own travel itinerary and booking (travel plan), booking directly!

- Taking full advantage of all special offerings, discounts, deals, vacations, hotels, airfare, destination vacations.

- Using smaller, or niche booking specialists, bulk pricing and other go-betweens, major trusted brand providers of distinction and solid reputation, can all contribute to getting you the bottom-dollar pricing, for top-rated traveling. It does not have to cost an arm and a leg.

- You can very easily secure last minute travel deals to the Caribbean, Mexico and Florida and even Europe - AT THE LAST MINUTE!

Familiarize yourself with some of the low-cost, last minute travel deals, dynamics, providers, pitfalls and opportunities. Your best interests will be well served by paying close attention to the different sources and angles the savings can come from:

*

Online and agency, carrier, travel bargains and discounts,
*

Packages, customized vacations, bundling all keep costs low
*

Discounts, coupons and special deals
*

Industry consolidators and travel brokers or wholesale travel booking can get you better rates as well super-saver air-tickets and travel packages or discount bundles

Everyone who has had to book a last minute flight or made short-term travel arrangements, know that there is a price to pay. It is just the pace and part of the realities of life sometimes. Other procrastinate and delay making that final commitment. Short departures, even stand-by type arrangements can fall into this category. This however, does not have to break the bank or your pocketbook. You can still get good value for your travel dollar, without spending an arm and a leg due to the urgent or last minute nature of your booking.

Bargain travel is possible. There is a well-defined, opportunistic travel market that awaits, with myriads of savings and opportunity.


FIND AND IMPLEMENT YOUR OWN PERSONAL STRATEGIES AND SOLUTIONS FOR MAKING THE MOST OF LAST MINUTE TRAVELLING.

YOU NO LONGER HAVE TO WONDER ABOUT WHERE TO START AND/OR WHAT TO DO TO GET

LAST MINUTE TRAVELLING WORKING ITS MAGIC FOR YOU, YOUR TRAVEL NEEDS AND POCKETBOOK!



How much would you expect to pay for an ebook that quite literally could give all you need to know and much, much more.



Discover countless INSIDER Secrets You Need To MASTER and USE TO YOUR ADVANTAGE TO Appropriately & Effectively

GET THE MOST FROM LAST MINUTE TRAVELING

Thanks to the highly effective and Immediate Download Feature , You Can Begin Benefiting from the Expert Advice & Information Contained in it WITHOUT DELAY!!

YES, IT IS POSSIBLE FOR YOU TO LEARN ALL YOU NEED TO KNOW TO FIND and MAKE THE MOST OF last minute travel deals!

Download this information NOW, to start your process, get steps closer to having your trip of a lifetime or necessity becoming an affordable reality!

-----------------------------------------------------------

This e-book is in PDF format. Ebooks are electronic books meant to be read on your computer, however, you may print them out to read at your convenience.

This is a digital delivery item, meaning upon receipt of your PayPal payment, you will receive an email from Lakeview Selections sent to your registered PayPal email address. This email will include the link to download the item.

Please check your spam folder and contact me if you do not receive the email within a few hours and I will resend it as soon as I receive your message.

Please contact me if you have any difficulties so I can resolve the situation. I want all customers to be satisfied with their item and communication can solve any problem. I usually respond within 24 hours. Thank you!
... [Full Description]