Sugared Frosting Spooky Shea Scrub, 17-18 oz.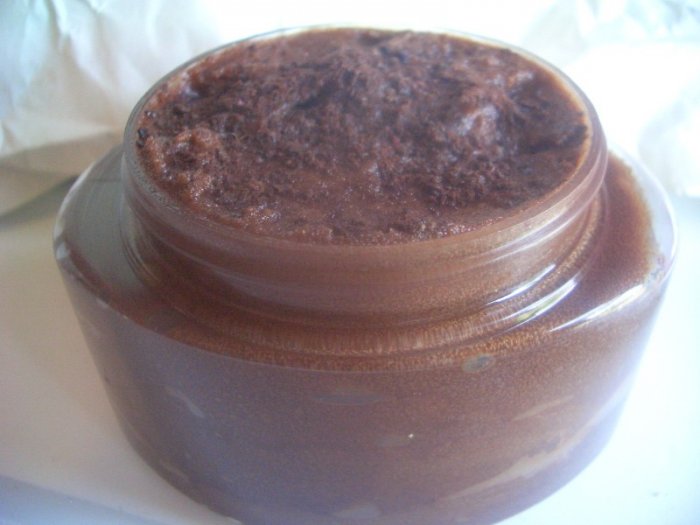 More than 10 available
Details
Shipping: US-Mainland: $9.10 (more destinations)
Condition: Brand new
*The store has not been updated recently. You may want to contact the merchant to confirm the availability of the product.
*For the time being, layered scrub will not be layered! This is to speed everything up and save my peace of mind.*

Boo! These will be available until I run out of fragrance; some will stick around for months, others until Halloween or shortly thereafter. Popular scents may stick around longer!

Some of these amazing scents were inspired in name and note by forum members. As I go through and check who suggested what I will appropriately acknowledge them! Thank you so much.

The special Halloween collection will not be available for custom orders. If you do have sensitivities and need less scent/sugar/no colour, do let me know and I will help you out. To cater to the general population, the Halloween scrubs will be very light to medium in colour (unless noted, for effect) and quite scrubby (not super-dry but not 'runny' or 'squishy'...scoopable!).

This is a luscious, frothy, always-whipped and just-like-frosting scrub. Absolutely delicious and will leave you gleaming!

Comes in a 16 oz. clear vertical jar, but total weight will be a good deal (up to 1.5 lb at best, depending on how scrubby you ask...the more sugar I add, the less it weighs) more due to the rich, thick nature of this buttery scrub.

Ingredients: Sugar, Glycerin, Water, Ammonium Laureth Sulfate, Cetyl Alcohol, Butyrospremum Parkii (Shea Butter), Perfume, FD&C color, Methylparaben, Propylparaben.


Pumpkin Bars - spiced pumpkin, a hint of bread, and some cream cheese frosting to top it off...! one layer of coppery-tinted goodness.

Orange Butterscream Candy Corn Cupcakes - moist cake blended with sweet candy corn and topped off with buttercream frosting that's been injected with a hint of sweet orange essential oil--a blended scrub in a lovely pale orange tone, or white with orange sprinkles.

Manna Jack - creamy fresh pumpkin blends with spices, oats, honey and fresh yeasty bread...to create the most scrumptious out-of-oven pumpkin bread experience! Scrub will be one layer and a creamy tan/amber tint.

Ice Cream Parlor Jack - spiced pumpkin blends with old-fashioned, hand-churned extra-creamy vanilla ice cream!

Jack Sandwich - crisp pumpkin spiced sugar cookies with a layer of fluffy buttercream and a dusting of nutmeg

Fresh Preserves - embalm me! a bit of sharp, dusty ancient air paired with sweet resinous amber, myrhh, and frankincense. This scrub will be a lovely light amber/caramel colour.

Ghostly Beauty Queen- sounds strange; the combination of leather and roses on one side in a lovely rose colour competes with the minty vanilla of Cold Cream in stark white on the other side

Rattlesnake Bones 'n' Shrunken Heads- still-smoking church incense, dark spiced rum, and tender violets all melded into one lovely bluebell-coloured scrub

Pumpkin Marshmallow Chicks - crisp, sugar coated mallow treats kissed by creamy, spicy pumpkin! one layer of pale amber goodness

Anise some Brains- anise, dirt, ozone, rain, and a touch of graveyard flowers give this earthy scent a lift...two layers; anise and dirt in a pale blue layer with black sprinkles and ozone, rain, and flowers in a lovely white layer.

Ghost Ship- water hitting the sand, salty air, handfuls of myserious herbs and incense...an enchanting scent in a pastel, oceanic colour

Dump out the Pillowcase -ever need TWO pillowcases for your huge Halloween haul as a little kid? here's an overload for you: true-to-smell honey drippin' candy corn, caramel apples, cotton candy, and deep-fried donuts. This scrub will be one layer of sugary-goodness all rolled up into a pretty pale orange.

Lunacy- white flowers and tingly mint (imagine walking through a moonlit graveyard...). The scrub will be a lovely mint green with white sugar.

Hayride through Hell - heh, kidding...this is a nice scent, really! freshly-mown hay, crisp
leaves burning in the distance, a cup of hot cider...this scrub is one layer and will be a soft autumnal amber/cream colour.

Black/White Magic - the Universe needs a little order...and a little chaos to keep things in balance! tart pomegranate and other fruits, heady oppoponax and patchouli, and dark herbs split up with fluffy white cake and vanilla buttercream touched with a hint of white flowers. This is a two layer scrub, side-by-side, one side white and one side white with black sugar sprinkles throughout. Very complex and appealing to many "scent genres."

Limited Quantity:

Vampire Wedding Night - innocent white cake with rolled fondant and icing rosettes; a bouquet of white lilies reminiscent of funereal flowers; sullied elegantly by plump, sweet cherries and other dripping, blood-red fruits...this scrub is two layers: one pallid white and one a rich pink-red

Blackcurrant Buttercream - needs no explanation, but I'll go on anyway: tart cassis fruit blended with a few other succulent berries cozied-up with rich, heavy buttercream...two layers, side by side, one rich purple and the other cream.
... [Full Description]