Alli Weight Loss Aid Starter Pack 90 ea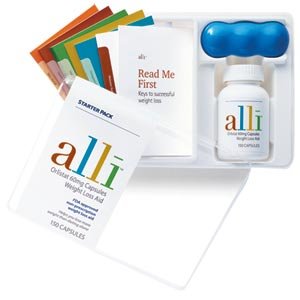 More than 10 available
Details
Shipping: US-Mainland: $6.99 (more destinations)
Condition: Brand new
*The store has not been updated recently. You may want to contact the merchant to confirm the availability of the product.
The Alli program starts with your commitment to adopting healthy eating habits. It combines the only over-the-counter, FDA-approved weight loss aid with an individually tailored support plan, to help achieve gradual and healthy weight loss. When you take Alli along with a reduced-calorie, low-fat diet, you can lose about 50% more weight than dieting alone. For example, instead of losing 10 pounds with diet alone, you can lose 15 pounds with the Alli program.

Alli is safe - if works in your digestive system, not in your heart or brain. It will not cause jitters, sleeplessness, or a racing heart. You can't just try Alli - you have to commit to it. We encourage you to read more and see if you agree with the statements at the end of this brochure, before you buy Alli. More information can be found at Alli.com. Or, talk to your doctor, pharmacist, or dietitian to help determine if you're ready.

how does it work?-Alli blocks about 25% of the fat you eat

Typically, enzymes in your intestines break down fat from food so your body can absorb the fat. But, the active ingredient in Alli attaches to some of these enzymes and prevents them from digesting about a quarter of the fat you eat. Because undigested fat can't be absorbed, it passes out of your body instead of turning into calories.
does Alli have side effects?

The main side effect occurs when you eat a meal with too much fat when taking Alli. If so much fat is blocked that your stool can't absorb it, you might have side effects. Because they are not harmful, we call them "treatment effects." These include loose or more frequent stools, an urgent need to go to the bathroom, or gas with an oily discharge. The excess fat that passes out of your body is in no way harmful. In fact, you may recognize it as something that looks like oil on top of a pizza. And these treatment effects can be lessened if you stick to reduced-calorie, low-fat meals that average 15 grams of fat per meal.

If you decide that you're ready to commit to the program, purchase the Alli Starter Pack. This package contains contains portable reference guides to help you follow the Alli program. The starter pack also includes a carrying case called the Alli Shuttle, to make it easy to take your Alli capsules with you.

The Starter Pack includes 6 portable reference guides to help you follow the Alli program and a carrying case called the Alli Shuttle. The In-Pack Guides, together with myalliplan, deliver the support to help you reach your weight loss goals, and teach you how to eat healthy for a lifetime.

PACKAGE CONTENTS

90 count orlistat capsules, 60mg
Shuttle: this carrying case makes it easy to keep doses of Alli with you.
Read Me First Guide: a quick introduction to successful weight loss with the Alli program. Topics include: Changing behavior, Eating right, Getting Active, Writing it Down
Companion Guide: overview of the program and explanation of the basics. Covers Setting goals, Dosage and use, Basic diet guidelines, Treatment effects
Healthy Eating Guide: offers practical suggestions for healthy eating with the Alli program. Includes Menu planning, Shopping, Preparing meals, Eating out
Calorie & Fat Counter: helps make the right food choices - whether at home or at a restaurant. Features a Calorie counter, Fat counter, Food exchanges
Daily Journal: makes it easy to record meals - a habit linked to successful weight loss
Quick Facts: pocket sized cards providing tips to help stay on track. Topics include Dosage, Best food choices, Foods to avoid, Portion size
Alli is potentially eligible for FSA reimbursement when medically necessary; check with your plan administrator for eligibility requirements.



Directions:



--------------------------------------------------------------------------------
Read the enclosed brochure for other important information
Diet and exercise are the starting points for any weight loss program. Try these first before starting any exercise program.
To see if orlistat capsules are right for you, find your height on the chart. You may consider starting a weight loss program with orlistat if you weight is the same or more than the weight shown for your height.
For overweight adults 18 years and older:
Take 1 capsule with each meal containing fat
Do not take more than 3 capsules daily
Use with a reduced-calorie, low-fat diet and exercise program until you reach your weight loss goal. Most weight loss occurs in the first 6 months.
If you stop taking orlistat, continue with your diet and exercise program.
If you start to regain weight after you stop taking orlistat, you may need to start taking orlistat again along with your diet and exercise program.
Take a multivitamin once a day, at bedtime, when using orlistat.



Ingredients:



--------------------------------------------------------------------------------
Active Ingredients: Orlistat 60mg (Weight Loss Aid)

Inactive Ingredients: FD&C Blue 2, Edible Ink, Gelatin, Iron Oxide, microcystalline cellulose, Povidone, Sodium Lauryl Sulfate, sodium starch glycolate, Talc, Titanium Dioxide

Warnings:



--------------------------------------------------------------------------------
Organ transplant alert:

Do not use if you have had an organ transplant. Orlistat interferes with the medicines used to prevent transplant rejection.
Allergy alert:

Do not use if you are allergic to any of the ingredients in orlistat capsules.
Do not use:

If you are taking cyclosporine
If you have been diagnosed with problems absorbing food
If you are not overweight
Ask a doctor before use if you have ever had

gallbladder problems
kidney stones
pancreatitis
Ask a doctor or pharmacist before use if you are

taking warfarin (blood thinning medicine), or are taking medicine for diabetes or thyroid disease. Your medication dose may need to be adjusted.
taking other weight loss prodcuts
When using this product

Take a multivitamin once a day, at bedtime. Orlistat can reduce the absorption of some vitamins.
Follow a well-balanced, reduced-calorie, low-fat diet. Try starting this diet before taking orlistat.
Orlistat works by preventing the absorption of some of the fat you eat. The fat passes out of your body, so you may have bowel changes. You may get:
- Gas with oily spotting
- Loose stools
- More frequent stools that may be hard to control
Eating a low-fat diet lowers the chance of having these bowel changes
For every 5 pounds you lose from diet alone, orlistat can help you lose 2-3 pounds more. In studies, most people lost 5-10 pounds over 6 months.
Stop use and ask a doctor if

Severe or continuous abdominal pain occurs. This may be a sign of a serious medical condition.
If pregnant or breast-feeding, do not use.

Keep out of reach of children. In case of overdose, get medical help or contact a Poison Control Center right away.

Tamper-Evident features for your protection. The bottle of capsules has a foil seal under the cap imprinted with the words "sealed for your protection". each individiual capsules is sealed with a dark blue band around the center of the capsule. Do not use this product if any of these tamper-evident features are missing, torn or broken.
... [Full Description]