Otep - Sevas Tra (CD, 2002) Death Metal - Explicit Lyrics - MINT Used CD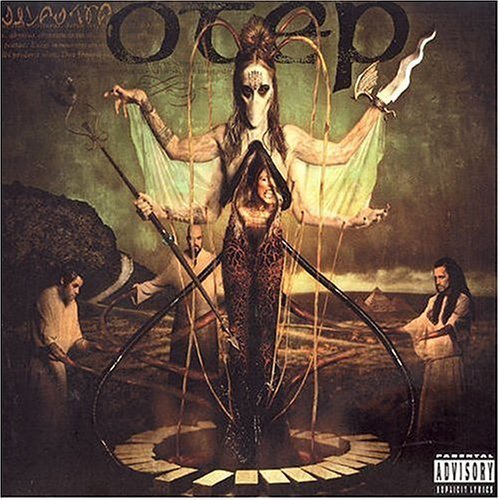 Only 1 available
Details
Shipping: US-Mainland: $2.75 (more destinations)
Condition: Used
*The store has not been updated recently. You may want to contact the merchant to confirm the availability of the product.
Otep Sevas Tra Enhanced CD is in scratch-free mint condition. Cardboard Digipack case and inserts are also in excellent condition. There are no cuts, holes, punches or drill liquidation marks on this. 100% intact with all original packaging. Regular commercially released cd; this is not a music club or promotional release. Flawless condition.

Item Specifics - Music: CDs
Artist: OTEP
Release Date: Jun 18, 2002
Format: CD
Record Label: Capitol/EMI Records
Genre: Death Metal
UPC: 724353334604
Sub-Genre: --
Album Type: Full Length CD
Condition: Used - MINT

Track listing
1. Tortured
2. Blood Pigs
3. T.R.I.C.
4. My Confession
5. Sacrilege
6. Battle Ready
7. Emtee
8. Possession
9. Thots
10. Fillthee
11. Menocide
12. Jonestown Tea
13. untitled - (hidden track)

Details
Producer: Terry Date
Distributor: EMI Music Distribution
Recording type: Studio
Recording mode: Stereo
SPAR Code: n/a

Album notes
This is an Enhanced CD, which contains both regular audio tracks and multimedia computer files.
Contains an untitled hidden track following "Jonestown Tea."
Otep: Otep Shamaya (vocals); Rob (guitar); Evil J (bass); Moke (drums).
This is an Enhanced CD, which contains both regular audio tracks and multimedia computer files.
Otep instantly raises the bar on today's female-fronted metal band scene. Signed in the wake of some serious Ozzfest buzz (the band landed a coveted spot on the tour with no record deal), the California quartet makes acts such as Kittie or Snake River Conspiracy seem tame by comparison. The band's first full-length, SEVAS TRA packs a menacing groovecore punch.
Part poet and part Barbie-doll growler, enchanting vocalist Otep Shamaya could easily give Corey Taylor (Slipknot) or Phil Anselmo (Pantera) a run for their money. Shamaya's self-proclaimed poeticism clearly suggests that the scary-sounding band name is a simple anagram. Otep's music is at times, crushing, anthemic, and venemously vengeful. Think Slayer-meets-RATM for "T.R.I.C," one of many brutal tracks, expertly produced by metal veteran Terry Date. "Posession" and "Blood Pigs" capture Pantera-like intensity with mountainous grooves. Recurring lyrical themes address empowerment ("Battle Ready"), politics ("Thots"), and especially the issue of abuses committed in what were once relationships of trust ("Tortured"). "Jonestown Tea" contains a disturbing twist on the Oedipal section of the Doors' "The End.," while "Emptee" makes use of a haunting Nine Inch Nails vibe. The future of heavy music is suddenly much prettier with the release of SEVAS TRA.

Editorial reviews
...Musically, Otep is right on par with Slipknot and Skinlab; its got meaty guitar riffs, guttural screams and drumming that would make Animal from 'The Muppet Show' woozy...
CMJ (06/01/2002)

...Named after its brutally beautiful singer, Otep, this band proudly unleashes wonderful bursts of musical antaganism....overflowing with aggression and brimming with substance...
CMJ (04/29/2002)

5 out of 10 - ...It's a hard line to fault, Otep draws inspiration from poets, philosophers and Fiona Apple, thus singlehandedly extending nu-metal's cultural horizons...They rock hard enough for any crow-sniffer...
NME (06/01/2002)



_____________________________________________________________________________________



$2.75 shipping for first class mail and delivery confirmation. Shipping discounts available for multiple cd purchases, see below! CD's are boxed very securely to avoid damage in mailing.

Please take a look around my store for more items that may interest you. I am happy to combine shipping on multiple CD purchases or combinations of other items. For CD-only purchases, media mail shipping rates depend on the number of CDs ordered as follows:

1-3 cds for $3.50 total ship (media mail + delivery confirm)
4-8 cds for $4.00 total ship (media mail + delivery confirm)
9-13 cds for $4.50 total ship (media mail + delivery confirm)

For combinations of other items besides CDs, please contact me for a total shipping quote. Note if you plan to pay with Paypal, once you have made your selections please send me a note and wait for me to invoice you before submitting payment. This way I can assure that you are paying the correct reduced combined shipping. Ecrater currently adds all of the pre-defined shipping costs when you make your purchase, and in some cases you will end up over-paying on shipping. If you do overpay before I can send you an invoice, I will refund the difference via Paypal when I prepare your order.

Please read my Terms page for information about insurance, if you are concerned about damage during shipping.
... [Full Description]