Dave Matthews - Before These Crowded Streets (CD, 1998) Rock NM Used CD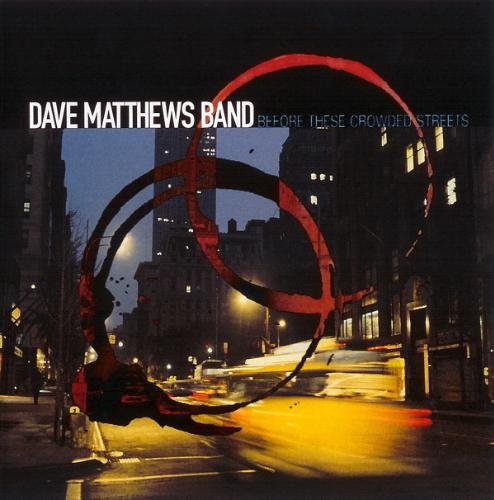 Only 1 available
Details
Shipping: US-Mainland: $2.75 (more destinations)
Condition: Used
*The store has not been updated recently. You may want to contact the merchant to confirm the availability of the product.
Dave Matthews Before These Crowded Streets CD is in excellent near mint condition, just a couple barely visible scratches that dont affect playback, you wont be disappointed. Jewel case and inserts are in excellent condition. There are no cuts, holes, punches or drill liquidation marks on this. 100% intact with all original packaging. Regular commercially released cd; this is not a music club or promotional release.

Item Specifics - Music: CDs
Artist: Matthews, Dave
Release Date: Apr 28, 1998
Format: CD
Record Label: RCA Records (USA)
Number of Discs: 1 Disc
UPC: 078636766027
Genre: Rock
Album Type: Full-Length CD
Sub-Genre: Alternative
Condition: Used - NM

Track listing
1. Panatala Naga Pampa
2. Rapunzel
3. Last Stop, The
4. Don't Drink The Water
5. Stay (Wasting Time)
6. Halloween
7. Stone, The
8. Crush
9. Dreaming Tree, The
10. Pig
11. Spoon

Details
Contributing artists: Alanis Morissette, Bela Fleck, Cindy Mizelle, Kronos Quartet, Tim Reynolds
Producer: Steve Lillywhite
Distributor: BMG
Recording type: Studio
Recording mode: Stereo
SPAR Code: n/a

Album notes
Dave Matthews Band: Dave Matthews (acoustic guitar, vocals); Boyd Tinsley (violin); Leroi Moore (alto, soprano, tenor & baritone saxophones, pennywhistle, bass clarinet); Stefan Lessard (bass); Carter Beauford (drums, percussion, background vocals).
Additional personnel: Alanis Morissette (vocals); Tim Reynolds (electric guitar, mandolin); Bela Fleck (banjo); John D'Earth (trumpet); Butch Taylor (piano, organ); Greg Howard (Chapman stick); Tawatha Agee, Cindy Mizelle, Brenda White King (background vocals).
Kronos Quartet: David Harrington, John Sherba (violin); Hank Dutt (viola); Joan Jeanrenaud (cello).
Recorded at the Record Plant, Sausalito, California and Electric Lady Studios, New York, New York.
BEFORE THESE CROWDED STREETS was nominated for the 1999 Grammy Award for Best Rock Album. "Crush" was nominated for the 1999 Grammy Award for Best Pop Performance By A Duo Or Group With Vocal.
BEFORE THESE CROWDED STREETS is a true groove salad, as the D.M.B. reports in with even more creative eclecticism than usual. Guest appearances by artists as varied as Alanis Morissette, Bela Fleck and Kronos Quartet are a testament to the collage of sounds present. Occasional ventures into Middle Eastern melodicism feel as natural a part of the band's sound as do its mellow folk grooves and funky rhythm flights. The lyrics are a glad swirl of pop storytelling and trippy mystery, brought to life by the usual confluence of saxophones, violin and precise guitar work that makes this group tick.
Over a fat backbeat, Matthews carries the clever, sultry lyrics of "Rapunzel" with a whimsical vocal blend of growls and falsetto jumps, culminating in a soprano rhapsody by hornman Leroi Moore. The funk-vamp "Stay" makes you want to do just that, featuring a joyous gospel chorus and peppery, staccato horn lines. Excellent, frenetic bowing by Kronos Quartet couples with Matthews' quick picking to drive "The Stone" to a 6/8 fury, only to be resolved with delicate grace. Morisette's lilt and Fleck's colorful banjo wrap this excellent album up tastefully on "Spoon."

Editorial reviews
3.5 Stars (out of 5) - ...DMB is more successful on this outing than ever before in translating the roiling energy of its stage show to the studio. The band also pushes in adventurous new directions, incorporating bright new hues...
Rolling Stone (05/14/1998)


_____________________________________________________________________________________



$2.75 shipping for first class mail and delivery confirmation. Shipping discounts available for multiple cd purchases, see below! CD's are boxed very securely to avoid damage in mailing.

Please take a look around my store for more items that may interest you. I am happy to combine shipping on multiple CD purchases or combinations of other items. For CD-only purchases, media mail shipping rates depend on the number of CDs ordered as follows:

1-3 cds for $3.50 total ship (media mail + delivery confirm)
4-8 cds for $4.00 total ship (media mail + delivery confirm)
9-13 cds for $4.50 total ship (media mail + delivery confirm)

For combinations of other items besides CDs, please contact me for a total shipping quote. Note if you plan to pay with Paypal, once you have made your selections please send me a note and wait for me to invoice you before submitting payment. This way I can assure that you are paying the correct reduced combined shipping. Ecrater currently adds all of the pre-defined shipping costs when you make your purchase, and in some cases you will end up over-paying on shipping. If you do overpay before I can send you an invoice, I will refund the difference via Paypal when I prepare your order.

Please read my Terms page for information about insurance, if you are concerned about damage during shipping.
... [Full Description]