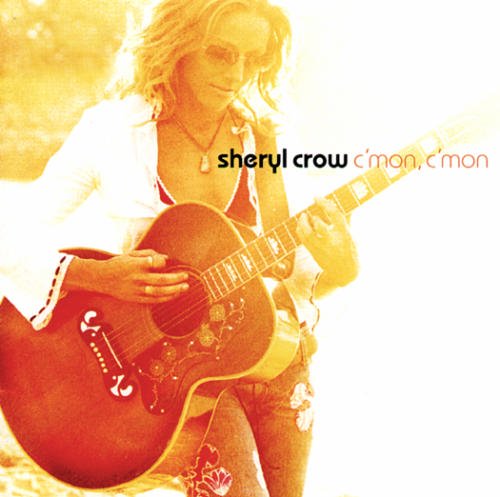 Only 1 available
Details
Shipping: US-Mainland: $2.75 (more destinations)
Condition: Used
*The store has not been updated recently. You may want to contact the merchant to confirm the availability of the product.
Sheryl Crow Cmon Cmon CD is in scratch-free mint condition. Jewel case and inserts are in excellent condition. There are no cuts, holes, punches or drill liquidation marks on this. 100% intact with all original packaging. Regular commercially released cd; this is not a music club or promotional release. Flawless condition.

Item Specifics - Music: CDs
Artist: Crow, Sheryl
Release Date: Apr 16, 2002
Format: CD
Record Label: A&M Records (USA)
Genre: Pop
UPC: 606949326029
Sub-Genre: 2000-Now
Album Type: Full Length CD
Condition: Used - MINT

Track listing
1. Steve McQueen
2. Soak Up The Sun
3. You're An Original
4. Safe And Sound
5. C'mon, C'mon
6. It's So Easy
7. Over You
8. Lucky Kid
9. Diamond Road
10. It's Only Love
11. Abilene
12. Hole In My Pocket
13. Weather Channel

Details
Contributing artists: Don Henley, Doyle Bramhall II, Emmylou Harris, Lenny Kravitz, Liz Phair, Natalie Maines, Stevie Nicks
Distributor: Universal Distribution
Recording type: Studio
Recording mode: Stereo
SPAR Code: n/a

Album notes
Personnel includes: Sheryl Crow (vocals, acoustic & electric guitars, accordion, piano, Wurlitzer piano, Fender Rhodes piano, Hammond B-3 organ, keyboards, Moog synthesizer, bass, maracas, tambourine, sound effects); Benmont Tench (vocals, piano, Hammond B-3 organ); Lenny Kravitz, Don Henley, Stevie Nicks, Emmylou Harris, Gwyneth Paltrow, Liz Phair (vocals); Jeff Trout (acoustic & electric guitars, bass, programming, loops); John Shanks (electric guitar. bass, sampling, loops); Wendy Melvoin (electric guitar);
Joel Derouin (violin); Matt Funes (viola); Suzie Katayama (cello); Brad Jones (bass); Steve Jordan (drums, maracas, tambourine); Lenny Castro (congas, shaker, percussion).
Producers include: Sheryl Crow, Jeff Trout, John Shanks.
Engineers include: Trina Shomaker, Eric Tew, Dean Basskerville.
"Steve McQueen" won the 2003 Grammy Award for Best Female Rock Vocal Performance.
C'MON C'MON was nominated for the 2003 Grammy Awards for Best Rock Album and Best Engineered Album (Non-Classical)."Soak Up The Sun" was nominated for the 2003 Grammy Award for Best Female Pop Vocal Performance. "It's So Easy" was nominated for the 2003 Grammy Award for Best Pop Collaboration With Vocals.
So you think you know Sheryl Crow, eh? Well, the closest thing to what one might consider a "trademark" Crow tune on C'MON, C'MON is probably "Soak up the Sunshine," whose ironic good-timey feel and slide guitar recall TUESDAY NIGHT MUSIC CLUB. "You're An Original" is a ' 70s-style bluesy hard-rocker whose stylistic bent is further underlined by the guest vocal appearance of Lenny Kravitz. The low-key "Safe and Sound" combines Beatlesque chord progressions with contemporary R&B loops for an interesting meld of sounds. The plangent guitars of the title track are the most obvious example of Crow's debt to early-'70s rock, with passages that seem to have EVERY PICTURE TELLS A STORY stamped all over them. The cheesecake inner-booklet photos and incongruous presence of Gwyneth Paltrow on "It's Only Love" may suggest that Crow has been spending too much time with her press agent, but her obvious commitment to solid songcraft is the reigning element on C'MON, C'MON.

Editorial reviews
...Crow locates her inner Skynyrd...
Mojo (05/01/2002)

...[Crow] is a supreme craftsperson....C'MON C'MON is rooted in old-school Cali pop but somehow manages never to sound fusty or musty... - Rating: B+
Entertainment Weekly (04/19/2002)

3 out of 5 stars - ...Crow still rocks....A real pro...[with] no sign of a midlife crisis...
Q (04/01/2002)

7 out of 10 - ...Crow's the great equalizer-- finding the middle of a wide variety of roads is the essence of her art....[imagine] a world where the Dixie Chicks and Stevie Nicks and Emmylou Harris and Dr. Dre's bass player can all ride the same tour bus...
Spin (05/01/2002)

3 stars out of 5 - ...Heavy on billowy ballads and rife with lazy lyrics...she invites a studioful of illustrious classic rockers and alternative types to add social richness to [the] album...
Rolling Stone (04/25/2002)


_____________________________________________________________________________________



$2.75 shipping for first class mail and delivery confirmation. Shipping discounts available for multiple cd purchases, see below! CD's are boxed very securely to avoid damage in mailing.

Please take a look around my store for more items that may interest you. I am happy to combine shipping on multiple CD purchases or combinations of other items. For CD-only purchases, media mail shipping rates depend on the number of CDs ordered as follows:

1-3 cds for $3.50 total ship (media mail + delivery confirm)
4-8 cds for $4.00 total ship (media mail + delivery confirm)
9-13 cds for $4.50 total ship (media mail + delivery confirm)

For combinations of other items besides CDs, please contact me for a total shipping quote. Note if you plan to pay with Paypal, once you have made your selections please send me a note and wait for me to invoice you before submitting payment. This way I can assure that you are paying the correct reduced combined shipping. Ecrater currently adds all of the pre-defined shipping costs when you make your purchase, and in some cases you will end up over-paying on shipping. If you do overpay before I can send you an invoice, I will refund the difference via Paypal when I prepare your order.

Please read my Terms page for information about insurance, if you are concerned about damage during shipping.
... [Full Description]