Various Artists - The Unplugged Collection: Volume 1 (CD, 1993) MINT Used CD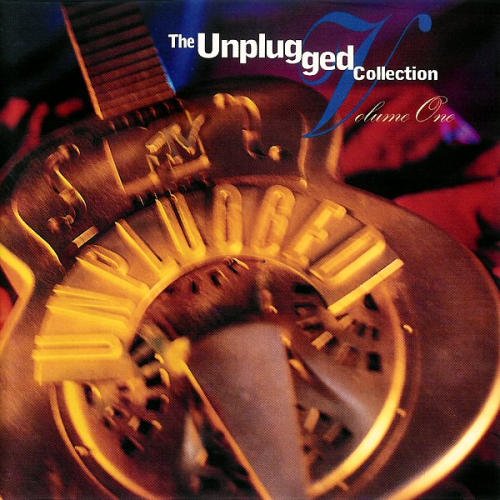 Only 1 available
Details
Shipping: US-Mainland: $2.75 (more destinations)
Condition: Used
*The store has not been updated recently. You may want to contact the merchant to confirm the availability of the product.
Various Artists The Unplugged Collection: Volume 1 CD is in scratch-free mint condition. Jewel case and inserts are in excellent condition. There are no cuts, holes, punches or drill liquidation marks on this. 100% intact with all original packaging. This is a BMG Direct release.

Item Specifics - Music: CDs
Artist: Various Artists
Release Date: Dec 06, 1994
Format: CD
Record Label: Warner Bros. Records
Genre: Rock & Pop
UPC: D106393
Sub-Genre: --
Album Type: Collection
Condition: Used - MINT

Track listing
1. Pride And Joy - Stevie Ray Vaughan
2. Before You Accuse Me - Eric Clapton
3. Are You Gonna Go My Way - Lenny Kravitz
4. Somebody To Shove - Soul Asylum
5. Barefoot - K.D. Lang
6. Graceland - Paul Simon
7. Don't Let The Sun Go Down On Me - Elton John
8. Like A Hurricane - Neil Young
9. Gasoline Alley - Rod Stewart
10. Pink Houses - John Mellencamp
11. We Can Work It Out - Paul McCartney
12. Deep Dark Truthful Mirror - Elvis Costello & The Rude 5
13. Come Rain Or Come Shine - Don Henley
14. Why - Annie Lennox
15. Don't Talk - 10,000 Maniacs
16. Half A World Away - R.E.M.

Details
Producer: Alex Coletti (Compilation)
Distributor: WEA
Recording type: Live
Recording mode: Stereo
SPAR Code: n/a

Album notes
THE UNPLUGGED COLLECTION, VOLUME ONE features acoustic versions of songs recorded for the television series "MTV Unplugged."
Recorded between 1990 and 1994. Includes liner notes by Alex Coletti.
Stevie Ray Vaughan proves a good choice to introduce this MTV UNPLUGGED back-to-basics, acoustic-based compilation. A man and his talent, spare and unforgiving, with no accoutrements to distract from the essence of his blues-guitar classic "Pride And Joy." Eric Clapton, who catapulted the television series into a different stratosphere with his award-winning performance, is also represented with his Bo Diddley cover "Before You Accuse Me."
A proven forum for the blues, UNPLUGGED also gives pop vocalists (k.d. lang, Don Henley, and the remarkable Annie Lennox, who plumbs emotional depths with a mesmerizing "Why") handsome opportunities to show off. It allows artsy folkies (R.E.M. and 10,000 Maniacs) to reinvent their canvases, while letting rockers Soul Asylum, Neil Young and Lenny Kravitz provide insights into what their songs sounded like before they got into the studio. Superstar studio creatures (Paul Simon, Elton John, Rod Stewart) benefit most from the stripped-down showcase. Paul McCartney screws up the Beatles' classic "We Can Work It Out," leaving it rough-edged, yet perfect.
This album provides the opportunity to dissect these artists' craft. You hear every unadorned flaw, the way music was supposed to be played: from the heart and soul, not from the corporate headquarters. THE UNPLUGGED COLLECTION is a wonderful document of where music has come from, and where we have taken it.

Editorial reviews
Satisfactory - ...Neither the highs nor the lows make sense together; the collection is like owning a well-constructed CD carrier with `Unplugged' crested on it...
Spin (02/01/1995)

6 - Good - ...a song apiece from 16 shows--some of them pretty essential (Neil Young, REM, KD Lang), some fair to middling...and some total turkeys...the real surprise is Eagle Don Henley's version of the standard `Come Rain Or Come Shine'...
New Musical Express (01/14/1995)

...[these] acoustic sets allow musicians to explore the nuances of their songs in an intimate setting....an album long on tasteful renderings... - Rating: B
Entertainment Weekly (12/16/1994)



_____________________________________________________________________________________



$2.75 shipping for first class mail and delivery confirmation. Shipping discounts available for multiple cd purchases, see below! CD's are boxed very securely to avoid damage in mailing.

Please take a look around my store for more items that may interest you. I am happy to combine shipping on multiple CD purchases or combinations of other items. For CD-only purchases, media mail shipping rates depend on the number of CDs ordered as follows:

1-3 cds for $3.50 total ship (media mail + delivery confirm)
4-8 cds for $4.00 total ship (media mail + delivery confirm)
9-13 cds for $4.50 total ship (media mail + delivery confirm)

For combinations of other items besides CDs, please contact me for a total shipping quote. Note if you plan to pay with Paypal, once you have made your selections please send me a note and wait for me to invoice you before submitting payment. This way I can assure that you are paying the correct reduced combined shipping. Ecrater currently adds all of the pre-defined shipping costs when you make your purchase, and in some cases you will end up over-paying on shipping. If you do overpay before I can send you an invoice, I will refund the difference via Paypal when I prepare your order.

Please read my Terms page for information about insurance, if you are concerned about damage during shipping.
... [Full Description]