Alanis Morissette - Under Rug Swept [ECD] 2002 Used Near Mint CD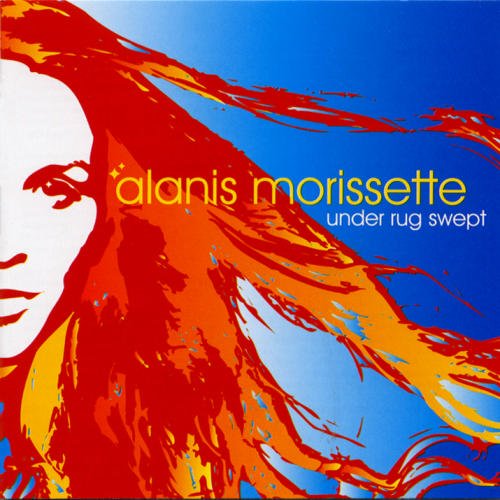 Only 1 available
Details
Shipping: US-Mainland: $2.75 (more destinations)
Condition: Used
*The store has not been updated recently. You may want to contact the merchant to confirm the availability of the product.
Alanis Morissette Under Rug Swept is in excellent near mint condition. Just a couple very light scratches that do not affect playback. Jewel case and inserts are in excellent condition. There are no cuts, holes, punches or drill liquidation marks on this. 100% intact with all original packaging. Regular commercially released cd; this is not a music club or promotional release. Great condition.

Item Specifics - Music: CDs
Artist: Morissette, Alanis
Release Date: Feb 26, 2002
Format: CD
Record Label: Maverick
Genre: Rock
UPC: 093624798828
Sub-Genre: Alternative
Album Type: Full-Length CD
Condition: Used Near Mint

Track listing
1. 21 Things I Want In A Lover
2. Narcissus
3. Hands Clean
4. Flinch
5. So Unsexy
6. Precious Illusions
7. That Particular Time
8. Man, A
9. You Owe Me Nothing In Return
10. Surrendering
11. Utopia

Details
Contributing artists: Flea, Me'Shell NdegeOcello
Producer: Alanis Morissette
Distributor: WEA
Recording type: Studio
Recording mode: Stereo
SPAR Code: n/a

Album notes
Personnel includes: Alanis Morissette (vocals, guitar, keyboards); Tim Thorney (guitar, bass); Nick Lashley, Dean Deleo, Joel Shearer (guitar); Mark Stephens (piano, keyboards); Richard Causon (piano); Jamie Muhoberac (keyboards); Eric Avery, Chris Chaney, Flea, Me'Shell NdegeOcello, Chris Bruce (bass); Gary Novak (drums, percussion).
This is an Enhanced CD, which contains both regular audio tracks and multimedia computer files.
This is an Enhanced CD, which contains both regular audio tracks and multimedia computer files.
In the four years following the release of 1998's SUPPOSED FORMER INFATUATION JUNKIE, Alanis Morissette went far afield from music, dabbling in film (DOGMA), TV (SEX & THE CITY) and stage (THE VAGINA MONOLOGUES). Her return to the studio found the older and wiser former child star hooking up with her old band along with a number of superstar guests. Sharing the same confessional approach towards songwriting as musical brethren Natalie Imbruglia and Fiona Apple, Morissette delves into personal experiences with ex-lovers ("Narcissus" featuring Flea), new ones (the soaring "Surrendering"), and feelings of insecurity ("So Unsexy" featuring Me'shell N'Degeocello).
Stone Temple Pilots guitarist Dean DeLeo and former Jane's Addiction bassist Eric Avery lend their talents to the yearning of "Precious Illusions." Best of all is the uplifting closer "Utopia," an anthem of hope that combines the spiritually focused Canadian's ethereal vocal phrasing with lush string arrangements and trilling acoustic guitar. Despite being weighted in a good deal of introspection, Morissette's third outing finds her deftly avoiding any hint of pretentiousness or self-absorption.

Editorial reviews
...[Morissette's] own production makes much of this...zing along with dirty guitars...or big drum beats...and improbably insinuating choruses...
Mojo (04/01/2002)

4 stars out of 5 - ...Some of the most inviting music of her career....a lyrical Trojan Horse to be wheeled into unsuspecting homes for months to come. Devious stuff.
Q (02/01/2002)

7 out of 10 - ...The only thing pop about this record is a return to melodic hooks. It's a breakup record, full of Freud and props for inner peace. She's mellowed, but her thesaurus is still putting out...
Spin (04/01/2002)

3 out of 5 stars - ...brawny and meticulous....She concocts folk rock dirven by hip-hop beats, ballads that build...and hard rock aswirl with psychedelia....She makes [her voice] quiver delicately with nervousness...
Rolling Stone (03/14/2002)


_____________________________________________________________________________________



$2.75 shipping for first class mail and delivery confirmation. Shipping discounts available for multiple cd purchases, see below! CD's are boxed very securely to avoid damage in mailing.

Please take a look around my store for more items that may interest you. I am happy to combine shipping on multiple CD purchases or combinations of other items. For CD-only purchases, media mail shipping rates depend on the number of CDs ordered as follows:

1-3 cds for $3.50 total ship (media mail + delivery confirm)
4-8 cds for $4.00 total ship (media mail + delivery confirm)
9-13 cds for $4.50 total ship (media mail + delivery confirm)

For combinations of other items besides CDs, please contact me for a total shipping quote. Note if you plan to pay with Paypal, once you have made your selections please send me a note and wait for me to invoice you before submitting payment. This way I can assure that you are paying the correct reduced combined shipping. Ecrater currently adds all of the pre-defined shipping costs when you make your purchase, and in some cases you will end up over-paying on shipping. If you do overpay before I can send you an invoice, I will refund the difference via Paypal when I prepare your order.

Please read my Terms page for information about insurance, if you are concerned about damage during shipping.
... [Full Description]