U2 - All That You Can't Leave Behind - (CD 2000) Rock MINT Used CD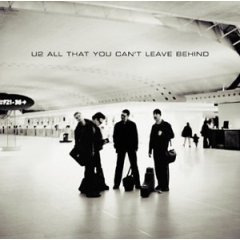 Only 1 available
Details
Shipping: US-Mainland: $2.75 (more destinations)
Condition: Used
*The store has not been updated recently. You may want to contact the merchant to confirm the availability of the product.
U2 All That You Cant Leave Behind is in scratch-free mint condition. Jewel case and inserts are in excellent condition. There are no cuts, holes, punches or drill liquidation marks on this. 100% intact with all original packaging. Regular commercially released cd; this is not a music club or promotional release. Flawless condition.

Item Specifics - Music: CDs
Artist: U2
Release Date: Oct 31, 2000
Format: CD
Record Label: Interscope Records (USA)
Genre: Rock
UPC: 731452465320
Sub-Genre: Alternative
Album Type: Full Length CD
Condition: Used - MINT

Track listing
1. Beautiful Day
2. Stuck In A Moment You Can't Get Out Of
3. Elevation
4. Walk On
5. Kite
6. In A Little While
7. Wild Honey
8. Peace On Earth
9. When I Look At The World
10. New York
11. Grace

Details
Contributing artists: Brian Eno, Daniel Lanois
Producer: Brian Eno, Daniel Lanois
Distributor: Universal Distribution
Recording type: Studio
Recording mode: Stereo
SPAR Code: n/a

Album notes
U2: Bono (vocals, guitar, synthesizer); The Edge (guitar, piano, synthesizer, background vocals); Adam Clayton (bass); Larry Mullen (drums, percussion).
Additional personnel: Daniel Lanois (guitar, background vocals); Paul Barrett (brass); Brian Eno (synthesizer, programming, background vocals).
Recorded in Dublin, Ireland and France.

"Beautiful Day" won the 2001 Grammy Awards for Record Of The Year, for Song Of The Year and for Best Rock Performance by a Duo or Group with Vocal.

ALL THAT YOU CAN'T LEAVE BEHIND won the 2002 Grammy Award for Best Rock Album. "Walk On" won the 2002 Grammy Award for Record Of The Year. "Elevation" won the 2002 Grammy Award for Best Rock Performance By A Duo Or Group With Vocal. "Stuck In A Moment You Can't Get Out Of" won the 2002 Grammy Award for Best Pop Performance By A Duo Or Group With Vocal.
Seldom has an album title been as appropriate as ALL THAT YOU CAN'T LEAVE BEHIND. Here, U2 returns to its pre-irony '80s glory days with a straightforward rock approach, leaving behind the electronics and intentional mock-decadence of POP and ZOOROPA. It quickly becomes clear however, that the band had to make those albums in order to get to the ego-free state from which this one emerges. While Larry Mullen's driving beat, Adam Clayton's insistently throbbing bass, the Edge's chiming guitar, and Bono's soulful vocals mesh as in the days of yore, there's a less messianic feel to the proceedings that must have resulted from the group's ego-deflating '90s endeavors.

While POP and ZOOROPA were the sound of four guys having fun, on this album U2 manages to combine unpretentious joy with the open-hearted rock power of its early recordings. From the spiritual warmth of "Grace" to the soul leanings of "In a Little While," the band regains the organic quality that had been missing from its music of the previous decade. What sounds like an unusually hands-off approach on the part of producers Brian Eno and Daniel Lanois can only mean that they were smart enough not to fix what was clearly not broken.

Editorial reviews
Included in Q's 50 Best Albums of 2000.
Q (01/01/2001)

...You are now entering an irony-free zone, where you, too, can get back in touch with the 'real' U2...
CMJ (10/30/2000)

7 out of 10 - ...Possibly their most straightforward, honest record...modern enough to sound new, but sufficiently evocative of their prime JOSHUA TREE days...
NME (10/28/2000)

...The performances are sparky and committed...
Mojo (12/01/2000)

...It's as if they decided it was time to write and record an album of very good, extremely substantial traditional rock songs with an underlying inspirational bent....unwaveringly assured... - Rating: A
Entertainment Weekly (11/03/2000)

4 stars out of 5 - ...U2 have turned the clock back to doing what they used to do...
Q (12/01/2000)

Ranked #20 in Spin's Top 20 Albums of the Year [2000] - ...A warm, relaxed album....Thesis: THE JOSHUA TREE. Antithesis: ACHTUNG BABY. Synthesis: this great record.
Spin (01/01/2001)

Ranked #2 in Rolling Stone's Top 10 Albums of 2000 - ...They sound emotional, intense, sincere and full of themselves...
Rolling Stone (01/04/2001)

Ranked #2 in EW's Top 10 Albums of 2000.
Entertainment Weekly (12/29/2000)

Ranked #139 in Rolling Stone's 500 Greatest Albums Of All Time - ALL THAT YOU CAN'T LEAVE BEHIND brought things back to essentials. The songs grapple with morality...
Rolling Stone (12/11/2003)

Ranked #84 in Mojo's 100 Modern Classics -- The album defined an unprecedented moment, and sealed the band's place in history.
Mojo


_____________________________________________________________________________________



$2.75 shipping for first class mail and delivery confirmation. Shipping discounts available for multiple cd purchases, see below! CD's are boxed very securely to avoid damage in mailing.

Please take a look around my store for more items that may interest you. I am happy to combine shipping on multiple CD purchases or combinations of other items. For CD-only purchases, media mail shipping rates depend on the number of CDs ordered as follows:

1-3 cds for $3.50 total ship (media mail + delivery confirm)
4-8 cds for $4.00 total ship (media mail + delivery confirm)
9-13 cds for $4.50 total ship (media mail + delivery confirm)

For combinations of other items besides CDs, please contact me for a total shipping quote. Note if you plan to pay with Paypal, once you have made your selections please send me a note and wait for me to invoice you before submitting payment. This way I can assure that you are paying the correct reduced combined shipping. Ecrater currently adds all of the pre-defined shipping costs when you make your purchase, and in some cases you will end up over-paying on shipping. If you do overpay before I can send you an invoice, I will refund the difference via Paypal when I prepare your order.

Please read my Terms page for information about insurance, if you are concerned about damage during shipping.
... [Full Description]