Norton 360 All-In-One Security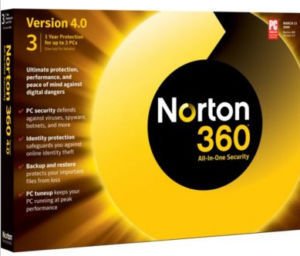 Only 1 available
Details
Shipping: US-Mainland: free (more destinations)
Sales Tax: Texas: 8.25%
Condition: Brand new
*The store has not been updated recently. You may want to contact the merchant to confirm the availability of the product.
Save on Norton 360 4.0 todayl You will receive the actual CD and activation code in the sealed retail box (not a download link). Therefore, you can be 100% sure that your computer is safe from spyware, malware, etc. that can infect your system through software downloads purchased on eBay or other auction sites. This is not an update or trial version, but the BRAND NEW, FULL VERSION in the RETAIL BOX. This item retails for $79.99, so save big and order today! Plus you get one year of protection for up to 3 PCs.

Product Information:
Norton 360 offers the industry's most comprehensive, all-in-one protection against digital dangers. Its groundbreaking new reputation service provides unmatched real-time threat detection to guard against viruses, worms, spyware, bots, Trojans, rootkits, and other digital dangers. Automated set-it-and-forget-it local and secured online backup let you quickly and easily back up and restore digital photos, downloaded music, financial documents, and other important files in case of loss or damage. It even automatically tunes up your PC to help keep it running well. Plus it helps you keep your PC performing at its best by providing easy-to-understand information about files and applications that may be impacting performance.

Protects your identity when you buy, bank, and browse online
Identifies fraudulent websites and validates authentic ones so you can safely surf, shop, and bank online.

Blocks viruses, spyware, Trojans, worms, bots, and rootkits
Guards your PC against all kinds of cyber-threats with comprehensive, award-winning protection.

Uses intelligence-driven technology for fast, accurate scans
Quickly and accurately scans your PC for threats using the industry-leading online intelligence system.

Analyzes new files and applications for threats before you install or run them. Proactively alerts you to potential dangers in newly downloaded files and applications before you install or run them on your PC.

Prevents hackers from taking control of your PC. Blocks access to your private information and stops hackers from using your PC to launch cyber-attacks on other PCs.

Identifies unsafe websites and suspicious online sellers. Surf and shop with confidence knowing you won't accidentally provide your information to a cyber-criminal.

Keeps your PC running at peak performance. Cleans and repairs the registry, removes unnecessary Internet clutter and temporary files, defragments your hard drive, and optimizes your PC to keep it performing at its best.

Automated back up of your important files. Your files can be quickly retrieved and restored in case of a loss.

PC Security
Intelligent, industry-leading protection guards your PC against identity theft, online fraud, viruses, Trojans, spyware, worms, bots, and the latest cyber-threats.
Improved--Norton Protection System featuring new reputation service threat detection technology provides multiple layers of security that work together to proactively catch and stop all types of Internet threats.
New--Reputation service adds an additional layer of protection by providing unprecedented and unmatched detection of viruses, Trojans, spyware, and other threats. Using "cloud-based" online intelligence, Norton's reputation service technology scrutinizes different attributes and/or characteristics of files and applications such as age, download source, digital signature and prevalence in real-time to determine if a file or application is safe.
Pulse Updates every 5 to 15 minutes provide up-to-the-minute protection against new threats. Updates more frequently than any other security solution.
New--Download Insight proactively warns of you potential dangers in newly downloaded files and applications. Plus it tells you how they'll impact your PC's performance before you install or run them.
New--File Insight reports let you know where files and applications came from and if they can be trusted before you use them. They also tell you how files and applications may be impacting your PC's performance.
Application Monitoring: Norton Insight Advisor lets you review the security status of every application process running on your PC so you can see which are safe and which are at risk.
Smart Two-Way Firewall keeps hackers from stealing your personal information from your PC without annoying firewall alerts.
Improved--Vulnerability Protection patches security holes (vulnerabilities) in your operating system, applications, browsers, and browser plug-ins to prevent threats from sneaking in.
New--SONAR 2 (Symantec Online Network for Advanced Response) uses real-time online intelligence and proactive monitoring to detect the latest breaking threats and stop today's aggressive rapid-fire attacks.
Network Mapping and Monitoring shows you all the devices connected to your wireless home network. Plus it helps you spot uninvited guests piggybacking onto your network and stealing bandwidth.
Deep Cleaning Technology provides an extra thorough level of scanning when necessary to scrub heavily infected machines and eliminate the most persistent infections.
Improved--Norton Bootable Recovery Tool removes deeply rooted infections and restores your PC to normal operation, even if viruses make your computer unbootable.
Identity Protection
Improved--Anti-phishing protects your identity online by quickly confirming safe web sites and identifying dangerous web sites.
Improved--Anti-spam protection prevents spammers, phishers and unwanted email from flooding your inbox.
Improved--Norton Safe Web with new Norton Safe Search identifies unsafe web sites and suspicious sellers right in your search results so you can surf and shop with confidence.
Improved--Norton Identity Safe protects against identity theft by preventing key loggers from stealing your information. It also speeds up log-ins and makes online shopping more convenient.
Improved--Expanded and enhanced cookie detection gets rid of hard to find Internet Explorer and Firefox cookies.
Backup
Automated backup lets you quickly retrieve and restore important files in case of loss.
New--Web-based access to backup files allows you to retrieve and download your backup files anytime, anywhere.
PC Tuneup
PC Tuneup keeps your PC performing at its best by removing unnecessary clutter and optimizing your hard drive.
Improved--Start-up Manager lets you reduce your PC's start up time.
New--Norton System Insight provides tools and easy-to-read graphs to help you improve and maintain PC and application performance.

Optimizes applications so they open faster and perform better.
Gives you clear, easy-to-understand insight into recent activities on your PC. Identifies activities that impact your PC's performance, making it easier to keep your PC running at its best.
Performance graphs and reports help you pinpoint what's causing your computer to slow down.
User Experience
Defends against digital dangers without slowing down your computer or eating up system resources.
FREE 24x7 Support gives you the help you need, the way you want it--by phone, email, live chat or our extensive online knowledge base. (Not available in every country. Please refer to the support matrix for country-by-country specifics.)
Automatically switches to Silent Mode when your PC is in full-screen mode so you can watch movies and play games without interruption.
New--Power Saver Settings help you extend laptop or notebook battery life by allowing you to put off power-intensive activities until your PC is plugged-in.
New--Monthly Report gives you the peace of mind of knowing Norton has been actively working in the background to defeat attempted attacks.
Top Reasons to Buy
Protects your identity when you buy, bank, and browse online
Blocks viruses, spyware, Trojans, worms, bots, and rootkits
Uses online intelligence technology for faster, more accurate scans
Analyzes new files and applications for threats before you run or install them
Prevents hackers from taking control of your PC
Identifies unsafe websites and suspicious online sellers
Keeps your PC running at peak performance
Performs automated backup of your crucial files
Includes no charge technical support 24 hours a day, 7 days a week*

* No charge, unlimited 24x7 email, chat, and phone support for a period of one year from initial installation of your product. For full details and to access support, go to www.symantec.com/globalsupport.

Retail Price: $79.99
Packaging: Full Retail w/ Box

## Portions of the product description provided from manufacturer/supplier.

Shipping Information:
We will ship to your location in the United States for FREE (economy shipping). Most orders arrive in 3-10 business days from the day your cleared payment is received. We try to ship within 2 business days (after payment has cleared), regardless of shipping option. Once your order ships, we will provide a tracking number, which will be available via your payment venue.
... [Full Description]