Foscam FI8918W-Wireless IP Camera-1XWhite (Tax+Free 48 hours USPS Priority Delivery)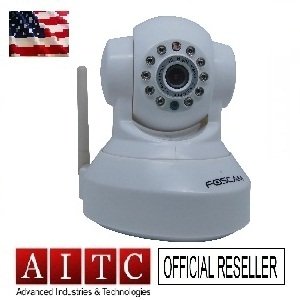 More than 10 available
Details
Shipping: US-Mainland: free (more destinations)
Condition: Brand new
*The store has not been updated recently. You may want to contact the merchant to confirm the availability of the product.
AITC is the official distributor of Foscam Intelligent Technology in the United States,Canada & Europe.

Why Wireless IP Camera?


By wireless IP cameras you can have live video and audio through the internet to a web browser, even smart phones like IPhone & Android on the local network.You can have live pictures from your home,office or other places .Wireless IP cameras allow you to remotely monitor your kids,employees or your workshop and office from anywhere in the world. For example ,the manger of a Canadian company who is in a business trip in France,is worried about the safety of the kids in the home and the security of the place.He needs to know what is happening in his office ,and also to control the staff & inventory .By F18918W which are installed in his home,office and inventory and by interface-navigation software on his notebook or IPhone or other smart-phones ,he can track everything and everyone.He will care his home and kids from thousands miles away.Now,he can keep on his business trip in France,because everything on his company & home is under control.

F18918W is portable and easy to install.

Main Applications of Foscam Wireless IP Camera :

* Home Security
* Home Care
* Home Entertainment
* Building Security
* Office Security
* Company Security
* Inventory Security
* Employees Monitoring ............. All of them from thousands miles away.

Advanced Industries & Technologies,LLC (AITC) is a California Limited Liability Company Which works professionally on international trade for Advanced Industries,Modern Technologies and Innovative Solutions.

Why AITC for buying Foscam Wireless IP cameras? Based on a commercial agreement on March 2011, between Foscam Electronics and Advanced Industries & Technologies ,LLC (AITC) , AITC is known as the official reseller & authorized distributor of Foscam products in the United States,Canada and Europe

Foscam is now the main supplier of Wireless IP cameras to the United States.




Technical Specifications:

* ITEMS FI8918W
* Image Sensor Image Sensor 1/4" Color CMOS Sensor
* DisplayResolution 640 x 480 Pixels(300k Pixels)
* Lens f: 3.6mm, F:2.4 (IR Lens)
* Mini. Illumination 0.5Lux
* Lens Lens Type Glass Lens
* Viewing Angle 67 Degree
* Audio Input/ Built-in Microphone
* Audio Output/ Built-in Speaker
* Audio Compression ADPCM
* Video Image Compression MJPEG
* Image Frame Rate 15fps(VGA),30fps(QVGA)
* Resolution 640 x 480(VGA), 320 x 240(QVGA)
* Flip Mirror Images Vertical / Horizontal
* Light Frequency 50Hz, 60Hz or Outdoor
* Video Parameters Brightness, Contrast
* Communication Ethernet One 10/100Mbps RJ-45
* Supported Protocol HTTP,FTP,TCP/IP,UDP,SMTP,DHCP,PPPoE,DDNS,UPnP,GPRS
* Wireless Standard IEEE 802.11b/g
* Data Rate 802.11b: 11Mbps(Max.), 802.11g: 54Mbps(Max.)
* Wireless Security WEP&WPA Encryption
* Physical Pan/Tilt Angle Horizontal:300° & Vertical: 120°
* Infrared Light 11 IR LEDs,Night visibility up to 8 metres
* Dimension 110(L) x100(W) x108mm(H)
* Gross Weight 768g (Color Box Size:200x124x189mm)
* Net Weight 418g ( accessories included)
* Power Power Supply DC 5V/2.0A (EU,US,AU adapter or other types optional)
* Power Consumption 5 Watts (Max.)
* Environment Operate Temper. 0° ~ 55°C (14°F ~ 122°F)
* Operating Humidity 20% ~ 85% non-condensing
* Storage Temper. -10°C ~ 60° (14°F ~ 140°F)
* Storage Humidity 0% ~ 90% non-condensing
* PC Requirements CPU 2.0GHZ or above (suggested 3.0GHz)
* Memory Size 256MB or above (suggested 1.0GHz)
* Display Card 64M or above
* Supported OS Microsoft Windows 2000/XP/Vista
* Browser IE 6.0, IE7.0,Firefox or other standard browsers
* Certification CE,FCC
* Warranty Limited 1-year warranty




Advantages F18918W against similar products:

* Broad rotation angel.
* High quality Audio pcb.High quality VIA wifi pcb.
* CE/FC/UL certification for power supply.
* Environment-friendly materials.
* Support take on/off IR by manual.
* Technology provider with strong R&D.
* Strong warranty.

Packing List:

* Wireless F-18918W Camera
* Wi-Fi Antenna.
* Network Cable.
* Adapter.
* User Manual.
* Screws.
* Bracket.
* Color Box.
... [Full Description]