Body Linen and Room Spray in Over 30 Scents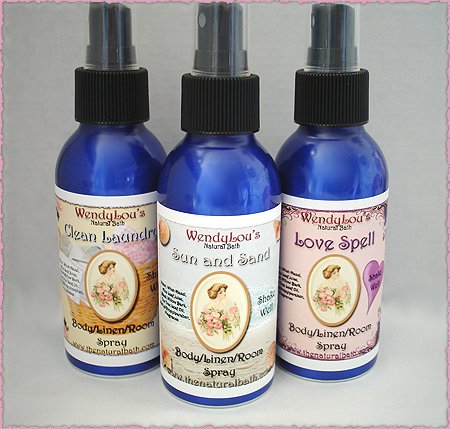 Only 1 available
Details
Shipping: US-Mainland: $3.25 (more destinations)
Condition: Brand new
*The store has not been updated recently. You may want to contact the merchant to confirm the availability of the product.
Now you can enjoy some of the great fragrances offered here in this convenient all-in-one spray. Use as a body mist*, spritz over your linens** or lightly freshen the air - wonderful for the bathroom and kitchen. You can also feel comfortable knowing that this is a naturally based product with skin softening aloe, no drying alcohol and minimal preservatives.

** Note: Spray above linen allowing scent to lightly cover. Spraying heavily and directly on linens or furniture may cause the fragrance or essential oil to stain. *It's always a good idea to test any new product for allergies on a small patch of skin first. Best if stored in a cool dry place and out of direct sunlight.

Ingredients:Aqua (Water), Hamamelis virginiana (Witch Hazel), Aloe Barbadensis (Aloe) Leaf Juice, Salix nigra (Black Willow Bark), Melaleuca Alternifolia (Tea Tree) Leaf Oil, Methyl/Propylparaben, fragrance

Scent Choices:
Angel Wings - What a lovely scent this is! Light, Airy and slightly powdery. Aquatic notes with light florals and sandalwoods. This can be enjoyed by both men and women.

Baby Buttermilk Bath - This is a duplicate of Burt's Bee's Baby Bee Buttermilk Bath scent. It's a wonderfully soft and comforting fragrance. Baby powder with a hints of honey and buttermilk. I personally smell soft baby powder, milk and creamy almonds. So delightful

Blackberries & Sage - The most blackberry that a blackberry scent can get with a kiss of sage that's barely there. A light, happy, sparkly berry scent that's worth trying.

Candy Cane - the sweetness of candy with the minty freshness of peppermint..mmmm...(this is sweeter than Peppermint Stick)

Caribbean Coconut - A creamy fresh tropical coconut.

Cherry Bomb - Strong scent of rich deep dark cherries.

Cherry Vanilla - Similar to Cherry Bomb, but with a touch of creamy vanilla.(1 Available)

Chocolate Truffle - For all you chocolate lovers! A rich deep dark chocolate truffle complete with the unsweetened cocoa rolled on the outside. A decadent delight

Christmas Wreath(Yankee Type) - This is the true scent of Christmas. That sweet smell of freshly cut greenery will definitely put you in the spirit. A blend of fir, orange and pine.

Cinnamon Sticky Buns - Yummy! Smell the warm buttery and cinnamony scent of cinnamon sticky buns straight from the oven. Fabulous scent.

Clean Cotton (Yankee Type) - refreshing scent of just cleaned sheets dried in a gentle breeze - if you want something soft and clean and not overpowering this is perfect! A blend of Marine and Ozone.

Clean Laundry - this is a blend of Peony, Marine and Fresh Air. It's soft, clean, slightly floral and oh so lovely. It's how you would hope your clean laundry would smell! One of my personal favorites!

Clementine and Cucumber (EO Blend) - A burst of sweet citrusy clementines with the coolness of cucumber.

Cucumber Melon - A blend of Cucumber, Honeydew and Watermelon. Enjoy the super sweetness of summer melons all year long!

Downy Fresh - Now smell your favorite fabric softener all day long! Strong.

Egg Nog - A creamy and rich scent with notes of buttercream vanilla and hints of cinnamon, nutmeg, and clove. Great holiday scent or enjoy it year round!

First Snow - Also known as Snow Clouds, this will give you the feeling of stepping outside to take in your first breath of newly fallen snow. It's airy, minty and cool and I know will be one of your favorites. A blend of greens, spruce and sweet musk.

Flowering Herbs(B&BW Type)- As the name implies - garden-fresh fragrance of flowering herbs.

Fruit Loops - This delicious mouthwatering fragrance combine notes of sweet cane sugar infused with bright juicy lemon and lime notes. Delicate notes of peach, raspberry, green apple, cherry and almost unnoticed floral nuances tones down the lemon and lime to develop an incredibly yummy fragrance that is neither tart nor overly sugary. (1 Available)

French Vanilla - A rich and creamy vanilla with just a slightly nutty background.

Gingerbread-Warm, nutty and oh so inviting. A blend of nutmeg, clove, ginger and cinnamon. Your room will smell like you just took a loaf of gingerbread straight from the oven. You wont be disappointed with this one.

Got Milk? - This milky fragrance is a wonderful combination of sweet and creamy fresh milk notes, wrapped in fluffy clouds of delicate powdery notes with a warm soft background of pristine florals and sweet buttery musks. Another personal favorite of mine.

Grandmas Kitchen - Apples, cinnamon and spice and everything nice are wafting through the air in Grandmas kitchen. Smells like granny is whipping up a warm apple pie - Mmmmm!

Honey Almond (EO Blend) - This has got to be one of the best almond scents around - so rich and creamy. You will love it.

Honeysuckle - A lovely, light and sweet honeysuckle scent - so close to the original flower.

Java Junkie - this will remind you of the first sniff of a freshly opened can of coffee or a fresh brewed pot of deep, rich Columbian Coffee with maybe just a hint of cocoa in the background. Nice and smooth.

Lilac - You'll feel as though you are really surrounded by beautiful blooming lilacs.

Love Spell(VS Type) - A blend of summer flowers and orange. A wonderful combination that will have you falling in "love" with this scent.

Macintosh Apple - A bushel of sweet and crisp mouth-watering apples.(1 Available)

Mango Madness - fabulous tropical scent of sweet ripe Mangoes with hints of papaya. You will go "mad" for this scent as it will take you to places you could only dream of.

Oatmeal, Milk & Honey - the ultimate in a down-home good, old fashioned kind of scent. Warm, creamy, and just plain delicious with maybe just a hint of spice.

Ocean Water(Yankee Type)- Gentle trade winds carry the cool, moist scent of calm blue waters.

Peppermint Stick - Get that tingle of peppermint in your nose that will invigorate the senses along with a hint of sweetness. Just like those peppermint striped candies you know so well.

Pure Lemon - So strong and tart! Just like it was freshly cut.

Pure Rain (Lever 2000 Type) - Ok, Can you say shower clean fresh scent? Yes! A blend of Lime, Mint and Hyacinth. Anyone will enjoy this one.

Pumpkin Spice- Bakery fresh scent of pumpkin and all of it's wonderful spices...yummy! A blend of pumpkin, white spices and maple.

Pure Rain (Lever 2000 Type) - COMING SOON!

Rainforest - A walk deep into the woods filled with the fragrant scent of fur trees. An outdoorsy scent that men will be drawn to.

Rose Petals- this is the truest rose scent you can imagine(aside from rose essential oil). Let your imagination run wild as you inhale this intoxicating scent.

Sleep Time(Lavender Vanilla)(EO Blend) - A relaxing and soothing blend of lavender and vanilla essential oils.

Soothing Lavender - a pillowy soft lavender scent that will help you relax. Has the fragrance of lovely lavender and soft soothing powder.

Sugar Cookie - the aroma of freshly baked sugar cookies with buttercream frosting and fresh notes of vanilla extract. Mmmm...

Summer Strawberries - Just like it's name, this fragrance is exactly like a fresh, sweet, juicy summer strawberry when you pop it in your mouth. It has tiny notes of vanilla in the background to mellow and round it out to a fruit scent that is totally true to its name.

Sun and Sand (Yankee Type) - A blend of Salt Water, Sand and Sun Tan Lotion...aaah, how this takes you away to a day at the beach with a warm ocean breeze filling the air.

Sweet Cinnamon Pumpkin*(B&BW Type) - Sweet pumpkin pie topped with the perfect touch of cinnamon and brown sugar. Freshly whipped cream adds the finishing touches to this fabulous fall fragrance.

Sweet Orange & Ginger (EO Blend) - A citrusy scent of sweet orange with a touch of spice. Revitalizing.

Sweet Pea(B&BW Type) - A beautfully light sweet scent of the sweet pea flower.

Tahitian Tiare Blossom - The exotic and heady tropical fragrance of Monoi that many of us love! It's very difficult to find the elusive scent of the Tahitian Gardenia or Tiare (Gardenia Taitensis). The scent of Tahitian Gardenias is a very sweet floral, similar to the scent of the common corsage gardenia and tuberose with light warm spicy notes. It's paradise.

Vanilla Cream - Warm and wonderful vanilla. This is what comes to mind when somebody says vanilla, a bakery type vanilla.

Voodoo Berry - This is a wickedly good berrylicious fruit juicy fragrance. Aside from the multitude of berries, it has notes of peach, cherries, orange, grape and light musk. While kiddo's do love this fragrance it's more upscale for adults.(1 Available)

Yuzu - Tart and sweet. Yuzu is a citrus that grows in Japan & it's flavor is similar to the regular grapefruit with definite overtones of Mandarin orange. It is very fresh and lively and is considered one of the most fragrant of Japanese fruits.
... [Full Description]