Nickel Creek - This Side (CD 2002; Country, Bluegrass) Mint Used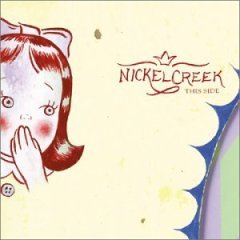 Only 1 available
Details
Shipping: US-Mainland: $2.75 (more destinations)
Condition: Used
*The store has not been updated recently. You may want to contact the merchant to confirm the availability of the product.
Nickel Creek "This Side" used CD is in scratch-free mint condition. Jewel case and inserts are also in excellent condition. There are no cuts, holes, punches or drill liquidation marks on this. 100% intact with all original packaging. Regular commercially released cd; this is not a music club or promotional release.

Item Specifics - Music: CDs
Artist: Nickel Creek
Release Date: Aug 13, 2002
Format: CD
Record Label: Sugar Hill Records
Genre: Country
UPC: 015891394121
Sub-Genre: Bluegrass
Album Type: Full-Length CD
Condition: Used


Additional Information about This Side
Portions of this page Copyright 1948 - 2007 Muze Inc. All rights reserved.

Track listing
1. Smoothie Song
2. Spit On A Stranger
3. Speak
4. Hanging By A Thread
5. I Should've Known Better
6. This Side
7. Green And Gray
8. Seven Wonders
9. House Carpenter
10. Beauty And The Mess
11. Sabra Girl
12. Young
13. Brand New Sidewalk

Details
Contributing artists: Edgar Meyer
Producer: Alison Krauss
Distributor: Welk
Recording type: Studio
Recording mode: Stereo
SPAR Code: n/a

Album notes
Nickel Creek: Chris Thile (vocals, guitar, bouzouki, mandolin); Sean Watkins (vocals, guitar); Sara Watkins (vocals, fiddle, strings).
Additional personnel: Byron House (acoustic bass); Edgar Meyer (arco bass).
Recorded at Emerald Sound, Seventeen Grand, The Brown Cloud Studios, Nashville, Tennessee.
THIS SIDE won the 2003 Grammy Award for Best Contemporary Folk Album.

"Smoothie Song" was nominated for the 2003 Grammy Award for Best Country Instrumental Performance.

When they first made their nationwide splash with their 2000 debut album, teen bluegrass group Nickel Creek were one of the biggest mainstream crossovers since their producer/mentor Alison Krauss, successfully modernizing their tradition-conscious genre. The follow-up THIS SIDE finds the trio largely moving away from bluegrass altogether, though retaining the same spare acoustic instrumentation. A straight-ahead cover of alt-rock legends Pavement's "Spit on a Stranger" offers the first clue that this isn't exactly Bill Monroe & the Bluegrass Boys. Nickel Creek doesn't need to look to outside material for genre exploration, though. "Green and Gray" seems to bear a debt to the Dave Matthews Band (or at least John Mayer), while "Should've Known Better" is in a hip-hop-inflected R&B mode, and the title track could be a gentler moment from the archives of Tonic or Third Eye Blind. There are a few tracks sprinkled throughout the album that nod to the band's beginnings, and in these (particularly the evocative version of the traditional "House Carpenter" and the sprightly instrumental opener "Smoothie Song") a possible future for bluegrass may be glimpsed.

Editorial reviews
...A thoughtful attempt to turn away from tradition - to make nothing less than a bluegrass art record... - Rating: B
Entertainment Weekly (08/23/2002)

3 stars out of 5 - ...Gloriously unaffected....THIS SIDE expands on their intricate acoustic shanties by occasionally plugging in the amps and stretching bluegrass, indie and folk over a thrillingly realized canvas...
Uncut (01/01/2003)

...Thirteen tracks, lucky for all who get to listen...
Mojo (12/01/2002)

3 stars out of 5 - ...The playing here is spot on, the arrangements and harmonies inventive...
Q (12/01/2002)


_____________________________________________________________________________________



$2.75 shipping for first class mail and delivery confirmation. Shipping discounts available for multiple cd purchases, see below! CD's are boxed very securely to avoid damage in mailing.

Please take a look around my store for more items that may interest you. I am happy to combine shipping on multiple CD purchases or combinations of other items. For CD-only purchases, media mail shipping rates depend on the number of CDs ordered as follows:

1-3 cds for $3.50 total ship (media mail + delivery confirm)
4-8 cds for $4.00 total ship (media mail + delivery confirm)
9-13 cds for $4.50 total ship (media mail + delivery confirm)

For combinations of other items besides CDs, please contact me for a total shipping quote. Note if you plan to pay with Paypal, once you have made your selections please send me a note and wait for me to invoice you before submitting payment. This way I can assure that you are paying the correct reduced combined shipping. Ecrater currently adds all of the pre-defined shipping costs when you make your purchase, and in some cases you will end up over-paying on shipping. If you do overpay before I can send you an invoice, I will refund the difference via Paypal when I prepare your order.
... [Full Description]