Respo-K for Colds, Congestion, Sneezing in Pets PRSPOO1AI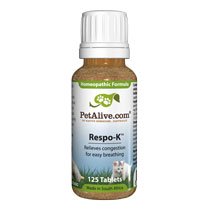 More than 10 available
Details
Shipping: US-Mainland: free (more destinations)
Condition: Brand new
*The store has not been updated recently. You may want to contact the merchant to confirm the availability of the product.
Respo-K for Colds, Congestion, Sneezing in Pets
Healthy Cat Shop
FREE SHIPPING. NO TAXES. EASY RETURNS. PRIVACY GUARANTEE!


Respo-K™

Homeopathic remedy improves respiratory health and strengthens immunity for optimal lung functioning and sinus health
natural remedy to support healthy cat and dog respiratory systems
Natural remedy for
dogs, cats & small pets

Respo-K Benefits:

* Improves respiratory health in pets
* Strengthens your pet's immune system
* Maintains open airways, clear noses and eyes
* Encourages the health of the sinuses and lungs in dogs and cats
* Prevents the recurrence of secondary infections of the sinuses or lungs

Related Products:

* KC-Defense™ is an herbal remedy to promote respiratory health, clear throat and a strong immune system



I used your Respo-K remedy for my kitten… and by Wednesday she was her old self again… I am really relieved and grateful. Thank you!

—Tertia

* Testimonials
* Ingredients
* Usage
* ComboPacks

Respiratory health through systemic support

There are many ways in which respiratory health can be encouraged in dogs and cats. A pet should be given a healthy, balanced diet all year round, and unhealthy treats should be avoided.

Regular exercise will help to promote respiratory health in your pet. However, pets of advanced age should be allowed to rest and be given ample opportunity for quality sleep. Don't over exert a pet – especially if they don't quite seem themselves.

The natural way

Natural remedies can help to strengthen the respiratory system, including the nose, throat and lungs and promote a healthy immune system. Natural remedies have also been used for generations to encourage respiratory health and support the lungs and sinuses.

Dietary recommendations for optimal health and immune functioning:

* Many holistic vets will agree that the more raw food (as opposed to cooked meals or dried commercial pet food) the animal eats, the fewer general health problems there will be. Ideally, the best diet for a cat or dog is one which most closely resembles that which he would find in the wild.
* For cats, who are largely carnivorous, this should consist of mainly raw meat (minced beef and chicken, chicken livers) mixed with a little bone meal and a small amount of some grated carrot or finely chopped greens like spinach.
* Dogs will do well if more chopped and grated raw vegetables are added to their diets. We also recommend raw meat and raw bones for dogs, mixed with grated raw vegetables and chopped salads.
* A teaspoon or two of olive oil added to the meal every day (depending on size) will also be beneficial. Do not give your animals any milk at all - nor products containing sugar.
* Remember that you should not try to change your pet's diet overnight, especially if the animal is elderly. Slowly introduce new foods and allow the digestive system to become accustomed to the new diet.

What is Respo-K?

Respo-K is a safe, non-addictive 100% natural homeopathic remedy registered with the FDA and formulated especially for pets to improve respiratory health and strengthen immunity to help prevent the recurrence of secondary infections of the sinuses or lungs.

Presented in convenient tablet form, Respo-K can be crushed, sprinkled on the tongue, or taken whole, and is easy to administer without fussing or fighting.

All Native Remedies homeopathic products and biochemic tissue salts are manufactured in an FDA and GMP registered pharmaceutical facility under the supervision of qualified homeopaths and responsible pharmacists. Individual ingredients are listed in the Homeopathic Pharmacopoeia of the United States (HPUS).

Ready to Purchase?
See Below

How has Respo-K helped others?

"A strong natural flea spray was put on my cats & not rinsed off (product not from your company). The spray irritated my cats' throat and chest to the degree that they would not eat or drink water. I ordered your Respo-K and gave them a tablet 5 times the first day. The second day both cats ate some soft food and drank some water. I'm very pleased with the Respo-K. They have stopped coughing and that awful gurgling sound coming from their throats is also gone. They're back to playing and enjoying life! Thanks for making such a wonderful product."

—Lucille S.

"My cat has suffered from the cat flu for four years; we visit the vet every year and it costs a fortune. Then I came upon your site and ordered Respo-K; within 3 days, he was breathing easier, stopped sneezing, his appetite has come back and he looks healthy. Thank you so much!"

—Diane M., England

"One of my dogs had to go for … surgery and picked up kennel cough while she was hospitalized. She obviously carried it back home and within 4 days my other 5 dogs were all coughing, sneezing and snorting with intensity of symptoms ranging from mild to quite severe. I took 2 of them to the vet to have my diagnosis confirmed and the vet suggested [medication]… I refused as none of them had high temperatures, were eating well and did not seem to be feeling desperately ill. I thought it best not to compromise their immunity …and that's when I decided to rather try the relevant PetAlive products KC-Defense and Respo-K. I also gave them a natural human cough syrup …Within 24 hours the symptoms were dramatically reduced, 3 days later only one (my oldest – 10 years of age) was still coughing occasionally and 3 days it was all cleared up completely. Thank you once again for a safe and effective alternative!"

—Nesta
Disclaimer: Testimonials have been edited to comply with FDA regulations. While positive results are likely, the testimonials used are general results and are not intended to represent or guarantee that anyone will achieve the same or similar results - individual results may vary.

* View All Testimonials
* Add Your Testimonial

What are the Ingredients?

All Native Remedies homeopathic products and tissue salts are manufactured in an FDA and GMP registered pharmaceutical facility under the supervision of qualified homeopaths and responsible pharmacists. Individual ingredients are listed in the Homeopathic Pharmacopoeia of the United States (HPUS).

All products are free of gluten, artificial flavors, colorants and preservatives. In accordance with our 'Do No Harm' policy, no animal testing is carried out whatsoever. All products are backed by our One Year Unconditional Money Back Guarantee , offering you peace of mind and proof of our utmost confidence in the quality, safety and effectiveness of our products.

Respo-K contains the following homeopathic ingredients:
+ Calc. sulph. (D6) is a biochemic tissue salt that is useful in supporting the natural healing process of the body. Calc. sulph. can be used to encourage respiratory health and promote the health of the throat and nasal passages
+ Ferrum phos. (D6) is another biochemic tissue salt known to promote the body's ability to regulate oxygen rich blood flow throughout the body. Ferrum phos. also supports wall strength of blood vessels and the absorption of iron and oxygen to all cells
+ Hepar. sulph. (12C) is a natural remedy particularly supportive of the throat and larynx, bronchioles and tonsil
+ Verbascum (3X) is a homeopathic remedy highly regarded for its ability to address blocked noses and chests and help facilitate easy natural breathing. It has been studied for its ability to support chest and nasal health (Serkedjieva, J. "Combined antiinfluenza virus activity of Flos verbasci infusion and amantadine derivatives." Phytother Res 2000;14(7):571-574.)
+ Sambucus nig (3X) is a homeopathic remedy that is useful for supporting the temperature regulatory mechanisms in the body. It has also been studied for its ability to support healthy mucus levels in the nasal passages (Ueno K, Wang ZH, Hanamure Y, et al. "Reduced sialylation of glycoproteins in nasal glands of patients with chronic sinusitis." Acta Otolaryngol 1997;117(3):420-423.)
+ Lactose (inactive ingredient)

Respo-K is a homeopathic remedy registered with the Food and Drug Administration (FDA).

Ready to Purchase?
See Below

How do I use Respo-K?

DIRECTIONS

Continue for 3 - 5 days after the desired effect has been achieved. May be used in conjunction with K-C Defense when dogs are to be placed in kennels for prolonged periods of time to support the immune system and encourage respiratory health.

DOSAGE

Cats and small dogs: 1 tablet 3 - 5 times daily.
Medium dogs: 2 tablets 3 - 5 times daily.
Large dogs: 3 tablets 3 - 5 times daily.

Note: Safe for animals of all ages, pregnant animals or animals that are nursing. Respo-K can safely be used along with prescription medications. No adverse interactions have been noted between the ingredients in Respo-K and prescription medications. However, as with any medicine, it is always advisable to consult your vet.

Caution:

Please consult your vet if symptoms persist.
Respo-K is highly recommended along with the following natural remedies for maximum effectiveness.

* KC-Defense™ to promote the immune system and maintain the body's natural ability to resist infection – especially before a visit to kennels and veterinary surgeries
* Immunity & Liver Support™ to support healthy immune system and liver functioning

How long does one bottle last?

One bottle of Respo-K contains 125 tablets will last between one and 6 weeks, depending on the size and dosage needs of your pet.
... [Full Description]