BRAND NEW SONY VAIO VGN-NR385E/W Laptop Notebook Core2Duo T5550 Processor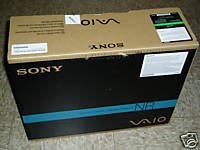 Only 1 available
Details
Shipping: US-Mainland: free (more destinations)
Condition: Brand new
*The store has not been updated recently. You may want to contact the merchant to confirm the availability of the product.
Product Description
Features: Stylish, affordable notebook in silk white for everyday computing with widescreen 15.4-inch screen 1.83 GHz Intel Core 2 Duo T5550 processor, 200 GB hard drive, 2 GB RAM (4 GB max), 8x multi-format/dual-layer DVD drive Quad-mode Wi-Fi (802.11a/b/g/n), 10/100 Ethernet, Intel X3100 video card with up to 358 MB of shared memory Connectivity: 4 USB, 1 FireWire, ExpressCard 34 slot, Memory Stick & SD readers Pre-installed with Windows Vista Home Premium (with Media Center capabilities)

Description: Offering powerful computing resources at an affordable price, the Sony VAIO VGN-NR385E/S also makes a stylish statement with rounded corners and unique coloring. Like a blast of light, this Silk VAIO NR notebook features a bright white matte finish that calls attention to the notebook's ingenious hidden seams. The widescreen 15.4-inch screen makes it easy to multitask in several open windows, or watch a DVD in its proper aspect ratio. And Sony's original XBRITE-ECO LCD technology delivers razor-sharp details and crisp, bold colors--all while conserving battery life. The instant AV Mode feature enables you to start watching a DVD or listening to music with the push of a single button--without having to boot up the system. This notebook is powered by the 1.83 GHz Intel Core 2 Duo T5550 processor, which offers a 20 percent performance boost over its predecessor while using 28 percent less power--so you get the benefit of a powerful dual-core PC plus all the benefits of mobility. Other features include a 200 GB hard drive, 2 GB of installed RAM (4 GB maximum), quad-mode Wi-Fi connectivity (802.11a/b/g/n), multi-format/dual-layer DVD±RW drive (which also burns CDs), ExpressCard 34 slot, and both Memory Stick and SD memory cart slots.

Microsoft Windows Vista Home Premium includes all of the Windows Media Center capabilities for turning your PC into an all-in-one home entertainment center. In addition to easily playing your DVD movies and managing your digital audio library, you'll be able to record and watch your favorite TV shows (even HDTV). Vista also integrates new search tools throughout the operating system, includes new parental control features, and offers new tools that can warn you of impending hardware failures.

The Basics

Processor: The Intel Core 2 Duo T5550 processor has a 1.83 GHz processor speed, fast 667 MHz front-side bus (FSB), and 2 MB L2 cache. (An L2, or secondary, cache temporarily stores data; and a larger L2 cache can help speed up your system's performance. The FSB carries data between the CPU and RAM, and a faster front-side bus will deliver better overall performance.) With two computational execution cores in a single processor, it provides greater system response when running multi-threaded applications simultaneously with no significant increase in power consumption. It's optimized for multitasking and is ready to support the Microsoft Windows Vista operating system. It can simultaneously run multiple demanding applications--such as graphics-intensive games or serious number-crunching business productivity applications--while downloading music or running virus-scanning security programs in the background. Some of the advanced Intel innovations of the Core 2 Duo processor include:

Smart Memory Access: Improves system performance by hiding memory latency, thus optimizing the use of available computer data bandwidth to provide data to the processor when and where it is needed. Advanced Digital Media Boost: Effectively doubles the execution speed for instructions used widely in multimedia and graphics applications. Dynamic Power Coordination: Coordinates Enhanced Intel SpeedStep Technology and idle power-management state (C-states) transitions independently per core to help save power. Deeper Sleep with Dynamic Cache Sizing: Saves power by flushing cache data to system memory during periods of inactivity to lower CPU voltage.

Hard Drive: The 200 GB Serial ATA hard drive (5400 RPM) provides more than enough capacity for storing a large audio and video library, as well as extra space required for video editing. This SATA hard drive also quickens the pace with a higher speed transfer of data--akin to Firewire and USB 2.0.

Memory: The 2 GB of installed DDR2 RAM (PC5300, 2 x 1024 MB DDR2, 667 MHz) is a good start, but you'll want to maximize the 4 GB RAM capacity to handle hungry productivity software and demanding multimedia. Also, to receive the benefits of the dual-channel DDR2 RAM, any RAM additions require memory modules of same capacity and clockspeed.

DVD/CD Drive: The dual-layer DVD drive is compatible with a wide range of formats, including both DVD+RW and DVD-RW discs, CD-RW discs, and dual-layer (DL) DVD+/-R discs, which can hold up to 8.5 GB of data--great for backing up your MP3 collection or your most important documents. It features the following speeds: 4x for DVD+R DL, 4x for DVD-R DL, 8x for both single layer DVD±R, 8x for single layer DVD+RW, 6x for single layer DVD-RW, 5x for DVD-RAM, and 24x for CD-R/RW. It reads DVD-ROM discs at 8x and CD-ROMs at 24x.

Keyboard & Mouse: This notebook has a standard 86-key keyboard (2.5mm stroke and 19.05mm pitch) and electro-static two-button touchpad. Playback controls include play/pause, stop, forward, rewind, AV mode, mute, volume +/-, capture, and display off. Screen, Video & Audio You'll enjoy razor-sharp graphics and widescreen movies with the 15.4-inch WXGA high-definition screen, with its 1280 x 800-pixel resolution. The XBRITE-ECO technology delivers brilliant colors and stunning clarity with efficient power usage, and it features an anti-reflective coating to minimize reflection and ensure a beautifully clear image from any viewing angle. Video is powered by the Intel Graphics Media Accelerator X3100, which uses shared video memory (up to 358 MB allocated from the system memory) and provides Windows Vista Aero interface support and enhanced 3D graphics performance--delivering over 2x scores on 3DMark 06. Intel Clear Video Technology provides outstanding video playback with sharper image quality, increased clarity, and customizable color controls. It also enables enhanced visual quality of interlaced content on progressive displays.

Networking, Connectivity & Expansion Be ready for the next platform in wireless connectivity with the integrated quad-mode Intel Wireless 4965AGN Wi-Fi chip. Based on the draft 802.11n Wi-Fi specification, it offers up to five times the performance and twice the wireless range as existing 802.11g wireless. It's also backward compatible with 802.11b/g networks (commonly found in home routers and wi-fi hotspots) as well as 802.11a networks (which has a higher throughput, but more limited range--great for closed office environments).

This notebook also includes a next-generation ExpressCard 34 card slot (no PCMCIA slot), which lets you take advantage of thinner, faster, and lighter expansion cards for even more advanced wireless, networking, storage, and security features. Here's the full list of connectivity options:

4 USB 2.0 ports for connecting a wide range of peripherals--from digital cameras to MP3 players 1 FireWire (also known as IEEE 1394 or i.Link) port for connecting digital video camcorders and other peripherals Video output: 1 VGA 1 ExpressCard/34 slot Memory Stick/Memory Stick DUO slot (with MagicGate functionality) Secure Digital memory card slot (compatible with MMC cards) 1 headphone jack, 1 microphone jack Fast Ethernet port for a 10/100 connection 56K modem (V.90/V.92) Operating System Windows Vista Home Premium is the operating system for users with advanced computer needs, and it includes all of the Windows Media Center capabilities for turning your PC into an all-in-one home entertainment center for watching DVD movies and accessing your digital audio library. You can also use Windows Media Center to record and watch your favorite TV shows (even HDTV) and to access new kinds of online entertainment content. Computers that include Windows Vista Home Premium and an auxiliary Windows SideShow display will also allow you to access key data even when your computer is off. It is also easier than ever to share files between other PCs in your household and to manage your laptop computer settings to more securely connect via Wi-Fi.

Every edition of Windows Vista provides the essential tools and technologies to help protect you whether you are browsing the Internet, connecting to a wireless network, or just reading e-mail. All editions of Windows Vista include new tools that can warn you of impending hardware failures long before you have lost any important personal data. And, all Windows Vista editions include parental control features that allow you to manage and monitor your family's use of games, the Internet, instant messaging, and other activities.

Preloaded Software Includes Sony Click to DVD (for easy DVD creation), Microsoft Works SE 9.0, Microsoft Office 2007 (60-day trial), Symantec Norton 360 All-In-One Security (with 60 days of Live Update).

Dimensions & Weight This notebook measures 14.2 x 10.6 x 1.5 inches (WxDxH) and weighs 6.2 pounds.

Power It's powered by the VGP-BPS9/B rechargeable lithium-ion battery, which has a battery life of between 2.5 and 5.0 hours (depending on usage).

What's in the Box This package contains the VGN-NR385E/W notebook PC, rechargeable lithium-ion battery, AC adapter, and operating instructions. It is backed by a one-year limited hardware warranty, and Sony offers 1-year of toll-free telephone technical assistance.

SHIPPING;FREE FAST SHIPPING INCLUDING INSURANCE WITH DELIVERY TRAKING NO.

RETURN POLICY:BRAND NEW SEALED LAPTOP.STRICTLY NO RETURN, ONLY MANUFACTURERS WARRANTY.
... [Full Description]