AVG Anti-Virus Professional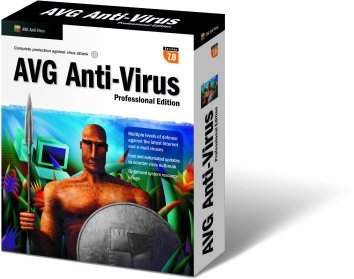 More than 10 available
Details
Shipping: US-Mainland: free (more destinations)
Condition: Brand new
*The store has not been updated recently. You may want to contact the merchant to confirm the availability of the product.
Suitability:

AVG Professional Single Edition is perfectly designed to give you the maximum antivirus protection for your single home PC or workstation.

It is simple to install and operate. No IT expertise is required and it can run in the background, providing uninterrupted protection. All file and e-mail activity is checked automatically, allowing you to get on with your work without worrying about viruses.
It is extremely fast, reliable and light on resources, so, no matter how demanding a user you are, it will not slow down your performance.

Special Features:

AVG Professional Single Edition comes with all the features you would expect from a professional antivirus product, plus much more...

A 2 year license, so you can receive free updates and full product support for a whole 2 years. It includes free 24 hour a day e-mail access to Grisofts professional team of technical experts.

Tell me more!

2 Year License
AVG Professional Single Edition comes complete with a 2 year license, giving you double the value, compared with other manufacturers 1 year licenses. You have free access to all updates and technical support for the full term of the license. Each license is valid for one PC. If you require licensing for more than one PC look at our AVG Soho Edition or see our full product listing.

Free program and virus updates are provided via ultra reliable Akamai servers. AVG Professional Edition updates itself automatically whenever updates are available. Alternatively you can update manually, or configure AVG Professional to download updates at a scheduled time that suits you.
Multiple language support in one package. No need to buy a special language version as all languages are included in the one product. A simple click of the mouse and the entire interface (including help files) will instantly change to your required language.

AVG Professional Single Edition comes complete with language support for all of the following languages: Multiple Language Support
AVG Professional Single Edition

Czech Yes

Slovak Yes

English Yes

French Yes

German Yes

Portuguese Yes

Serbian Yes

Polish Yes

Spanish Yes

Italian Yes

Dutch Yes

Hungarian Yes

Danish No




More information on language support and other languages.



AVG holds the VB100% award and is ICSA certified, so you can be assured of the highest level of antivirus protection.
AVG Professional Edition has many more features that make it the best value antivirus protection available. More product features
More Product Features


The powerful AVG Resident Shield provides maximum protection by scanning every file opened, executed, or saved. It will also prevent the opening or executing of infected files.
The AVG Personal E-mail Scanner checks every e-mail sent or received, providing much needed protection from e-mail borne threats. AVG supports all leading e-mail clients including MS Outlook, The bat!, Eudora and all other SMTP/POP3 based email clients such as Outlook Express. Encrypted connections using SSL are also supported.
AVG Professional can scan attachments of instant message services (like ICQ, MSN Messenger) for viruses and other threats.
AVG provides support for the detection of "potentially unwanted programs".
AVGs scanning engine uses a unique combination of heuristic analysis and generic detection methods to detect all known viruses.
The AVG Resident Shield can include/exclude files from scanning based on individual file extensions.
Automatically attempts to heal/remove infected files and other threats such as trojans, worms, and java applets. Removed files are quarantined in the AVG Virus Vault.
AVG Professional has flexible password protection so you can select which settings you wish to protect from other users.
AVG Professional now supports Microsoft Windows 64 bit platforms.



Compatibility:

AVG Professional Edition is fully compatible with all major operating systems. See our full compatibility list.

LicensingAVG Professional Edition requires one license per computer. If you require licensing for more than one computer, you can purchase multiple licenses online. Alternatively, you can purchase AVG Soho Edition, which is available in 2 and 5 license packs. See AVG Soho Edition. All AVG licenses are valid for 2 years.

Product Support:

AVG Professional Edition comes complete with all the help you could possibly need.

Extensive context-sensitive help.
Comprehensive online-help at our website
Search our technical FAQ section, or contact our technical support team.
Free 24 hour a day, 7 days a week, technical e-mail support.

Order Today!
... [Full Description]