Coco Carbon - Natural teeth whitening in just 14 days - Guaranteed Results - tooth whitener whiten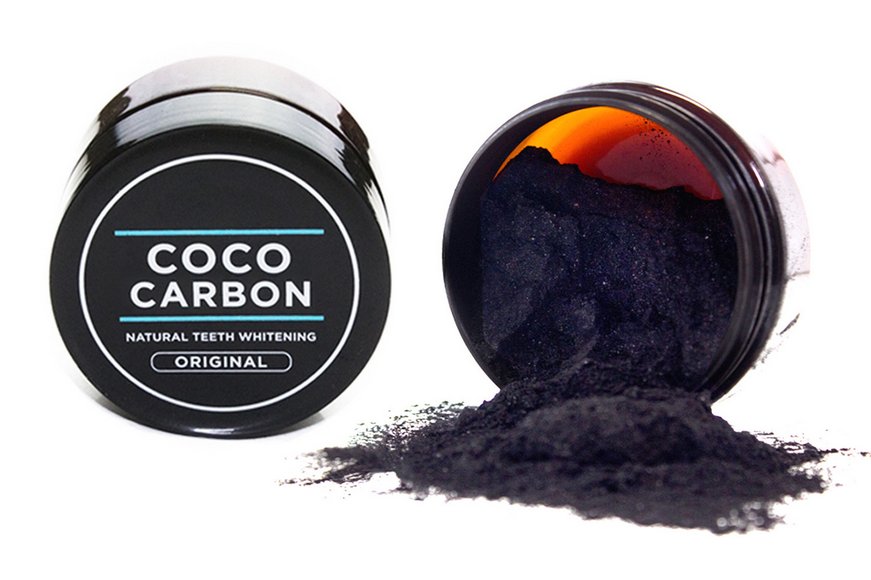 It's anti-bacterial, anti-fungal and removes all stains.
LIMITED TIME OFFER:
Reduced from $32 to $24.49 (23.5% Discount)
- - - - - - - - - - - - - - - - - - - - - - - - - - - - - - - - - - - - - - - - - - - - - -
Coco Carbon whitens teeth naturally, it polishes them, strengthens enamel and detoxifies your mouth without any chemicals or other questionable additives.

Get a million dollar smile just by dipping a wet toothbrush into the fine, odorless and tasteless black powder. Brush gently in small circles for 2 minutes. Spit it out carefully, rinse really well and that's it. Your mouth will feel amazingly clean.

Alternatively, for the active ingredient to act even more strongly, after the gentle 2 minute brushing you can try to hold Coco Carbon in your mouth for 3 minutes, and after spitting it out to brush again gently a few times.

- CLEAN AND WHITEN YOUR TEETH the 100% natural way.

- PREMIUM FORMULA: All natural and organic ingredients to help detoxify you mouth and teeth, and leave it feeling clean.

- SPECIAL FORMULA MADE FROM COCONUTS: An anti-bacterial and anti-fungal powder that's excellent for gum health and sensitive teeth.
It also removes food and drink stains - wine, coffee, smoking.

- IT LASTS FOR 2-3 MONTHS: Depending on usage, this natural teeth whitener jar will last 2-3 months (150 uses approx.)

- Refreshes Your Breath
- Prevents Bad Breath
- Removes Bacterial Plaque
- Prevents Harmful Bacteria Growth
- It's 100% Safe, Absorbs Toxins and Chemicals
- Produced and imported from Australia
- Guaranteed Results

Visible results after just one use:
http://i.imgur.com/h8ObBWn.jpg

After just one use:
http://i.imgur.com/kPQhXas.jpg

LIMITED TIME BONUS:
FREE INTERNATIONAL SHIPPING! (normally $4)

To properly detoxify and whiten your teeth, it's recommended using Coco Carbon two hours after each meal.

If after the full 14 days whitening treatment you're not entirely satisfied with the results, you can repeat the treatment until you are fully satisfied. The Special Premium Formula will last at least 3 full treatments.

It's also recommended that after the full 14 days whitening program, you take a 14 days break, but it's not mandatory. It varies from person to person and if you feel any discomfort. The product doesn't damage the enamel and it doesn't generate teeth hypersensitivity.
If you can't manage to brush using Coco Carbon 2-3 times a day, or if it seems a bit too much brushing for your gums, you can compensate by extending the treatment duration accordingly.
e.g. Reducing to just 2 brushes per day, extend the treatment duration to 21 days. If you're brushing just once a day, extend the treatment to 42 days.

In case of swallowing, you can rest assured because the product is 100% natural and it's not absorbed by the body. On the contrary, it is the active ingredients that absorb toxins and chemicals as it passes through the digestive system.

It is recommended using a different toothbrush when using Coco Carbon given the fact it's possible the bristles get stained. Also, even though the Coco Carbon formula does not stain the skin, mouth or teeth and can be easily washed away, it can however stain fabric - a reason why it is recommended you avoid contact with clothes.

Estimated time of arrival:
North America: 7-12 business days (1.5 - 2.5 weeks);
Europe: 6-9 business days (1.2 - 1.8 weeks);
Asia: 10-17 business days (2 - 3.5 weeks);
Northern Africa and the Middle-East: 6-9 business days (1.2 - 1.8 weeks);
South America: 10-17 business days (2 - 3.5 weeks);
Southern Africa: 10-17 business days (2 - 3.5 weeks);

Disclaimer: All natural whitening products can whiten teeth only up to how white they were initially, when they first appeared when you were a teenager. The DNA is your limit. If you seek whiteness beyond how white your teeth were as a teenager, there are some chemical bleaching solutions out there, but those are very strong chemically, they pose a very high risk of developing teeth hypersensitivity (hot/cold), chemical burns to your gums, having your enamel dissolving from the chemical acid, all of which is why your gums and teeth might disapprove the chemical alternatives.
On top of this, by using chemical solutions nearly half the initial change in color provided by such intensive treatments may be lost in seven days.

Return policy
100% Money Back Guarantee - If you are not satisfied with the quality of the Special Premium Formula, just contact me within 30 days after you've received it. Return it and after I receive it back you will receive a full refund. The buyer is responsible for the return shipping costs.
Broken jars upon arrival (DOA) are almost impossible to happen due to the triple bubble wrapping safety measures used and the fact that it's a very sturdy glass jar. However, if something like that were to happen, take a few photos of the broken jar and all of the contents scattered and I will happily send a replacement free of charge.

FAQ
Q: Is this genuine?
A: Yes, it's genuine! This is the improved employee version, sold only to employees at a higher discount - for employees, their friends and relatives. Sometimes they receive them as a bonus or during the holidays too.
I have an acquaintance that works at the factory that makes them and helps me out. The makers intentionally made them look a bit different in order to discourage employees selling them, but the main Special Premium Formula is identical to the one bought directly from Australia.
Also, I said improved employee version because this one has +50% more Special Premium Powder made from coconuts than the one sold through official channels.
... [Full Description]