Paw Naturaw Grass Fed Organic Bison Diet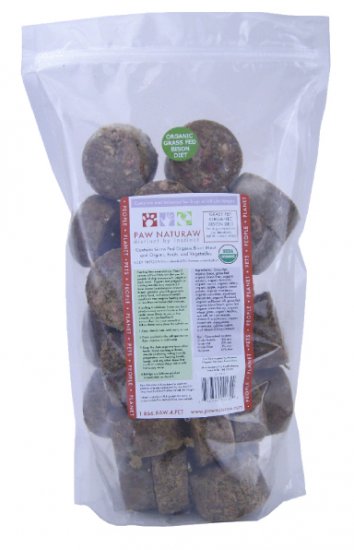 More than 10 available
Details
Shipping: US-Mainland: free (more destinations)
Condition: Brand new
*The store has not been updated recently. You may want to contact the merchant to confirm the availability of the product.
Product Features

* Case of 12 12-ounce tubes of frozen, raw dog food (total of 9 pounds)
* Made of human-grade purely pasture raised organic bison, fresh organic produce, and bioavailable vitamin and mineral supplements
* 100% grass fed bison
* Grain free and bone free
* Processed in an FDA-registered and USDA/ MOSA-certified organic manufacturing facility built to LEED green specifications in Lake Mills, WI.

Important Information
Safety Information
Please handle raw diets with caution and care. Paw Naturaw diets should remain frozen until needed. To thaw before feeding, remove package from your freezer and store in the refrigerator overnight. Once contents thaw do not refreeze. Use all opened products within 3 days. Thoroughly wash and disinfect your hands and other surfaces after handling Paw Naturaw organic frozen raw diets.

Ingredients
Grass fed organic bison, grass fed organic bison liver, organic spinach, organic broccoli, organic carrot, organic celery, organic apple, organic sweet potato, organic cranberry, organic cucumber, tricalcium phosphate, organic flaxseed, organic safflower oil, grass fed organic bison heart, grass fed organic bison kidney, organic wheat grass, organic lecithin, sea salt, zinc proteinate, vitamin E supplement, copper proteinate, manganese proteinate, calcium iodate, and vitamin D3 supplement.

Directions
On average, canine companions require roughly 5 ounces of Paw Naturaw diets per 10 pounds of dog companion's body weight each day or 3.2% of total body weight. Paw Naturaw suggests feeding half of this amount in the morning and half in the evening. Please keep in mind that each dog companion is unique. Breed, size, age, gender, genetics, physiological state, activity level, and environmental differences may require feeding more or less than recommended amounts. Feed puppies and lactating or gestating females 4% to 8% of total body weight. Puppies may require 5% to 8% between 4 weeks and 14 weeks after birth. After 14 weeks and through the year puppies may require between 4% and 5% of their total body weight. Divide the total feeding amounts for puppies into 3 or 4 meals per day. Feeding Paw Naturaw Diets as a Supplement: Add one tablespoon of chosen Paw Naturaw organic, frozen, raw diet per 10 pounds of companion canine weight at each meal.

Product Description
Product Description
Paw Naturaw leads the pack by offering America's first line of certified-organic, frozen, raw diets for dog companions. Paw Naturaw Grass Fed Organic Bison Diet is completely grain-free, bone-free, and features human-grade, organic meats, fresh organic produce, and the most bioavailable vitamin and mineral supplements available.

Guaranteed Analysis

Crude Protein: 14% min
Crude Fat: 12% min
Crude Fiber: .3% max
Moisture: 67% max

Ingredient Categorization (total % by weight in diet)

Grass Fed Organic Bison: 63%
Grass Fed Organic Bison Livers, Kidneys & Hearts: 8%
Organic Fruits & Vegetables: 27.5%
Vitamin, Mineral, & Organic Oil Supplements: 1.5%

Paw Naturaw carefully sources wholesome organic ingredients to blend into its frozen raw diets. Paw Naturaw acquires purely pasture raised organic bison raised on documented family farms in the continental United States, humanely transports animals to and processes at USDA inspected facilities for human consumption, and directly ship to its own manufacturing facility. Processing of Paw Naturaw Diets occurs in a state of the art, temperature controlled, production room in its newly constructed, FDA registered, and USDA/ MOSA certified organic, manufacturing facility built to LEED green specifications in Lake Mills, WI.

Why Feed Raw?
Switching your dog companion's diet to Paw Naturaw, organic, frozen, raw diets often leads to revitalizing and compelling results, such as:

* Shinier, softer, and healthier hair or coat
* Brighter and clearer eyes
* Cleaner ears
* Improved skin conditions
* Freshening or elimination of bad breath
* Naturally improved and sustained hydration
* Stools reduce in size and become more biodegradable
* Energy and vitality increase
* Innate senses sharpen and tone
* Heart and muscle mass strengthen organically
* Immune system functions improve its ability to fight off diseases and infections
* Visits to the veterinary clinic may diminish as the body holistically corrects itself and may reduce medical expenses over the course of your animal companion's life



About the Brand
Paw Naturaw is a family founded and operated business with members dedicated to operating a socially responsible company according to a quadruple bottom line of pets, people, planet, and profit.

Good for your Dog Companion and Community
Each Paw Naturaw diet you purchase contributes to annual donations to not-for-profit organizations benefiting dog companions totaling 2% of Paw Naturaw net proceeds.

Good for the Planet
Whenever possible, Paw Naturaw incorporates recyclable or recycled materials and prints with soy inks. Another earth friendly feature wraps around each diet; labels on each diet are made out of PLA (polylactic acid), a film entirely made from corn kernels.
... [Full Description]