BUFFALO WHR-G125 Wireless Router DDWRT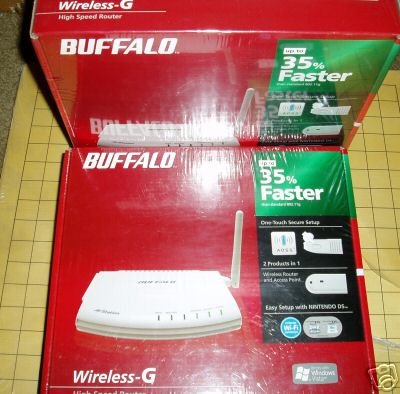 Used but 'LIKE NEW' IN Original BOX.

Excellent condition, very,clean no scratches, comes with everything in the retail box.

Unit flashed with DDWRT fw and powered up for about 4 Months

fw version DDWRT V24 vpn

MODEL: BUFFALO WHR-G125
This router is also VERY VERY HARD to find now - OOS EVERYWHERE !!!


Wireless-g High-speed Router & Access Point 802.11G with Aoss
240 MHZ Newest Braodcom 5354 CPU,

4 MB flash, 16MB ROM, DD-WRT compatible



Great Toy for those(like myself) who want play with 3rd party firmware on it.

Additional DD-WRT info :

download link : http://www.dd-wrt.com/dd-wrtv2/downloads.php
from: http://www.dd-wrt.com/dd-wrtv2/index.php
"in my first tests based on a sample provided by Buffalo, this router
was showing a significantly better receiving sensitivity than comparable
older broadcom based routers like the Linksys WRT54G."

"DD-WRT does support this Router in since mid of May in our V24 release
series. watch out for this new product at your local stores."

"The DD-WRT Team has made a special build for this router series to
support the new features of this wifi chipset, consider that this
firmware is not compatible with any other Broadcom router."

The New Chip:

from http://www.linleygroup.com/npu/Newsl.../ce061129.html
"BCM5354 Adds 802.11g Radio -
Also in November, Broadcom announced its BCM5354,an upgrade to its BCM5352 802.11g router-on-a-chip.
The new chip, which is already in full production, adds a direct-conversion radio to its predecessor.
The resulting product combinesa MIPS CPU,a five-port Fast Ethernet switch,
and all 802.11g functions except for the relatively low-cost RF front end."

---------------------------------------------------------------------------------------------------------------------------------------------------------------------------------------------------------------

AND More :



Description

BUFFALO WIRELESS-G WHR-G125 HIGH-SPEED ROUTER 802.11G 125MBPS W/AOSS (Retail)
Wireless-G High Speed Router - WHR-G125
The Bu alo Wireless-G High Speed Router combines the 125* High Speed Mode wireless performance with Bu alo's AirStation One-Touch Secure System (AOSS). Combined with Wireless-G 125* High-Speed devices, WHR-G125 extends the speed of standard 802.11g client devices by up to35% . This Smart Router automatically detects and con gures your Cable or DSL internet connection. The combination of push-button wireless, easy Internet setup and great value make the WHR-G125 the perfect choice for your network.
Features

Wireless

802.11g Wireless 125* High Speed Mode Transfer Rates
Great for High Speed Wireless File Transfers
Automatic Channel Selection Chooses the Best Wireless Channel
Supports WDS to Increase Coverage with Optional Repeaters
External Switch to Change Between Router and Access Point Modes
Wireless Security


Easy Setup with AirStation One-Touch Secure System (AOSS)
Supports WPA2, WPA (TKIP, AES), and 128/64-bit WEP Security
Compatible with Wi-Fi Protected Setup
Router/Firewall


Simple Web Browser Configuration
Smart Router Feature Automatically Detects and Sets up your Cable or DSL Connection
NAT/SPI Firewall with Intrusion Detector
4-port 10/100 Auto-Sensing Switch
Built-in DHCP Server
Optimized High Speed Routing, up to 4x Faster than Standard Routers
Support for WMM
Special Features


Supports Intel Hub Connect Technology
Works Seamelessly with Nintendo DS Wi-Fi Connection

Technical Information

Wireless LAN Interface

Standard Compliance : IEEE 802.11b / IEEE 802.11g
Frequency Range (MHz) : 2,412 – 2,472
Access Mode : Infrastructure mode, WDS
Antenna : 1 (external)
Wireless Security : WPA2-PSK (AES, TKIP), 128/64-bit WEP, MAC Address Registration, Wi-Fi Protected Setup
Transmission Rates (Mbps) :
802.11g 125* High Speed Mode: 13, 20, 27, 40, 54, 80, 110, 125
802.11g: 6, 9, 12, 18, 24, 36, 48, 54
802.11b: 1, 2, 5.5, 11
Wired LAN Interface


Standard Compliance :
IEEE802.3u (100 Base-TX)
IEEE802.3 (10 Base-T)
Data Transfer Rates : 10/100 Mbps
Connector Type : RJ-45
Number of Ports : 4
WAN Interface


Standard Compliance :
IEEE802.3u (100 Base-TX)
IEEE802.3 (10 Base-T)
Data Transfer Rates : 10/100 Mbps
Speed and Flow Control :
Auto Sensing, Auto MDIX,
High-Speed Routing to Support FTTH
Connector Type : RJ-45
Number of Ports : 1
WAN Port Security :
Dynamic Packet Filtering,
Intrusion Detector, NAT/SPI Firewall
Others


Dimensions (WxHxD in.) : 6 x 1.1 x 6.1
Weight : 0.45 lbs.
Operating Environment : 32-104° F
Power Supply : external, AC adapter is 100-120v to 3.3v 1.2 A-----(Corrected : 01/30/2008 Thanks cevatkerim for pointing this out)
Setup Utility OS Support : Windows Vista, Windows XP, Windows 2000,
Windows 98, Windows Me



Payment and shipment:

Buyer please contact me within 3 days of end of purchase.

Item to be shipped immediately (with Next bussiness day)after the clearance of payment.

Shipping is 14.97 flat rate within the continental US 48 states.

This item will be shipped via either USPS Priority Mail 2-4 Day with delivery confirmation or UPS with deliver confirmation depending on Item. Shipping carrier is subject to change without notice depending on its weight and destination.

If you have any question on this item, please email me.



This Picture is the Actural Picture of the item(s) for sale.
... [Full Description]