Verizon Samsung U740 Camera Music VCast bluetooth phone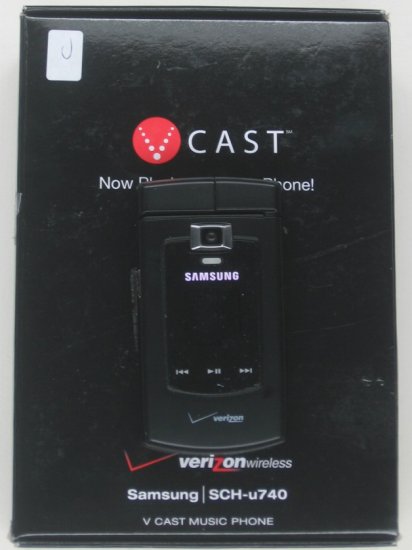 Only 1 available
Details
Shipping: US-Mainland: $6.45 (more destinations)
Sales Tax: Minnesota: 6.5%
Condition: Used
*The store has not been updated recently. You may want to contact the merchant to confirm the availability of the product.
Please read ad fully thank you

Samsung U740


(If you intend to make a offer please make it reasonable, thank you!)

THIS PHONE IS READY TO GO ON VERIZON
This phone is one of many phones i have in my personal collection. I have used this model of phone, like I do one of each of my phones i sell so I can tell you the relevant features, and not a manufacturer list like other sellers who don't know there phones, will give you. Here are some features, from my personal experience that I like about this phone:


* Very Large 2.2 inch 262,000 inside color display
* AOL, Yahoo messenger, and MSN instant messaging services are supported
* Bluetooth supports sending a V-card(contact information), Connecting to a computer giving internet ability to your computer, Connecting to Car kits or desk top speakers, and Bluetooth headsets.
* Full media abilities for VCast Music and VCast Video
* VCast Navigator is also supported and can be downloaded
* 1.3 Mega pixel camera with many settings available such as 4X zoom, Color effects, Brightness settings, Portrait mode, and flash.
* The camera also functions as a video camera, two options are available. Clips which are meant for video msgs, and the other setting lets you take video for as long as your memory holds out.
* Picture Id and Ringer Id are available for customization
* Micro SD memory expansion slot on the side of the phone
* Outside music player and touch screen on the front display
* High Quality speaker phone
* The phone can be shut and then opened side ways to use the phone in a wide screen dispaly format.
* Full QWERTY keyboard

#_____________

This is what is included with the auction:


# 1 Samsung U740
# 1 New Original Charger ($4 Value)
# 1 Lightly used Original Battery ($3 Value)
# 1 Lightly used 128MB Micro SD memory card ($7 Value)
# 1 New 3 way Multi adaptor ($3 Value)
# 1 Open Packet of Manuals and user guides ($5 Value)

We give you the real manual and not just PDF file manual. This is a very good deal just in accessories there is a real Ebay Value of $22
_________________

Condition

This phone is rated 8/10 condition!

The outside of this phone has no visible scratches the main part still has the screen protector on it.

The Inside of the phone has no clearly visible scratches, the screen has the screen protector on it

The back of the phone has a couple of light scratches on the top portion and the battery back has more centered scratches, the little label that says "Internal Antenna Area" is coming off a little as well.

We have put the phone next to a standard highlighter (see above pictures) so you can see the general size of the phone.

Our prices are priced based on market value, condition and usage. This one is rated 8/10 and it is priced to sell quickly!
The price for our devoted service, this phone and all its accessories is great, dont let this deal go!
___________________

Who is this phone best suited for?

We started writing this section because we have had many emails regarding questions about coverage, general questions about use, job related questions and questions regarding this phones compatibility to peoples habits. These are here for your consideration and are solely my opinion from my personal use of this model of phone.
----------
This is a great phone music and texting phone, if you enjoy your music and you text alot it doesnt get any better then this. This is the U740 Black Version, there was a previous version that was not nearly as popular as this phone and rightly so because i have seen hundreds of phones and this is one of the sleekest and most stylish phones i have seen, it has the fully coated black covering. That doesnt hold finger prints like some phones and the keys are all perfectly color coordinated.
Some would say that the keyboard is cramped and at first use i to thought the same thing but after a few minutes of trying to type what i heard a announcer say on the radio i quickly got a hold of it. Those with bigger fingers may have some trouble but i have heard many get a hold of it no matter who you are. The keys on the outside of the phone are very responsive, especially the touch buttons on the front for the music player.
Verizon has packed a whole bunch of great capabilities on to this phone, there is the music player, the camera, many organizational features (calender, calculator, alarms), bluetooth, VCast abilities, and speaker phone functioning. All of these are incredible, the only thing i should point out is when streaming videos some times they get a little distorted but most videos play seamlessly. There are dual speakers on this phone so all sound sounds incredible.
Even though this phone is only Dual mode, it works great most everywhere ive used mine. The sound quality is great even when you are on speaker phone or using a bluetooth headset, of course this depends on the bluetooth headset you get. I use a quite cheap one and still the connection is good.
This phone has many of the up to date features that are growing in popularity and the features that we all need for every day communication, this is a all around solid phone and fits almost all lifestyles

This is great choice for your phone!
_________________

Are you new to online shopping? Why buy from us?

If you are new to online shopping or have any doubts about buying from us, here are some things to consider:

We are were powersellers on ebay, which means that we have not done bad business and that we sell many items each month while maintaining good praise from other ebay members.

We take REAL pictures of our products instead of recycling the same one misrepresenting the actual condition each one of our individual pictures is a one time picture just for that phone, so you see the actual condition.

We have 100% feedback in ebay, which means that NO ONE has had a problem that we have not helped fix

We tell people the honest truth about our products we dont tell say things knowing there untrue most of the time we even tell people the things that they may not like just so you know exactly what you are getting

We don't discriminate between people who have 100 feedback points or 1 we accept everyone

If there is a problem with your purchase we will do everything we can to help you with it. There is not a problem we can not help with if you give us a chance, leaving bad feedback or just assuming we will not help, will not aid any situation
we are here to help and we are always one call away!

We are a small business that makes our customers our #1 priority, which is why with us when you ask a question or have a concern we will answer the same day (usually within the hour!) and not leaving you waiting multiple days like other sellers who are first interested in there money and 2nd the customer.
__________
Shipping:

2-3 day arrival within the continental USA is $6.45

More options are available

$2 for insurance (optional)
Anywhere else where this phone is listed for must contact me for a quote.
_____
This lot is being sold with a rock-solid, money back guarantee for disfunctional phones. Please check my feedback and bid with confidence. The person with the winning bid will receive an e-mail with all the pertinent payment information usually within 24 hours of the close. Paypal is by far the preferred method of payment. Lots are usually shipped within 24 hours of receiving payments by Paypal.

For domestic buyers (within the USA): In addition to the winning bid, the Buyer pays the costs of postage, handling and insurance, of which the latter is optional for lots under $25.00 and is encouraged for lots over $25.00.

For your information we have never had a package get lost in the mail but please note with out insurance we are not responsible for lost packages. Although, we have a very close relationship with our post office and we will put a full effort and investigation into finding any lost package.

Thanks for looking!
... [Full Description]