EIT FE Engineering Exam Review Study VIDEOS - 2 DVDs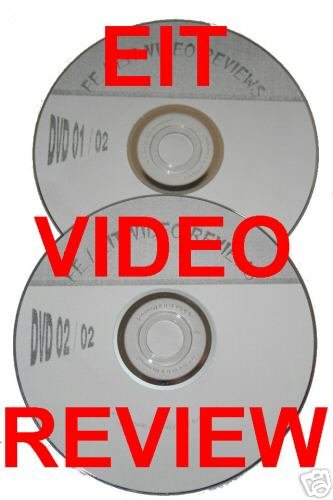 More than 10 available
Details
Shipping: US-Mainland: free (more destinations)
Condition: Brand new
*The store has not been updated recently. You may want to contact the merchant to confirm the availability of the product.
You are bidding on a 2 DVDs of digital media of EIT video review collection. These have videos with audio of university teachers reviewing and explaining all sections of morning EIT/FE exam. These can also be used to review afternoon non-specific general engineering exam. You will use your computer to play these videos.

A continuous 31 hours of video reviews are included in this 2 DVDs set along with handouts to all sections reviewed. This is an essential set for your successful passing of the EIT exam.

On February 8th, I have received a feedback from user muskrat_2002 that is attached below with his permission. Please, believe me that I have never met this person, and the feedback has been genuinely received.

Many other CDs I found on Ebay contained some generic (even though good) engineering materials. However they were not reviews of an EIT exam. More often than not there is information that you do not need to know for the exam and also information that is not there and you need to know for the exam. These CDs are still valuable but I did not find them helpful for the EIT exam review.This video set has specific review materials for morning and afternoon generic EIT/FE exams. I am also including electronic engineering handbooks from the U.S. Department of Energy that you may found useful.

I have taken an EIT exam in New Hampshire in April 2006. These videos have truly been an essential part of my study. What I liked about them the most is that teachers explain in plain English all materials. If you try to learn something out of a textbook that is long forgotten, it may take you a while to grasp the subject or to understand the calculations. In these videos however, teachers tell you different tips and tricks on how to approach a problem, or how to solve it.
UPDATE: I have just received a notification and a certificate that I PASSED this EIT EXAM. Let me tell you that it was a long wait for the results. I am however very happy that I passed and I do not have to go over everything again. I do not want to say that these videos were the only reason I passed, but they definatelly have been a huge help. I graduated from an engineering major in 1999, and took this EIT exam for the first time in April 2006. "You be the judge." Please, look at my feedback. Everybody loves them. The only bad comments I received (not feedback) was when the post office was too slow to deliver it, but that is beyond my control. And I appologize for them. Below is the scan of my certificate. I blurred the name and the number.



I am a chemical engineer and did not plan on studying electrical engineering part because of the vast amount of information to learn. I have graduated 8 years ago, and I had to re-learn about 70% of materials. One day before the exam (I am not making this up) I fired up electrical engineering videos (3 hours) and watched all of them. A lot of stuff was quite confusing at least towards the end. However, my memory was jogged and I learned what problems are simply 'plug into equations and calculate' ones. They reviewed what equations are in the NCEES supplied handbook, which you may use during the exam. I had several electrical engineering questions on the exam that I successfully answered that would otherwise be a 25% guess.

I trully believe that you will benefit out of these videos. You may elect to watch them slowly, pause them and work on problems in the videos before teachers review them. Or you may just watch it through and try to soak as much information as possible. I have found these videos a true treasure.

I have also signed up with one EIT website that provides sample problems. This website was good and I learned a lot from it as well. The only thing I did not like about it was that it contained problems and solutions only, no reviews. It assumed you already know all the materials and you just need to work on the problems. And for me, sometimes even looking at the solutions did not reveal how they actually got to that solution. And one more overwhelming thing was that they had thousands and thousands of problems. While this may be considered as a positive asset, it was overwhelming when I was working for days and weeks on the same topic problems.

In this video set you will use your internet browser (e.g. internet explorer) to navigate through the videos and handouts . You do not need to be online to watch these videos. Look at the screenshots below.

Buyers email feedback provides me a lot of information about how do they like the product and what can I change. Some buyers suggested that I include some more information about this product, which I did not include because it kind of did not occur to me. It is hard to think of everything when one is describing these videos. Thus I am happy to expand this description by your feedback:

*
The resolution of these videos is 320x220 pixels.
* These videos are played by Real Player which can be downloaded for free, or can be installed from the media provided
*
The handouts can be read by Adobe Acrobat reader which can be downloaded for free, or can be installed from the media provided

Again, thank you for your feedback, this way I can refine the description so that there are no surprises.

Video and handout sections specifically formulated for EIT/FE exam include:

# General Introduction to the Fundamentals of Engineering Exam
# Strategies for Taking the Fundamentals of Engineering Exam
# Chemistry
# Computer and Numerical Methods
# Dynamics
# Electrical Circuits
# Engineering Economics
# Engineering Ethics
# Fluid Mechanics
# Materials Science
# Mathematics
# Statics
# Strength of Materials
# Thermodynamics

A Bonus materials include handbooks from the U.S. Department of Energy on Engineering fundamentals:

* Chemistry, 2 Volumes
* Classical Physics
* Electrical Science, 4 Volumes
* Engineering symbology prints and drawings, 2 Volumes
*
Instrumentation and control, 2 Volumes
* Material Science, 2 Volumes
* Mathematics, 2 Volumes
* Mechanical Science, 2 Volumes
*
Nuclear physics and Reactor theory, 2 Volumes
*
Thermodynamics, 3 Volumes





Main Menu:

Read before you bid.

I am also selling a PE Civil Engineering video set. The same layout as the above video set, the same structure of materials, but everything is about Civil Engineering. This PE set is specifically made for a PE exam, however the materials covered are exactly the same as on an EIT exam. To be honest, I am a chemical engineer and thus I cannot evaluate this video set, however it is a full Civil Engineering PE exam review.

If you order both of these items (generic EIT and Civil Engineering PE) shipping and handling will be FREE . If you are paying by Paypal, you will have to pay for both of these items in one payment to receive the above mentioned FREE shipping ( $6.00 savings). To purchase, simply buy both of these items on Ebay and then discount them by $6.00 at the checkout.


Click here to see all my items for sale.

If you cannot find this PE video set on ebay, it is because someone has bought it and I have not re-listed it yet. It will be listed again soon.

*PAYMENT INFORMATION*
Highest bidder can choose one of the following payment methods:

* PAYPAL
* PERSONAL CHECKS
* CASHIER CHECK
* MONEY ORDER

I will ship the same or the following day after money are received and cleared. If paid by Paypal (not eCheck) I will ship immediately after payment is received. Paypal eCheck has to clear before I ship.

Payment is expected to be received within 10 days of the end of the auction. Otherwise, I reserve the right to relist the item if payment is not received.

*SHIPPING INFORMATION*

Shipping & handling is $3.00 in Continental US. Sorry, at this time I do not ship internationally.
... [Full Description]