No Limit Texas Hold'em Poker Hand Held Game SAITEK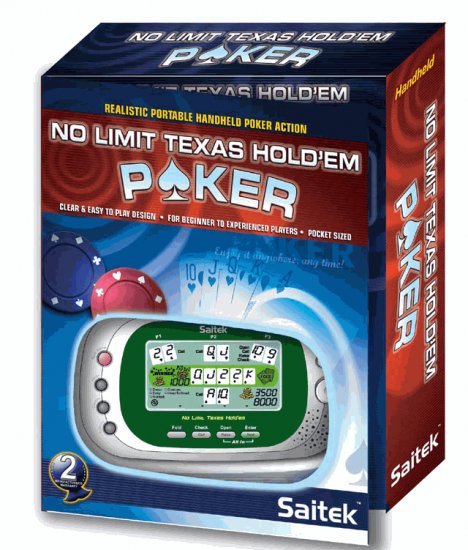 Only 1 available
Details
Shipping: US-Mainland: $9.99 (more destinations)
Condition: Brand new
*The store has not been updated recently. You may want to contact the merchant to confirm the availability of the product.
SAITEK C102 NO LIMIT TEXAS HOLD "EM POKER GAME
SAITEK NO LIMIT TEXAS HOLD'EM POKER

No Limit Texas Hold'em Poker Hand Held Game

REG PRICE:$49.95

This is a brand new, factory sealed.

Saitek No Limit Texas 'Hold Em Poker

Saitek C102 No Limit Texas Hold'em Poker Handheld Game
Poker is quickly becoming a pastime the world is participating in. With its many varieties and the opportunity to win lots of money, people are trying to get in on the action. Texas Hold'em is one of the more popular varieties of Poker. With world wide tournaments and news coverage, it is getting more popular every day. Unfortunately not everyone can get in on the action or afford to lose money. If you are looking for a quick fix for your poker addiction or you don't want to take the chance of losing all your money, then you may find comfort in Saitek's No Limit Texas Hold'em Poke
If you absolutely have to play Texas Hold 'Em while you're on the go, and you've pawned your laptop . . . well, you probably have a problem. Fortunately, you're still covered with this handheld portable poker game.

Designed for beginner and advanced poker players

4 play modeseasy normal selective and tournament

3 kinds of opponents conservative, aggressive and statistical

Snap on cover displays poker handranking inside



No Limit Texas Hold Em Poker Review

With a nice slim feel to it, the Saitek handheld is one of the better I have played. There is an easy button configuration with very "specific" buttons matched up to the various plays you make in poker. "Call", "Raise", "Fold" are some of them. The game also features a small speaker that you can activate if you so desire (more on the sounds below) and of course the other usual buttons. But for the 11 buttons the game has on it, it really does fit nicely in your hand no matter where you are. My first thought was that this little beauty would be the perfect companion for a plane trip since it features a removable faceplate cover that connects on the back. This is a nice feature for a handheld since I'm sure you all know how easily an LCD screen can get scratched up as it rides inside a jacket pocket or bag. Also, on the inside of the removable cover, there is a complete ranking of hands letting you know what the best hands are all the way down to the worst. Rule of thumb, don't be fooled into thinking that a simple handheld doesn't know how to bluff, it happened more then once.



The game features you playing against three computer controlled players, the game follows the standard rules of betting with small and big blinds and being able to call or raise. However, it doesn't take you very long to understand the game's computer players. And even though there is a supposed difficulty adjustment, I didn't see much difference when playing. The game also states that this handheld is for both beginners and veterans of Texas Hold'em; this simply is not true. My wife, who is not very familiar with poker had a pretty good challenge on her hands while playing. Now, I'm not saying I'm particularly awesome at Texas Hold'em, but I know what I'm doing, and my cash total clearly showed that.



The simple-looking display has no color, not that you need it, since poker isn't a graphically demanding game. The display is well organized and you can clearly see each card value; the suits, however, are not as easily seen and you will need to be careful while trying to work a flush. As each player takes their turn, their total amount of money is displayed in the bottom corner of the screen. Be sure you are paying attention or else you will think your winnings are someone else's. As far as the sound goes, the game only has a few canned sounds and beeps. I found that they really don't do the game any favors, so would routinely turn off the sound. Computer players have a habit of "Sighing".



The game has its strong points and its weak ones. I liked the fact that Saitek made a Texas hold'em-only poker game, but the difficulty just is not there, so it's almost a wash.



Review Scoring Details for No Limit Texas Hold Em Poker



Gameplay: 5.9

It's pretty easy to pick up even if you only possess the bare minimum of poker knowledge. I wish the AI was actually tough to a semi-veteran player rather than predictable. The actual setup of the buttons is smooth and feels good in your hand even after an hour.



Graphics: 4.2

Like I said, any type of poker game isn't difficult to translate to a videogame, but the real pickle is that you have a hard time seeing what suits you have. The screen is good sized, so I can't figure out why they didn't utilize it more.



Sound: 3.0

Just turn it off, the simple beeps and other noises get old real fast. Besides, on an airplane or car trip, others around you would get ticked off at your obvious attempt to drive them insane.



Difficulty: Easy

Even though they say it, doesn't mean it's true. The difficulty option simply does not exist. After playing for a while, you will be able to figure out your opponents gambling pattern, and then exploit the heck out of it.

Concept: 5.5

We have had handheld games like this for years. Sure this is the first time a Texas hold'em-specific handheld has been developed, but the end result falls flat.


Reviews:



Saitek has built-in features that will allow you to customize this game in many different ways. It has several difficulty settings which means if you are a beginner or an expert you can expect to enjoy the game equally as much. There are up to three computer players that you can play against and each one can have its own difficulty setting and its own style of play. The computer players even have the ability to bluff, which can easily keep you on your toes.

For beginners you can select the easy mode. This gives you three opponents to play against. In this mode the player in the top left is conservative, the top middle player is statistical and the top right player is aggressive. There is also a normal mode for more experienced players. In this mode the three player are created randomly and they are placed randomly at the table. So you could feasibly play against 3 conservative players or one statistical and 2 aggressive or any combination of the three styles. This stirs things up a bit to make it harder to guess who you are playing against. There is also a Head to Head mode, where you play against a single player of a randomly selected style.

Beginners also have the ability to request hints. When they do, the poker game will blink an arrow next to the button it thinks you should choose. This can be very helpful while you are learning to play the game.

Tne mode that would have been really nice to have would be multiplayer. Saitek could either have made it possible to link up several of these devices or simply allowed a person to pass around one game after each person takes their turn. I think this would have really added to the enjoyment factor of the game.



The game also comes with a helpful user manual. Unlike most manuals which only tell you how to set up a device and how to troubleshot problems, this manual also tries to give you the basics on how to play the game. The manual contains a ranking of the different poker hands, a list of poker terms, player actions and a short guide on how to play the game. A little further back is the description of the device and its functions and modes. Then it talks more about the rounds that are played and how the cards are dealt and the bets are placed. There is also a section of the manual that gives you the rules to the games and player tips. With the help of this manual a beginner can really begin to grasp the finer points of the game.



There is a nice auto power off feature that will automatically turn off the game if you let it sit for more than 5 minutes. If the game happens to freeze up on you, then there is also a small pin sized button on the back that you can press to reset the game.



Design

Front of Poker Game

The design of the game is ok. Even though it is considered a pocket game you are going to have a hard time finding a pocket that it will fit into. With dimensions of 3.7 x 6.4 it is a bit too big to fit in anything but a coat pocket or bag. Part of the reason it is so big is because it is designed to be held with both hands. The buttons are strategically placed so they are easily reachable by your fingers.

You will find all the buttons you need to successfully play this game. Starting on the left you will find the new game, hint, credit and options buttons. The new game button will start a new game if held down for more than three seconds. The Hint button will flash an arrow over the button you should press, this only works when it is your turn. The credit button will show you the credit that is available. The option button lets you change the speed of the game or choose the type of game you want like head to head, easy, normal or custom.



Along the bottom of the poker game are four more buttons. They are fold, check/call, open/raise and enter/deal. For experienced poker players these buttons are self explanatory.

The right side has three more buttons. The Go/Stop, Sound and a navagation button. The Go/Stop button turns the game on and off, the Sound button turns the sounds on and off and the navagation button is for moving through menus and raising or lowering your bets.



The game is lacking several things that would make playing it much more enjoyable. For example the game has sounds and an on/off button for those sounds, but no volume control. There are some sounds that are quite loud and obnoxious. Some of the sounds you will hear are shuffling, winning music, button click noise and sighs from the other players. The sighs only start if you let the game sit for a long time.

Another control that is needed is a contrast adjustment. The game does not seem to be designed so a person can look at it straight on. Instead you need to look at it at about a 45 angle. With a contrast control you can adjust it so you can view it from just about any angle.



The last design issue I have to mention is not really that big of a deal, but it kind of bugs me so I will mention it. The On/Off button is labeled Go/Stop. With that label I thought it was just a pause button and it would leave the game on. Instead, it does both. It pauses the game but it also turns off the game. This can be nice, but confusing if you are like me and don't read the instructions. I was looking for an On/Off button or switch and it was not until I read about the Go/Stop button that I found that it was the On/Off button.

Saitek No Limit Texas Hold'em Poker Review

Under the lid

One really nice thing about the design is that the game comes with a cover. Inside the cover is a ranking of the different poker hands. This can be helpful as a quick reference. The cover fits snugly on top of the game and is secure enough that it will not fall off. When you are playing the game the device will fit inside the cover for easy storage. The cover is not as tight in this position, so it will fall off if you don't hold on to it.

Conclusion

For under $50 this is really a great buy; considering that you can easily lose that much in a real game of poker. This would also be a great training tool to teach you how to win more than you lose. With all the configuration settings and different difficulty settings you can use this to learn to play the game or just freshen up right before you play a real game. I would recommend this to anyone who is looking to improve their game without taking the chance of losing alot of money, or to someone who just wants to learn how to play.

Following the Texas Hold'em craze of the past two years and the subsequent onslaught of electronic Poker games thereafter, Saitek has released its No Limit Texas Hold'em Poker handheld game. Featuring No Limit Texas Hold'em only, Saitek is betting that users will flock to a specialized system focusing only on Texas Hold'em rather than a jack-of-all-spades poker handheld like other companies have released.

As the only game on the system is Texas Hold'em, all of the buttons on the game are designed specifically for Hold'em actions, making for a reasonably stream-lined interface and one that's simple to learn. For better or worse, the game also seems to be geared towards new players. The first clue to this is that it defaults to the Easy mode, though the mode actually just means that you know how each player plays ahead of time; more on that in a second though. The second clue that NLTHP is geared towards new players is that there's a Hint button on the game. During any hand of play, pressing this button will highlight the action that the computer thinks you should take, telling you to either fold, check/call or raise.

The modes available are Easy, Normal, Custom and Head to Head. Aside from the Head to Head mode, the only difference between the three is which types of AI players you're playing against. The game has three different styles of AI players; conservative, statistical and aggressive. Easy mode means that there will be one of each player, sitting in the listed order. Normal mode means that the seats will be randomized. Custom means that you can choose which type of player is at each seat.

The problem here is that there's practically no variation in how any of these types of players play their hands, meaning you can pick up their styles after a few rounds and then go to town, exploiting them again and again. Being that you can only play against three players at a time, it's very easy to keep track of them right from the get-go. Although the oddly named Easy mode would have you believe otherwise, there isn't actually any sort of difficulty or skill adjustments to be made.

A conservative player will only play good hands; very good hands. If you so much as limp into the action, it'll fold. Practically the only time it'll play into the flop is if it's either holding two, not one, face cards, has a pair, or if it's on the big blind. A conservative player will fold the small blind so many times it'll make your head spin, even though the blinds are only $10-15 and they never raise.

That's right, the blinds never raise. To quote our own Ivan "Surly" Sulic, playing Hold'em without raising blinds is like playing Monopoly without "Go". Oh yeah, and speaking of non-raising blinds, you start with $2k in a regular four-seat game, so after playing for two hours and still only having to fork over a max of $15 a round against a bunch of conservative players, the game starts to seem like it'll take forever, or at least until the batteries wear out.

The statistical players are a tad better, but they're strictly numbers guys. As soon as you figure out how they're playing you can wait for a big hand, rope them in and take their cash. Since they won't really bluff, there's never any guessing involved. It's sort of like playing against guys with their cards face-up; it's not fun taking their money unless it's real, and then it's just sad.

The aggressive players are probably the best to play against, though they're still entirely unrealistic. Being that they'll play lesser hands and throw tons of money on the table, at least some of the hands get a little exciting. That is, until a guy folds on a late $15 raise with 3, 2, 4, 9, K showing, $430 on the table and all of the pot action was early on. When a player is that committed and folds on a minimal bet, with more than $1,500 in his stash mind you, something's wrong. And remember, that's the aggressive player.
... [Full Description]