Alli Weight-Loss Aid, Orlistat 60mg Capsules 150 Count Starter Pack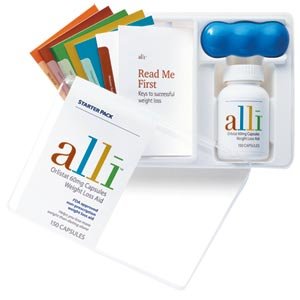 10 available
Details
Shipping: US-Mainland: free (more destinations)
Sales Tax: Pennsylvania: 6%
Condition: Brand new
*The store has not been updated recently. You may want to contact the merchant to confirm the availability of the product.
What is alli?

alli is the only FDA approved, over-the-counter weight loss product. But that's only part of what's different about alli.

First, alli is not a miracle pill or a quick fix. Lots of other weight loss products promise results overnight. But alli is based on good things like hard work, smart choices and gradual weight loss.
Second, alli is a unique combination of a pill and a plan to help you lose even more weight than dieting alone. If you could lose 10 pounds through dieting alone, you could lose 15 with alli.
alli only works if you work. Individual results may vary. alli is not for everyone, and it's only for you if you can commit to eating more sensibly and getting more physically active. alli puts the focus on the most important element of success in weight loss: YOU. You are the active ingredient.

How does it work?
The alli capsule works by preventing your body from absorbing some of the fat you eat. When you take the capsule with meals, alli prevents the enzymes in your intestines from digesting about one-fourth of the fat in your foods. Undigested fat can't be absorbed and passes through your body naturally. Which means your body can't store it as fat.

What's the plan?
Everyone knows losing weight is easier with support. That's why the alli program includes myalliplan, an individually tailored online action plan developed by clinical experts who understand the challenge of losing weight. myalliplan was specifically developed for use with alli capsules.

Here's how the plan works: When you purchase alli and register online with myalliplan.com, you'll receive a customized action plan, based on confidential answers you provide in a brief survey. As you check in, you'll get immediate feedback on your progress, plus specific guidance on next steps. You can also access recipes, menus, and interactive tools. This innovative support program is available online 24 hours a day.

Does alli have side effects?
In many cases, that's up to you. alli works by preventing the absorption of some of the fat you eat. The fat passes out of your body, so you may have bowel changes, known as treatment effects.

You may have:

Gas with oily spotting
Loose stools
More frequent stools that may be hard to control
Eating a low-fat diet lowers the chance of these bowel changes, especially if you limit your fat to 15 grams per meal. While no one wants to experience treatment effects, you may think of them as a way to become more aware of what you eat. Minimizing treatment effects can be an incentive to keep from eating too much fat.

Managing Treatment Effects
Even before you begin taking alli capsules, try following a reduced-calorie, low-fat diet so you can get used to making smarter food choices. Then choose a day to start with alli capsules such as a weekend day so you can stay close to home if you experience a treatment effect.

Directions:

Read the enclosed brochure for other important information.
Diet and exercise are the starting points for any weight loss program. Try these first before adding orlistat. Check with your doctor before starting any exercise program.
To see if orlistat capsules are right for you, find your height on the chart. You may consider starting a weight loss program with orlistat if your weight is the same or more than the weight shown for your height.
For overweight adults 18 years and older.
Take 1 capsule with each meal containing fat.
Do not take more than 3 capsules daily.
Use with a reduced-calorie, low-fat diet and exercise program until you reach your weight loss goal. Most weight loss occurs in the first 6 months.
If you stop taking orlistat, continue with your diet and exercise program.
If you start to regain weight after you stop taking orlistat, you may need to start taking orlistat again along wit h your diet and exercise program.
Take a multivitamin once a day, at bedtime, when using orlistat.
Drug Facts:
Active Ingredient (in each sealed capsule):
Orlistat 60 mg. Purpose: Weight loss aid.

Other Ingredients:
FD&C Blue No. 2, Edible Ink, Gelatin, Iron Oxide, Microcrystalline e Cellulose, Povidone, Sodium Lauryl Sulfate, Sodium Starch Glycolate, Talc, Titanium Dioxide.

Warnings:

Organ transplant alert:
Do not use if you have had an organ transplant. Orlistat interferes with the medicines used to prevent transplant rejection.
Allergy alert:
Do not use if you are allergic to any of the ingredients in orlistat capsules.
Do not use:
If you are taking cyclosporine.
If you have been diagnosed with problems absorbing food.
If you are not overweight.
Ask a doctor before use if you have ever had:
Gallbladder problems.
Kidney stones.
Pancreatitis.
Ask a doctor or pharmacist before use if you are:
Taking warfarin (blood thinning medicine), or taking medicine for diabetes or thyroid disease. Your medication dose may need to be adjusted.
Taking other weight loss products.
When using this product:
Take a multivitamin once a day, at bedtime. Orlistat can reduce the absorption of some vitamins.
Follow a well-balanced, reduced-calorie, low-fat diet. Try starting this diet before taking orlistat.
Orlistat works by preventing the absorption of some of the fat you eat. The fat passes out of your body, so you may have bowel changes. You may get:
Gas with oily spotting.
Loose stools.
More frequent stools that may be hard to control.
Eating a low-fat diet lowers the chance of having these bowel changes.
For every 5 pounds you lose from diet alone, orlistat can help you lose 2-3 pounds more. In studies, most people lost 5-10 pounds over 6 months.
Stop use and ask a doctor if:
Severe or continuous abdominal pain occurs. This may be a sign of a serious medical condition.
If pregnant or breast-feeding, do not use.
Keep out of reach of children.
In case of overdose, get medical help or contact a Poison Control Center right away.
... [Full Description]