H&R Block 2010 Deluxe Tax Software! +5 eFile+Extention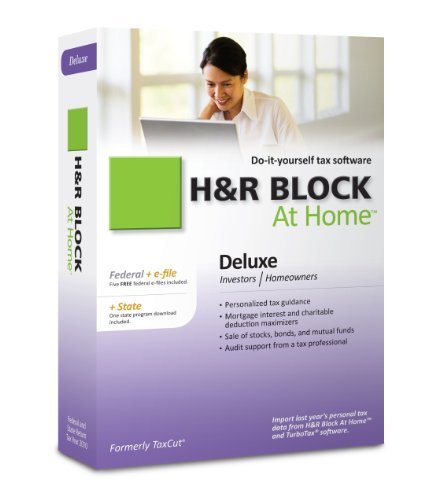 More than 10 available
Details
Shipping: US-Mainland: free (more destinations)
Condition: Brand new
*The store has not been updated recently. You may want to contact the merchant to confirm the availability of the product.
For those of you who still need to file, this is the software for you!+ eFile code

H&R Block Deluxe Professional Software! Immediate Delivery! No waiting for shipping!

Save over 80% Retail Price!

On Sale Now: $ 9.99 WAS: $ 44.99 |
Brand New H&R Block At Home (TaxCut) Deluxe 2010 Tax Software!
So why purchase from us?

Fastest Response Time!!

Fantastic Customer Service Support!!

We have sold over 300 of these e-file codes on eBay for a much higher price and we are bringing the savings to you here because eCrater has no fees! :)

Upon receipt of payment:

You will receive via your PayPal email address:

1) A link to download the H&R Block 2010 Deluxe Software

2) 1 Federal E-filing activation key good for (5) free Federal E-Files. This key will only work for Windows computers.

3) The Download & Activation Code are 100% Legitimate as they were purchased and downloaded from an Authorized Vendor. We will provide proof of purchase in the e-mail as well :)

4) Activation Code is not required for Software Installation or State Download and is only requested by the software at the time of e-Filing or Printing a Return.

5) Absolutely No Return Accepted or Refunds Offered Once the Activation Code has been sent due to the face that once you have the code there is no way of us knowing for sure you won't use it.

Details:

Transfer Last years Tax Cut and Turbo Tax data easily

Unlimited print and mail - Prepare and print as many returns as you like


YOU GET OPTION TO UPGRADE TO PREMIUM FOR ONLY $15 DIRECTLY WITH H&R BLOCK IF NEEDED :)

Manufacturer Details:
Do-it-yourself tax software for investors and homeowners
Everything needed to easily complete federal and state returns
Customized interview process; user-friendly interface; audit support
Guidance for reporting investments, dividends, home sales, and retirement income
5 free federal e-files; quickly import data; Maximum Refund Guarantee
Product Description
H&R Block At Home Deluxe
Ideal for Investors and Homeowners
The right choice for customers with more complex tax situations to easily complete their federal and state returns. Includes the H&R Block tax expertise your customers trust--plus our Maximum Refund Guarantee.

H&R Block At Home Deluxe includes everything your customers need to easily complete their federal and state taxes--with the tax expertise they trust. With an easy-to-use interface, H&R Block At Home Deluxe searches for hundreds of deductions to get customers the biggest refund. Ideal for homeowners and investors, the program includes personalized tax guidance and features available only from H&R Block, such as built-in expertise and audit support, expert advice from our community of tax specialists, an H&R Block enrolled agent to represent customers in the event of an audit, and, best of all, our Maximum Refund Guarantee.

Features:

Screenshot. View larger.
Customized interview process to help customers easily complete their federal and state taxes.
five free federal e-files.
Personalized tax guidance for popular occupations and specific deductions, plus answers to FAQs.
Audit support with guidance, plus an H&R Block enrolled agent to represent customers in the event of an audit. Included when they file a federal or state return.
Guidance for reporting investments, dividends, home sales, and retirement income.
Advice, tips, and planning tools for the upcoming year.
Easily import data from W-2, 1099, and last year's return.
Quickly import data from H&R Block At Home, TurboTax, and Quicken software.
Maximum Refund Guarantee.
Why It's Best For You
Includes everything in Basic, plus:
Personalized tax guidance
Mortgage interest and charitable deduction maximizers
Sale of stocks, bonds, and mutual funds
Audit support from a tax professional
Easily imports your information from TurboTax software, H&R Block At Home online and software, or from an H&R Block office

Screenshot. View larger.
Highlights:
Accurate Calculations Guarantee
We guarantee accurate calculations or we'll reimburse resulting IRS penalties and interest charges (limits apply).

Worry-free Audit Support
It's unlikely you'll receive an IRS tax audit. But if you do, free audit support and audit representation is part of our guarantee. Our audit support helps you understand why you're being audited and what kind of response to prepare. If you need representation, we can communicate on your behalf through an audit proceeding. Even if you're not an existing H&R Block client, we'll still guide you through an audit, no matter what time of year.

Maximum Refund Guarantee
Get the maximum refund you're entitled to or your tax return is free.
If you find another online tax preparation method that results in a larger refund (or smaller liability) than that calculated by the H&R Block At Home online tax program, we will refund the fees you paid us to use our online tax program to prepare that return. To qualify, the larger refund or smaller tax liability must not be due to differences in data supplied by you or positions taken on your return that are contrary to law.

Supports most tax forms
Some of the common IRS forms and schedules supported by H&R Block At Home Deluxe include:

Form 1040A Individual Income Tax Return
Form 1040EZ Income Tax Return for Single and Joint Filers
Form W-2 Wage and Tax Statement
Form 1098-E Student Loan Interest
Form 1098-T Tuition Payment
Form 1099-DIV Dividends and Distributions Income
Form 1099-INT Interest Income
Form 1099-MISC Miscellaneous Income
Form 2441 Child and Dependent Care Credit
Form 8863 Education Credits
Form 8917 Tuition and Fees Deduction
Schedule A Itemized Deductions
Schedule B Interest and Dividends
Schedule C Profit or Loss from Business
Schedule C-EZ Net Profit from Business
Schedule D/D1 Capital Gains and Losses/Additional Gains and Losses
Schedule EIC Earned Income Credit
Schedule E/E-2 Rents, Royalties, Partnerships, Etc.
Schedule L Standard Deduction
Schedule M Making Work Pay and Government Retiree Credit
Schedule SE Self-Employment Tax
And more!
... [Full Description]