Norah Jones - Come Away With Me (CD, 2002) Near Mint Used CD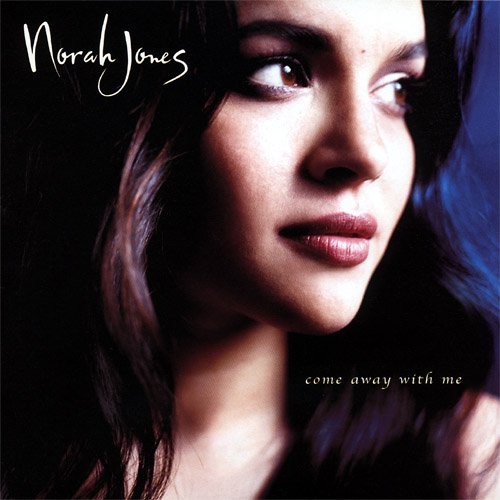 Only 1 available
Details
Shipping: US-Mainland: $2.75 (more destinations)
Condition: Used
*The store has not been updated recently. You may want to contact the merchant to confirm the availability of the product.
Norah Jones Come Away With Me CD is in excellent near mint condition. Jewel case and inserts are in excellent condition. There are no cuts, holes, punches or drill liquidation marks on this. 100% intact with all original packaging. Regular commercially released cd; this is not a music club or promotional release.

Item Specifics - Music: CDs
Artist: Jones, Norah
Release Date: Feb 26, 2002
Format: CD
Record Label: Blue Note Records (USA)
Genre: Rock
UPC: 724353208820
Sub-Genre: --
Album Type: Full-Length CD
Condition: Used - NM

Track listing
1. Don't Know Why
2. Seven Years
3. Cold Cold Heart
4. Feelin' The Same Way
5. Come Away With Me
6. Shoot The Moon
7. Turn Me On
8. Lone Star
9. I've Got To See You Again
10. Painter's Song
11. One Flight Down
12. Nightingale
13. Long Day Is Over, The
14. Nearness Of You, The

Details
Contributing artists: Bill Frisell, Brian Blade, Jesse Harris
Producer: Craig Street
Distributor: EMI Music Distribution
Recording type: Studio
Recording mode: Stereo
SPAR Code: n/a

Album notes
Personnel: Norah Jones (vocals, piano, Wurlitzer piano); Jesse Harris, Kevin Breit (acoustic & electric guitars); Tony Scherr (acoustic guitar, slide guitar); Adam Levy, Bill Frisell (electric guitar); Adam Rogers (guitar); Jenny Scheinman (violin); Sam Yahel (Hammond B-3 organ); Rob Burger (organ); Lee Alexander (bass); Brian Blade (drums, percussion); Dan Reiser, Kenny Wollesen (drums).
Producers: Arif Mardin, Norah Jones, Jay Newland, Craig Street.
Recorded at Sorcerer Sound, New York, New York and Allaire Studios, Shokan, New York.
Norah Jones won the 2003 Grammy Award for Best New Artist.
COME AWAY WITH ME won the 2003 Grammy Awards for Album Of The Year, Best Pop Vocal Album and Best Engineered Album (Non-Classical).
"Don't Know Why" won the 2003 Grammy Awards for Record Of The Year, Song Of The Year and Best Female Pop Vocal Performance.
Arif Mardin won the 2003 Grammy Award for Producer Of The Year (Non-Classical).
A direct descendant from the pedigree of one of the 20th century's virtuosos, Norah Jones might not be on such a lofty artistic level as her dad Ravi Shankar, but certainly inherited some musical intuition from him. With nary a sitar nor raga within earshot, the young newcomer sounds very much an assimilated, western, 21st century pop-jazz singer. One thing that separates her from the pack is Ms. Jones' own piano stylings--not flashy, but deftly doubling or echoing her voice--that discreetly act as the glue holding together these airy, delicate, and beautiful arrangements.
But the centerpiece is certainly the 22-year-old's confident-beyond-her-years vocal delivery in addition to a precise diction and velvety tone. Shades of Nina Simone, vintage Phoebe Snow, and a less beatnik Rickie Lee Jones are evident throughout as the young siren coolly sashays through mostly new material by guitarist-songwriter Jesse Harris (formerly of Once Blue) and a few choice covers. Veteran producer Arif Mardin frames a most notable debut with a translucent touch, and appearances by jazz heroes Bill Frisell and Brian Blade gild the lily.

Editorial reviews
...Jones' album has the lope of Western swing and the flow of a good live set....Her voice is supple and precise, her touch on piano lovely... - Rating: A-
Entertainment Weekly (03/08/2002)

...Jones' debut is a calming delight, a delicate acoustic dance that pulls country, blues and jazz into a gorgeous, soft-edged rootsy singer-songwriter world...Soothing and substantial.
Mojo (04/01/2002)

...Ranks among the most bracing and beautiful in recent memory...
JazzTimes (06/01/2002)

3.5 discs out of 5 - ...She allows a pared-down, semi-acoustic backdrop to showcase her lilting soprano....an auspicious debut...
Vibe (04/01/2002)

3.5 out of 5 stars - ...Jones delivers...multigenre cross-cultural eclecticism....It is a voice containing seductive mysteries and also the most exposed human vulnerabilities...
Down Beat (06/01/2002)

3.5 stars out of 5 - ...A quietly captivating triumph of torch song[s]...
Rolling Stone (03/28/2002)

Ranked #10 on EW's list of 2002's Albums of the Year
Entertainment Weekly

Ranked #8 in Rolling Stone's list of 2002's 10 Best Debuts
Rolling Stone (12/26/2002)

Ranked #74 in Mojo's 100 Modern Classics -- [S]eductive, mysterious songs, slouched jazzily around the rhythm, and slipped in a lonesome touch of twang.
Mojo


_____________________________________________________________________________________



$2.75 shipping for first class mail and delivery confirmation. Shipping discounts available for multiple cd purchases, see below! CD's are boxed very securely to avoid damage in mailing.

Please take a look around my store for more items that may interest you. I am happy to combine shipping on multiple CD purchases or combinations of other items. For CD-only purchases, media mail shipping rates depend on the number of CDs ordered as follows:

1-3 cds for $3.50 total ship (media mail + delivery confirm)
4-8 cds for $4.00 total ship (media mail + delivery confirm)
9-13 cds for $4.50 total ship (media mail + delivery confirm)

For combinations of other items besides CDs, please contact me for a total shipping quote. Note if you plan to pay with Paypal, once you have made your selections please send me a note and wait for me to invoice you before submitting payment. This way I can assure that you are paying the correct reduced combined shipping. Ecrater currently adds all of the pre-defined shipping costs when you make your purchase, and in some cases you will end up over-paying on shipping. If you do overpay before I can send you an invoice, I will refund the difference via Paypal when I prepare your order.

Please read my Terms page for information about insurance, if you are concerned about damage during shipping.
... [Full Description]