Jackson, Janet - All For You [Extra Track] [EXPLICIT LYRICS] (CD 2001) Used Near Mint CD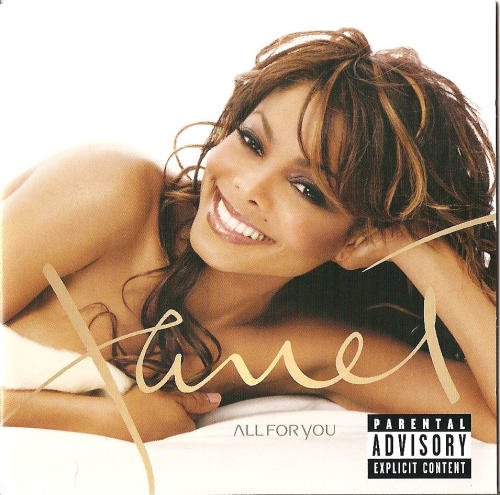 Only 1 available
Details
Shipping: US-Mainland: $2.75 (more destinations)
Condition: Used
*The store has not been updated recently. You may want to contact the merchant to confirm the availability of the product.
Janet Jackson All For You is in excellent near mint condition. Just a couple very light scratches that do not affect playback. Jewel case and inserts are in excellent condition. There are no cuts, holes, punches or drill liquidation marks on this. 100% intact with all original packaging. Regular commercially released cd; this is not a music club or promotional release. Great condition.

Item Specifics - Music: CDs
Artist: Jackson, Janet
Release Date: Apr 24, 2001
Format: CD
Record Label: Virgin Records (USA)
Genre: Pop
UPC: 724381168622
Sub-Genre: --
Album Type: Full Length CD w/ Bonus track
Condition: Used Near Mint

Track listing
1. Intro
2. You Ain't Right
3. All For You
4. 2wayforyou (Interlude)
5. Come On Get Up
6. When We Oooo
7. China Love
8. Love Scene (Ooh Baby)
9. Would You Mind
10. Lame (Interlude)
11. Trust A Try
12. Clouds (Interlude)
13. Son Of A Gun (I Betcha Think This Song Is About You) - (with Carly Simon)
14. Truth
15. Theory (Interlude)
16. Someone To Call My Lover
17. Feels So Right
18. Doesn't Really Matter
19. Better Days
20. Outro
21. Son Of A Gun (I Betcha Think This Song Is About You) - (P Diddy remix, with Carly Simon/P. Diddy/Missy Elliott)

Details
Playing time: 77 min.
Contributing artists: Carly Simon, Missy Elliott, P. Diddy
Distributor: EMI Music Distribution
Recording type: Studio
Recording mode: Stereo
SPAR Code: n/a

Album notes
Personnel includes: Janet Jackson, Carly Simon, Missy "Misdemeanor" Elliot, P. Diddy (vocals); Jimmy Jam, Terry Lewis (various instruments); Mike Scott, David Barry (guitar); Rockwilder (drums, programming); Alex Richbourg (programming).
Producers: Janet Jackson, Jimmy Jam, Terry Lewis.
Engineers include: Dave Rideau, Steve Hodge, Chris Seul.
"All For You" won the 2002 Grammy Award for Best Dance Recording.
Such is the level of Janet Jackson's iconic status that she often seems more like a legend than a mere person, and each album seems more like an event than just another batch of songs. While Jackson's star quality is very much a factor on ALL FOR YOU, the album is an extremely individualistic effort. For one thing, the disc leads off not with a resounding pop hook, but with a lengthy s***** of incongruous conversation. Shortly thereafter, we're launched into "You Ain't Right," a vibrant track that's more about groove than pop. Instead of chasing after the kind of pop-R&B crossover that made Janet disciples like Britney and Christina so successful, this cut pursues a more idiosyncratic, almost Prince-like feel.
That's not to say there's no pop appeal on ALL FOR YOU. From the sensual ballad "When We Oooo" to the club-friendly, infectious "Come On Get Up," there's radio fodder aplenty here. But Jimmy Jam & Terry Lewis's production refuses to settle for generic R&B cliches. Instead, the pair employ a variety of interesting percussion textures and keyboard tones to keep the arrangements sounding fresh and unique. Of course the thing holding it all together is Jackson's powerful-but-winsome delivery, simultaneously enticing and casual. That combination is the key to ALL FOR YOU's success.

Editorial reviews
...Sexy and big, brimming with left-field surprises....about as good as modern diva-pop gets... - Rating: B
Entertainment Weekly (05/04/2001)

3 stars out of 5 - ...The most blatantly sexy, wickedly upbeat songs she has ever recorded.... making the most of Jimmy Jam and Terry Lewis' sassy, supple, angular dance-funk...
Q (07/01/2001)

3.5 stars out of 5 - ...Jackson cranks the heat even higher....It's just as fresh, familiar and appealing as you've come to expect from Jackson...
Rolling Stone (05/24/2001)


_____________________________________________________________________________________



$2.75 shipping for first class mail and delivery confirmation. Shipping discounts available for multiple cd purchases, see below! CD's are boxed very securely to avoid damage in mailing.

Please take a look around my store for more items that may interest you. I am happy to combine shipping on multiple CD purchases or combinations of other items. For CD-only purchases, media mail shipping rates depend on the number of CDs ordered as follows:

1-3 cds for $3.50 total ship (media mail + delivery confirm)
4-8 cds for $4.00 total ship (media mail + delivery confirm)
9-13 cds for $4.50 total ship (media mail + delivery confirm)

For combinations of other items besides CDs, please contact me for a total shipping quote. Note if you plan to pay with Paypal, once you have made your selections please send me a note and wait for me to invoice you before submitting payment. This way I can assure that you are paying the correct reduced combined shipping. Ecrater currently adds all of the pre-defined shipping costs when you make your purchase, and in some cases you will end up over-paying on shipping. If you do overpay before I can send you an invoice, I will refund the difference via Paypal when I prepare your order.

Please read my Terms page for information about insurance, if you are concerned about damage during shipping.
... [Full Description]