Michelle Branch - Hotel Paper (CD 2003) Used MINT CD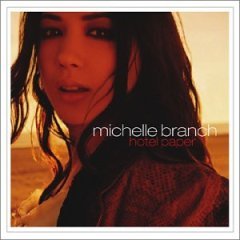 Only 1 available
Details
Shipping: US-Mainland: $2.75 (more destinations)
Condition: Used
*The store has not been updated recently. You may want to contact the merchant to confirm the availability of the product.
Michelle Branch Hotel Paper is in scratch-free mint condition. Jewel case and inserts are in excellent condition. There are no cuts, holes, punches or drill liquidation marks on this. 100% intact with all original packaging. Regular commercially released cd; this is not a music club or promotional release. Flawless condition.

Item Specifics - Music: CDs
Artist: Branch, Michelle
Release Date: Jun 24, 2003
Format: CD
Record Label: Maverick
Genre: Rock & Pop
UPC: 093624842620
Sub-Genre: --
Album Type: Full-Length CD
Condition: Used - MINT

Track listing
1. Intro
2. Are You Happy Now?
3. Find Your Way Back
4. Empty Handed
5. Tuesday Morning
6. One Of These Days
7. Love Me Like That - (with Sheryl Crow)
8. Desperately
9. Breathe
10. Where Are You Now?
11. Hotel Paper
12. Til I Get Over You
13. It's You

Details
Contributing artists: Sheryl Crow
Distributor: WEA
Recording type: Studio
Recording mode: Stereo
SPAR Code: n/a

Album notes
This is an Enhanced CD, which contains both regular audio tracks and multimedia computer files.
Personnel: Michelle Branch (vocals, acoustic guitar, percussion); Sheryl Crow (vocals); Greg Wells (guitar, piano, Wurlitzer piano, organ, bass); John Leventhal (guitar, keyboards, bass); John Shanks (guitar, bass); Dave Navarro (guitar); Stuart Smith (mandolin); Ollie Goldstein (piano, keyboards, programming); Josh Abraham (keyboards, programming); Jamie Muhoberac, Patrick Warren (keyboards); Paul Bushell, Chris Chaney, Mike Elizondo, Dan Rothchild (bass); Kenny Aronoff, Brian McLeod, Shawn Pelton (drums); Luis Conte, Rick Depofi, Chris Reynolds (percussion); Jessica Harp (background vocals).
Producers: John Shanks, John Leventhal, Josh Abraham, Greg Wells.
Recorded at Henson Recording Studios, NRG Recording Studios and Rocket Carousel Studios, Los Angeles, California, and New York Noise, New York, New York.
"Are You Happy Now?" was nominated for the 2004 Grammy Award for Best Female Rock Vocal Performance.

This is an Enhanced CD, which contains both regular audio tracks and multimedia computer files.
When Michelle Branch emerged with her hit debut album in 2001 she was just 17 years old. Having successfully managed the transition into her twenties, she sounds even more confident on the follow-up HOTEL PAPER. This is an album of panoramic pop; even though many of the songs here are based around simple guitar licks and sharp rhythms, most of them burst out into widescreen production by the time the chorus kicks in. "Are You Happy Now?" incorporates a percolating drum-and-bass feel (of the electronica variety) with anthemic rock guitar. Achieving a similar mix-and-match production effect, tricky acoustic guitar licks rub shoulders with snappy drum loops on "Love Me Like That," which features a guest appearance from Sheryl Crow.

HOTEL PAPER is essentially a pop-rock album with some power-ballad tendencies. Nevertheless, the twangy, chugging "Breathe" is not the Faith Hill hit of the same name but could find its way onto a Hill or Shania album with no trouble at all, indicative of the inherent stylistic malleability of Branch's all-purpose songwriting.

Editorial reviews
...[Sticks to her] folk-rock guns...[HOTEL PAPER] boasts road-toughened guitars and a welcome accusatory edge... - Grade: B
Spin (08/01/2003)


_____________________________________________________________________________________



$2.75 shipping for first class mail and delivery confirmation. Shipping discounts available for multiple cd purchases, see below! CD's are boxed very securely to avoid damage in mailing.

Please take a look around my store for more items that may interest you. I am happy to combine shipping on multiple CD purchases or combinations of other items. For CD-only purchases, media mail shipping rates depend on the number of CDs ordered as follows:

1-3 cds for $3.50 total ship (media mail + delivery confirm)
4-8 cds for $4.00 total ship (media mail + delivery confirm)
9-13 cds for $4.50 total ship (media mail + delivery confirm)

For combinations of other items besides CDs, please contact me for a total shipping quote. Note if you plan to pay with Paypal, once you have made your selections please send me a note and wait for me to invoice you before submitting payment. This way I can assure that you are paying the correct reduced combined shipping. Ecrater currently adds all of the pre-defined shipping costs when you make your purchase, and in some cases you will end up over-paying on shipping. If you do overpay before I can send you an invoice, I will refund the difference via Paypal when I prepare your order.

Please read my Terms page for information about insurance, if you are concerned about damage during shipping.
... [Full Description]